To honor years of tradition, innovation and success, Boys Ranch held a series of events in 2019 designed to recognize the men, women and children who have been a vital part of Boys Ranch for eight decades.
"This was an exciting year for Cal Farley's Boys Ranch; 80 years was a legacy worth celebrating," said Dan Adams, Boys Ranch President and CEO.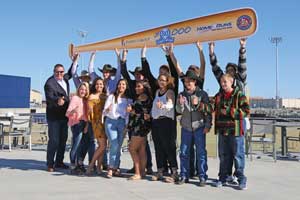 Movie debut
The anniversary celebration started in March with a red-carpet premiere of Edge of the World. A crowd of more than 1,100 gathered to view the first feature-length film about Boys Ranch since the 1946 release of the same name. It was filmed at Boys Ranch during the summer of 2015.
Before being shown to Boys Ranch's home community, Edge of the World earned numerous awards, including Best Film at the Frame4Frame Film Festival, the Higher Love Award at Fort Worth Indie Showcase and Best Family Film at the Queen Palm Film Festival.
Boots & Bling Gala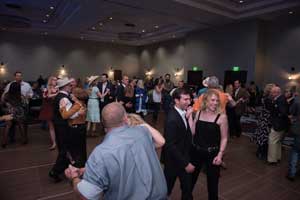 In May, about 350 supporters attended an anniversary gala, Boots 'n Bling. A crowd of supporters, donors and alumni of Boys Ranch from as far away as Pennsylvania enjoyed a delicious steak dinner, a live auction and danced to the sounds of local band Comanche Moon.
New Brand
The gala was special, as it also included a roll out of the new Boys Ranch brand, a striking blue 'BR' brand, accented by a bright yellow shooting star. The Boys Ranch rebrand came after nearly two years of preparation, research and stakeholder interviews.

"Our new brand image reflects what this organization is today," Adams said. "It honors our past and looks to a very exciting future for Boys Ranch. I think everyone who has seen it so far is pleased with the course we're on for the next 80 years, and beyond."
Boys Ranch Family Night with the Amarillo Sod Poodles
A warm June day provided the perfect setting for baseball! A beautiful, new stadium in downtown Amarillo was packed with more than 6,500, including hundreds of Boys Ranch residents, staff and supporters, all there to cheer on the AA-level Amarillo Sod Poodles in their inaugural season.
Boys Ranch's own Amaya, 15, performed the national anthem as if she'd been doing it for years. Repeatedly throughout the evening, the Sod Poodles shone a positive spotlight on Boys Ranch and our inspiring young people.
Home Runs for Healthy Kids
Our anniversary year also saw a pair of organizations come together to support our youths' healthcare needs in a campaign appropriately titled Home Runs for Healthy Kids.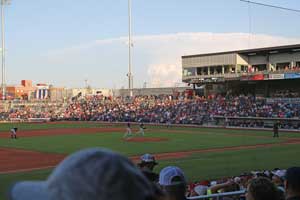 The Fairly Group, a local insurance and risk-management firm joined with the Sod Poodles to kick-off this ongoing campaign to benefit the children we serve. The Fairly Group pledged $800 toward Boys Ranch medical care for every homerun the Sod Poodles hit. By season's end, some $160,000 was raised to help cover the more than $1 million Boys Ranch spends each year on medical expenses not covered by our residents' insurance.
Block Party
In August, Boys Ranch staged a block party in downtown Amarillo. Children, many with parents and grandparents in tow, plus alumni and friends enjoyed the free event, where they built and raced miniature cardboard boats, had their faces painted, launched air rockets, learned to make rope and even got up close and personal with a few furry friends from Boys Ranch!
75th Annual Boys Ranch Rodeo +adventureFEST
September brought the 75th annual Boys Ranch Rodeo. Boys Ranch hosted a huge crowd on a beautiful day. Our youth provided their usual excellent hospitality for the audience, including games, food and souvenirs for guests prior to the rodeo.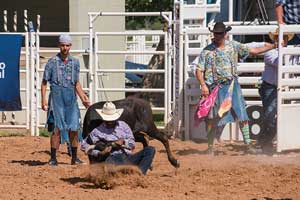 The young people who competed in the rodeo gave their all as they roped fast and rode hard.
"We owe the last 80 years, in no small part," Adams said, "to you – the men and women who prayerfully and financially support our work changing the trajectory of young lives."