Cal Farley's Boys Ranch has long taught our young people that in any situation, if there is a way to use your talents to help your community, it's important to do so. Right now, during the COVID-19 pandemic, Boys Ranch youth are seeing this philosophy in action.
A team of Boys Ranch technology coordinators have joined the world-wide community of 3D printer operators who are producing face shields for area frontline responders.
"Our youth know what we are doing in their lab right now and we feel certain they realize now how what they have been learning can be used to help others," said Phillip Miller, coordinator of technology.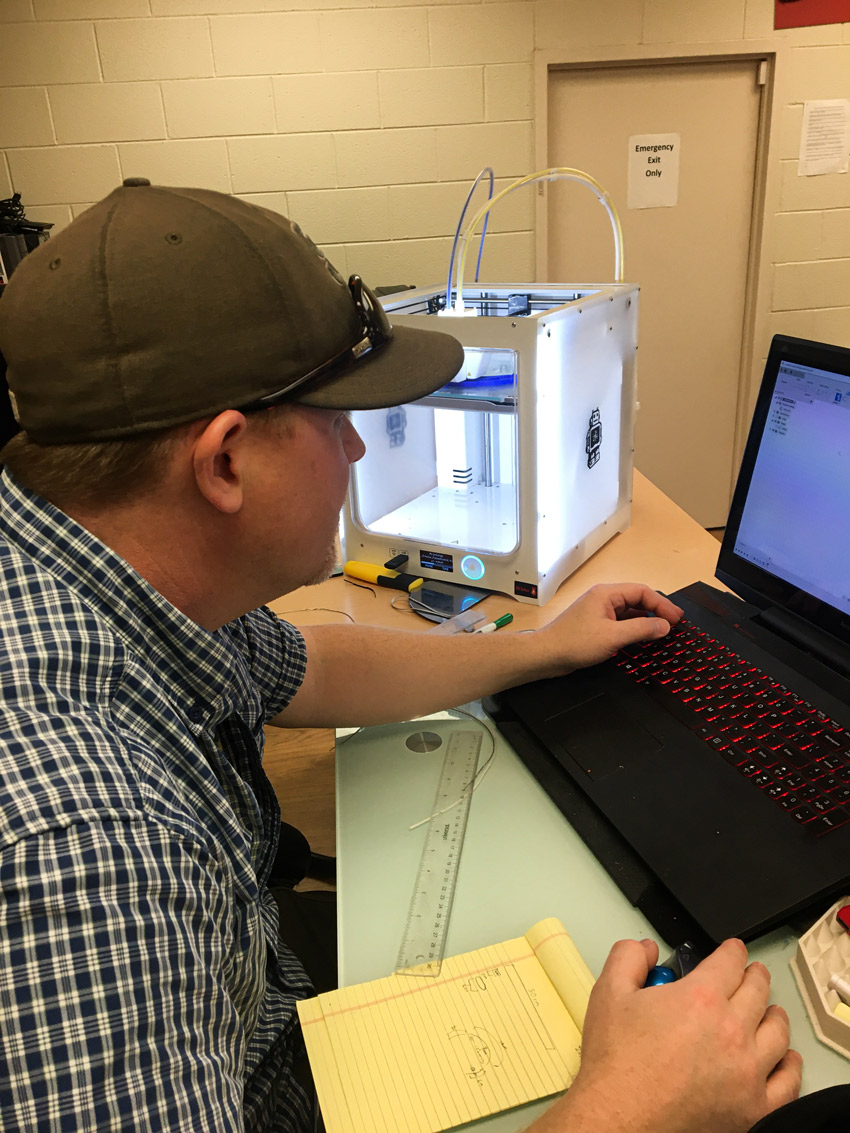 A team of three adult mentors, including Miller, who provide excellent experiential learning opportunities for the Boys Ranch youth, are responding to a worldwide request for face shields to protect the medical community.
Face shields limit the possibility for exposure to the coronavirus that causes COVID-19 and provide an additional layer of protection over the whole face.
Also helping with this effort are Barre Wheatley, emerging technology coordinator, who works with the young people involved in rocketry and robotics, and Craig Wright, who teaches welding technologies.
Thanks to the generous support of donors, the Science, Technology, Engineering and Math Lab at Boys Ranch is equipped with five 3D printers. Currently, youth at Boys Ranch are not in school and are practicing social distancing in their group homes. As a result, they are not utilizing the STEAM lab for their own technology-driven projects, meaning the 3D printers were ready and waiting for just such a project.
Miller said four face shield headbands are printed on each printer at a time, for a production run of 20 per session. Each print session takes about 18 hours to complete.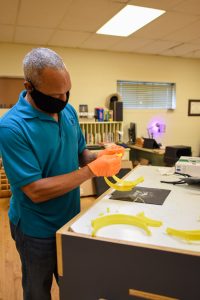 "Once the printing is complete, there isn't much assembly," Miller explained. "We attach a clear sheet of plastic with three holes punched at the top to three pegs on the headband. Then, there is a 3D printed plastic piece that was printed at the same time as the headbands that slides on the bottom of the clear plastic sheet to add some rigidity to the face shield."
Miller said the face shields must be manufactured in a hygienic environment. The three individuals involved in the production wear face masks and gloves. Each assembled shield is placed in a plastic bag, which is immediately sealed. The package includes a statement about where each face shield has been produced and notes the Boys Ranch STEAM lab is not a commercial production facility. The statement details the precautions that were followed to keep the product sterile. There is extensive heat involved in the 3D printing process and it sterilizes the plastic.
The first shields completed by Miller and his peers went to emergency medical responders at the Boys Ranch Clinic and campus fire department staff. The EMS staff there provides 24-7 emergency care to Boys Ranch, as well as responding to some emergency calls in the surrounding Oldham County, Texas.
Requests have now come in from neighboring EMS and fire departments and other medical facilities.
"We have orders from AMR in Dalhart, Adrian Fire, Vega Fire and Dalhart Fire," Miller said, adding the face shields will be distributed in the next few days.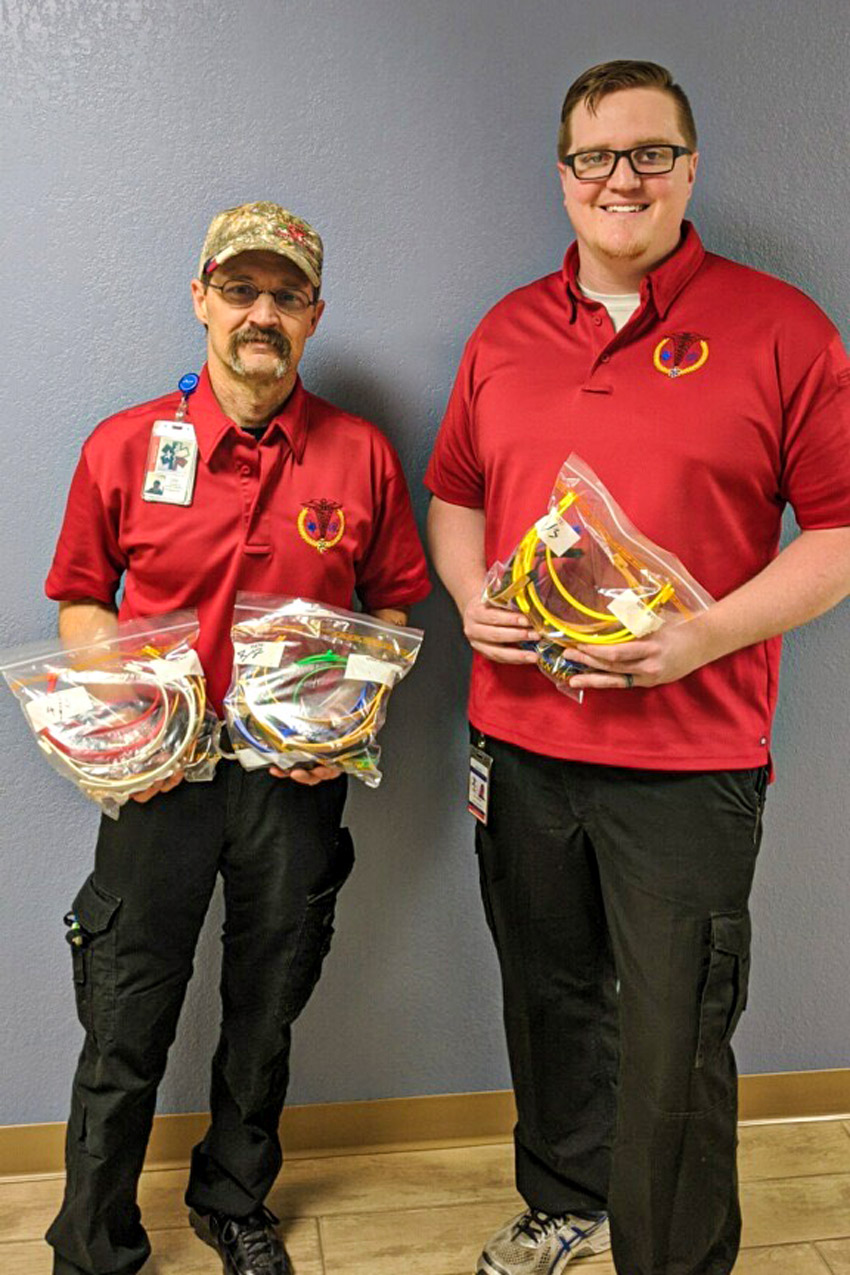 The face shields being produced by Boys Ranch, in keeping with industry best practices, is designed for one-time use. However, many health facilities and emergency workers do not have this luxury right now.
"This design gives the user the option of replacing the clear face shield with a standard 8.5 x 11-inch binder cover that has had a standard three-hole punch put in it at the top," said Miller.
Keely Miller, director of experiential learning at Boys Ranch, said she and her husband were following media segments early on telling how 3D printers were making parts for ventilators in Italy when parts weren't available.
"We decided then, if the need arose in the U.S., we wanted to get Boys Ranch involved if there was some way we could help," Keely said. "After researching what would be most helpful given our abilities, equipment and what first responders were asking for, we decided face shields were the best option."
A request for 3D printer community participation to produce face shields was made in March by Prusa Research, a leading manufacturer of 3D printers in Central Europe. The manufacturer shared design plans for a face shield which could easily be loaded into most 3D printers so that production could start immediately.
Keely said she had been contacted by a number of Boys Ranch staff asking if something like this would be possible in the STEAM lab.
"There has been a general interest across the organization," she said.
President of Cal Farley's Boys Ranch Dan Adams also had a contact who was asking if Boys Ranch could do anything for personal protection equipment for medical personnel.
"Mr. Adams' source put us in contact with a group that provided us with direction regarding safety and sanitation practices once we started producing equipment," Keely said.
Miller said that the Boys Ranch STEAM lab will print and ship face shields as long as the filament plastic stock on hand lasts.
As of today, 135 face shields have been delivered to area first responders and medical personnel, including Boys Ranch Paramedics, Fire Department and Security, fire departments from Adrian, Channing and Dalhart, and Moore County Hospital District located in Dumas, Texas.
[metaslider id="29103″]