For the last 17 years, Danyel Parkhurst has been the face of Cal Farley's Boys Ranch for everyone who walks in the front door of the campus headquarters. Her involvement with Boys Ranch and the greater Vega, Texas area, has earned her the 2020 Woman of the Year title from the Oldham County Chamber of Commerce.
Danyel manages the visitor center and campus public relations, but her job is much more involved and important than this suggests. She was nominated for the honor by Oldham County Commissioner Quincy Taylor and her long-time colleague, Boys Ranch Vice President of Operations Support Mike Pacino.
Danyel's friendly persona makes her the perfect person to greet visitors, including families with children, who are arriving at Boys Ranch, said Mike Pacino.
"She makes everyone feel welcome and sees that their needs are met," he said.
Taylor described Danyel as being the best example of someone who lives, breathes, represents and promotes Oldham County.
"She does everything with that 'Danyel smile' on her face and that true love for Oldham County!" Taylor said.
Danyel serves as the point of contact and organizer for a number of special events held each year at Boys Ranch involving outside groups including: the North Texas Mopar Club, Christian Motorcycle Association and the Amarillo Obedience Training Club's Dog Fun Run. She schedules and organizes nearly 100 ranch tours each year.
Danyel's promotion of Oldham County and the Texas Panhandle continues with her participation with the Texas Plains Trail Board of Directors, of which she is a past president. She travels all over the state promoting our areas and its history. She also attends Texas Travel Industry Association events with a booth promoting Boys Ranch and Oldham County. Danyel also works with the Texas Travel Information Center in Amarillo during their annual Don't Mess with Texas Day.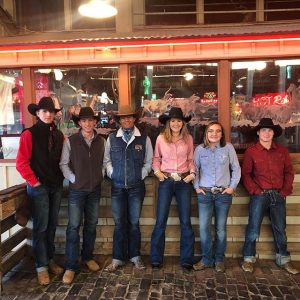 Danyel also travels with the Boys Ranch Future Farmers of America and Cowboy Poetry groups and for Oldham County 4-H as a sponsor for female students to the Fort Worth Stock Show and Houston Stock Show. She puts on New Year's Eve and Labor Day Rodeo dances each year for the entire Boys Ranch community.
Danyel frequently attends Boys Ranch alumni college and military graduations and weddings!
"She does it all with a servant's heart and deserves so much recognition for her efforts," Taylor said. "I just don't think I could ever say enough about the time and energy Danyel puts into our county and the residents of our county, especially the kids! She is the one everyone goes to when we don't know what to do next. If she doesn't know, she will find out!"