Longtime donor Harold Courson focuses on thoughtful gifts for the children at Boys Ranch.
About 30 years ago, Harold Courson saw a truck on the side of the road, saw the load of watermelons and had a sudden thought: The children of Boys Ranch would like some watermelons.
He talked to the farmer, who delivered a load of Black Diamond watermelons, enough for every home to have some and for the dining hall to serve watermelon for weeks.
It wasn't just the one load. Every summer since then, Courson has provided the children of Boys Ranch with juicy watermelons.
"He has the biggest heart," said Mike Pacino, coordinator of major gifts, who has known Courson for more than 30 years. "He's always thinking about what would make the children at Boys Ranch happier. No one else would see a truck full of watermelons broken down on the side of the road and think, 'We should get some watermelons for Boys Ranch.'"
But Courson did. And that's not all. Gift after gift, Courson has thought of children first.
"Harold is the kind of man who sees a need and fills it. We never have to ask," said Mark A. Strother, Boys Ranch interim president and CEO.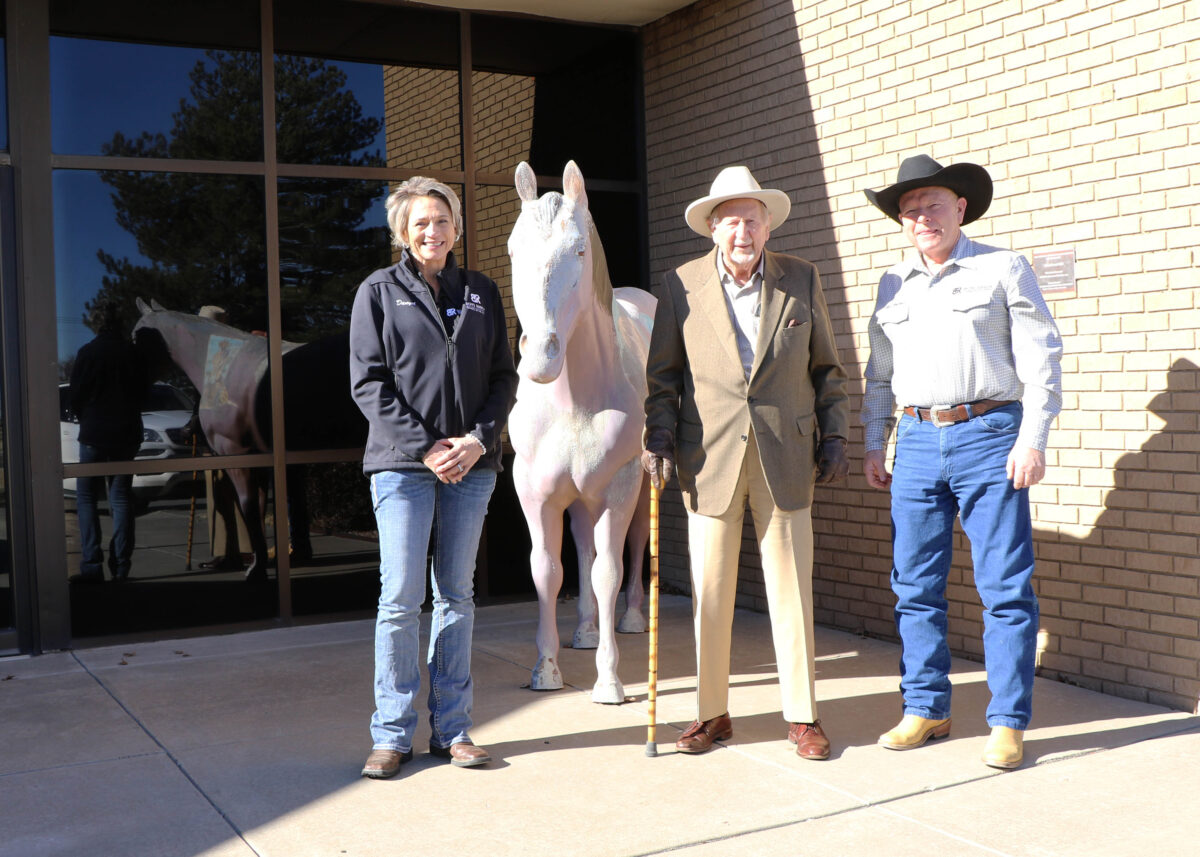 Courson Joins the Mission to Help Children
"I remember once when we accepted 72 emergency admissions," Strother said. "Harold knew those kids would feel displaced and unhappy, and he supplied every single one of those 72 children with new fishing equipment.
"He pays attention, and he works to make things better for kids."
In 1986, Courson was invited to join the board of directors. He accepted the responsibility. In 1992, he was part of the board's decision to begin admitting girls.
"That was the smartest thing we ever did," Courson said. "Mrs. Romersi gave us the money for five houses, but said it had to be for girls. She said it was not normal not having girls. She was right! She was quite a lady."
Through the years, Courson was part of many important decisions, but he also acted individually. As a supporter of celebrity televangelist Robert Schuller, Courson arranged for Boys Ranch to be mentioned during every broadcast of the "Hour of Power," bringing in thousands of dollars in donations.
"I just knew I was doing a heck of a lot of good for every one of those kids," he said. "Every one of those kids needed somebody to kind of stand up for them. I was one on the board who saw those kids got everything they needed."
And he thought about things they might just plain enjoy. He remembered the example set by Roy Rogers, who in 1953 invited every child at Boys Ranch to California to visit him.
After that train trip, Rogers presented each child with a pair of boots with the Boys Ranch logo.

Courson, a rancher in addition to being an oilman, wears handmade boots, and he wanted the children to step into adulthood in Boys Ranch style.
Since 2005, Courson has donated a pair of handmade boots to each graduating senior.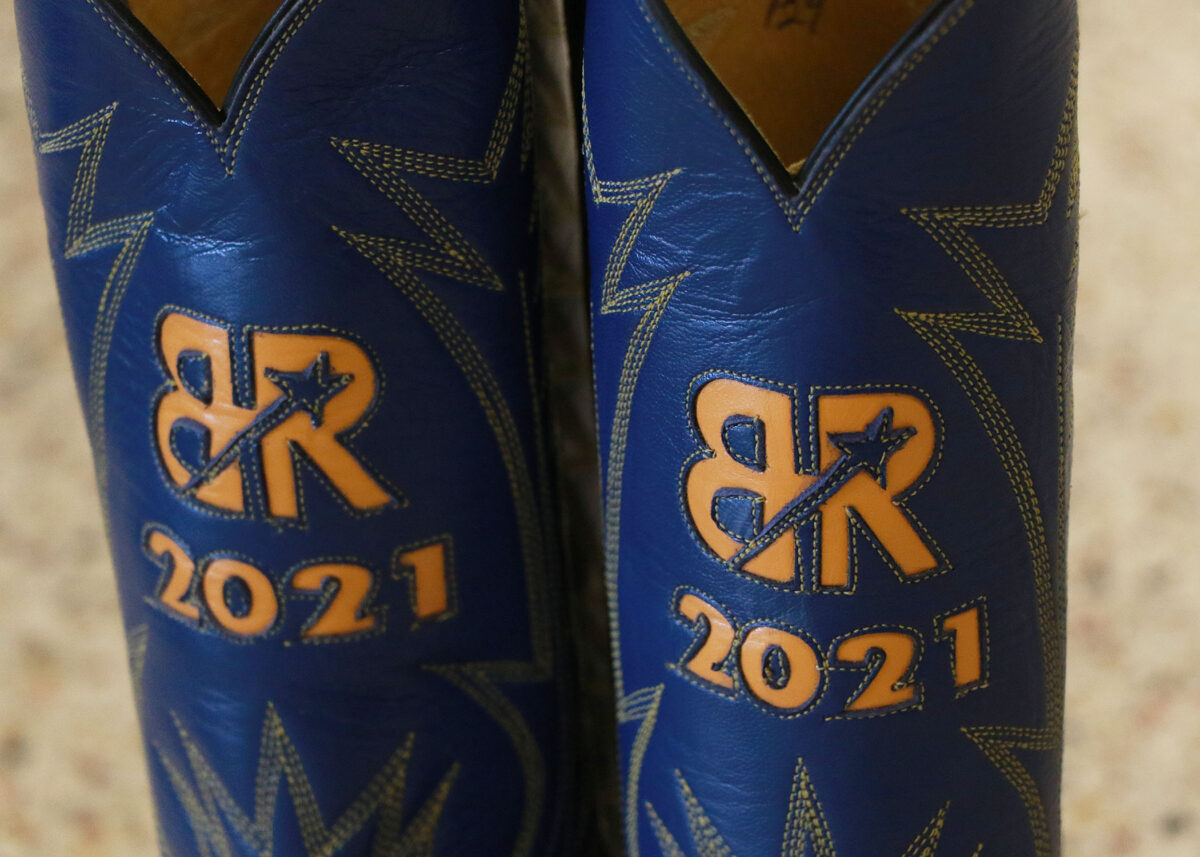 "Ross Brothers (in Amarillo) made my boots personally, so that's the reason I use them," he said. "They make as good a boot as you can buy. That's how I came up with having those boots made. I knew they do a good job. I wanted to do something for those kids."
Courson thought children might like to fish, so each year, he stocks the ponds.
"Those fish, we've been furnishing the fish for more than 30 years," Courson said. "The houseparents still cook those fish for the kids when they catch them."
Courson is committed to giving the children fish, watermelon and boots: He has said that after his death, his estate will continue to fund those gifts.
Living a Life of Philanthropy and Service
Courson was raised in an oil and gas camp near Bowers City, Texas, where he was friends with a girl. Many years later, her grandson, Boys Ranch alumnus T.J. Carrillo Jr., was killed in Iraq in 2005. When Courson heard about the death of his friend's grandson, he began researching sculptors, landing on Clint Howard of Bastrop, Texas. Howard's statue of Carrillo was dedicated in the Boys Ranch Cemetery in 2017.
As Courson has been blessed, he has blessed others, Pacino said.
"He has been in it for the good of others, not to have his name known," Pacino said. Courson attended Oklahoma State University before leaving to help an uncle in the oil business. "I studied architecture and wound up in the oil business," Courson said with a laugh. "I figured that was the only way I could make any money."
His Natural Gas Anadarko and Courson Oil & Gas companies are based in Perryton, Texas, population 9,351.

His small-town life gives him a heart for other small towns.

In 2010, he personally donated $1,000 to each person who lost a home in a tornado at Stinnett, Texas.

In 2012, he gave $1,000 to each person who lost a home to a tornado at Woodward, Oklahoma.
He served on the Texas State Historical Commission and the Texas Archaeological Commission.
And Courson didn't forget his alma mater. In 2008, he and his wife Joyce donated $1 million to the university to establish the Harold Courson Chair in Petroleum Engineering.
In 2016, he was named a Living Legend by the Panhandle Producers and Royalty Owners Association, an oil and gas industry group in the Texas Panhandle.
Courson funded an entire boys' home for Boys Ranch that opened in 2017.
In 2021, the Joyce Courson Campus of the BSA Harrington Cancer Center opened in Amarillo, Texas, named for the lead donors to the project. In 2013, he was elevated to director emeritus for Boys Ranch. He no longer attends the board meetings, but he's keenly interested in what goes on at Boys Ranch.
Today, at age 88, he goes to his office daily to handle decisions and paperwork. The room is full of western art and pictures of his family. The walls are spotted with photos of Courson and famous people. Among all those framed photos is an 8×10 piece of paper with photos of the members of the Boys Ranch board of directors.
 "I try to go to the rodeo every year," he said. "For 30 years, Boys Ranch has been my baby, too."
He has no plans to retire.
"I stay pretty busy," Courson said. "I don't know what the heck I'd do in retirement.