The role of education is to equip a learner with the intelligence, skills and knowledge necessary to bring positive changes to their existence.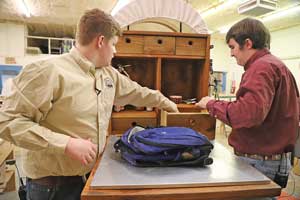 At Cal Farley's Boys Ranch, we help our young people obtain the kind of education that not only helps them make a living, but also make a good life by providing excellent learning opportunities for these children both in and out of the classroom.
The Boys Ranch Independent School District, legally a separate organization from Cal Farley's Boys Ranch, is a special-purpose district created by the state legislature in 1944 to provide a public education to the children served by Boys Ranch. The two share a mutual philosophy: A teacher and child must have a healthy relationship before learning can happen. The two also find as many ways as possible to collaborate to best benefit the learners, giving extra consideration for their post-high school goals. The recovery of credit or bringing a child back to grade level is a top priority.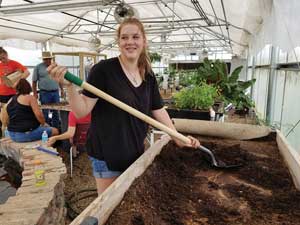 BRISD is home to award-winning teachers and curriculum programs, often receiving recognition at regional and state levels. Teachers work diligently to find project-based ways to deliver instruction. Those who teach technical and career subject areas are committed to help get residents job-ready in areas such as vocational agriculture, industrial trades, computer technology and culinary arts.
A new culinary-arts lab is well-used for classes and competition. A BRHS Culinary Team is very active.
"Providing residents at Boys Ranch with opportunities to gain experience and training on industry quality equipment, compete in professional quality competitions, and participate in catered events allows them to gain valuable work experience," said Linda Horton, the who directs the culinary studies for BRISD. "These types of experiences can help residents gain employment which supports them financially as they attend college, and it can also lead to a solid foundation for building a professional career in the culinary/food-service industry."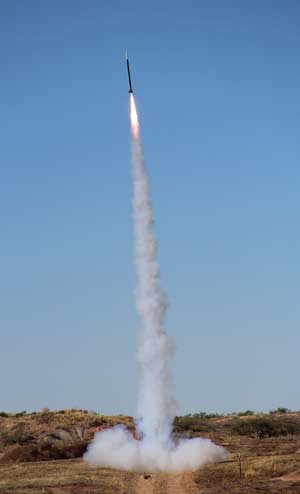 The district heavily participates in the University Interscholastic League, a Texas-based organization that creates rules for and administers almost all athletic, musical, and academic contests for public schools in the state. 
Boys Ranch programming gives huge opportunities to motivated residents to learn beyond the classroom. To begin with, children over age 14 are given the option to participate in our Experiential Learning Program while living at Boys Ranch. A child may pick a certain program and, if their youth care team decides they are ready to handle the responsibility involved, they are given the opportunity to interview to participate. To the child, the process looks very similar to a job interview, an excellent learning experience they'll need as productive adults.
The list of E.L.P. program areas features dozens of options, including such interesting subjects as food preparation, firefighting robotics, rocketry, woodworking and equine management.
E.L.P. has a Science, Technology, Engineering, Art and Math Lab next door to an emerging-technologies lab, where the young people may spend hours creating and building a wide range of gadgets. They are encouraged to tinker and play. A meat-cutting lab, woodworking lab and welding shop offer facilities for training in more traditional fields that may offer lucrative post-high school careers.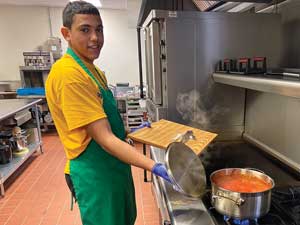 All residents, regardless of age, participate in Community-as-Lab learning. This program allows youth to spend time anywhere on campus learning, effectively turning the entire campus into a learning laboratory. Some C.A.L. activities lead to credit for high school students in areas such as wildlife management or horticulture.
"Each Boys Ranch resident has unique needs and aspirations, and our goal is to meet those needs so they can leave Boys Ranch prepared to pursue their interests and have productive careers," said Keely Miller, Director of Experiential Learning.
Miller said many of our young people have found their career choice through the E.L.P. or C.A.L. activities at Boys Ranch.
Boys Ranch is home to some great teachers
Boys Ranch Independent School District is home to teachers who are dedicated to keeping content both interesting and in keeping with Boys Ranch's focus on brain development. This district has received recognition for teaching excellence.
In 2019, Tasha Yarbrough, an eighth-grade English Language Arts teacher, was recognized at the regional level in Texas for using community collaboration to enhance how she teaches middle school students. 
"I nominated Tasha for this recognition because she teaches students ELA outside of the box," said Blakemore Middle School Principal Brandon Sanders.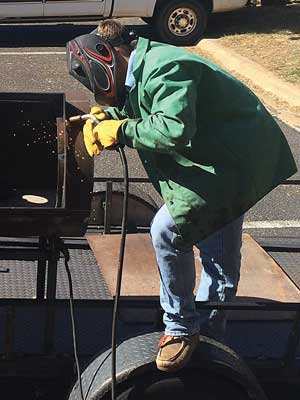 At BRISD, a very high percentage of students have special academic needs, in part because of the nature of the children Boys Ranch serves. The most common issue is a grade-level gap —many Boys Ranch residents arrive here academically behind their peers.
"Mrs. Yarbrough integrates technology, giving consideration for the changing times we live in, to help her students stay engaged and successful," Sanders continued, "Her way works."
An example of how Yarbrough implements community collaboration would be when she used Greek mythology, which young people have an interest in, to help them understand and identify various figurative languages used in the characters and plots. The students read stories and poems about the various characters, while learning about hyperboles, metaphors, similes, personification, onomatopoeias and alliteration.
"I gave them a template and I let them choose to make up their own character, or use an established Greek character," Yarbrough said. "The children love this autonomy and being able to shift locations to do their work, which becomes somewhat self-directed."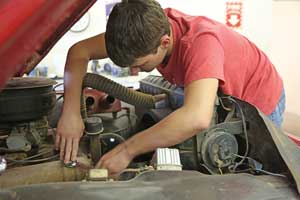 Once they'd chosen a character, Yarbrough had them assign a figurative language to it. For example, if they chose alliteration, everything about the Greek god had to have a similar letter sound,
Yarbrough said once each student had their character designed and defined, they moved to the technology lab to use design software to develop, design and print a 3-D figurine of their god.
"It's brain-based instruction where the students must think about, process and do hands-on work to complete a task," noted Sanders. "When they are taught in this way, they remember what they learn."