For more than 60 years, the highly recognized dark blue corduroy jackets with the National FFA emblem embroidered across the back have hung in the closets of group homes at Boys Ranch. It was 1955 when Boys Ranch Independent School District first chartered a chapter of Future Farmers of America, which later shortened its name to National FFA.
"As a member of the Boys Ranch FFA, we were competitive and although we all had circumstances and stories, in those blue jackets, we were just as good and worthy as anyone else," said Tom Maynard, who lived at Boys Ranch from1975 to 1983. 
Maynard served as the state FFA vice president in 1983 and '84. After teaching vocational agriculture for a number of years, he was selected to serve as the executive director of the Texas FFA Association. He now is a member of the Texas State Board of Education.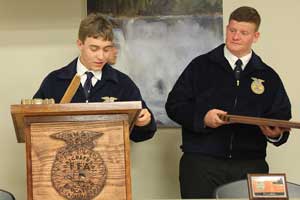 Maynard said Boys Ranch FFA regularly sent delegates to all meetings — district, area and state and took regular trips to the National FFA Convention. It was there that the members could see what was possible — the experience helped them envision greater things.
"All of these things were foundational to my career as an educator, statewide administrator and later an elected education policymaker," Maynard said.
Maynard said many Boys Ranch FFA members have been catapulted to positions of leadership.
"Boys Ranch FFA was not just a great program; it was a great agricultural education program in the larger context of ag ed programs in general." Maynard said. "The teachers of the Texas Panhandle and all of Texas knew this. That's why long time Boys Ranch FFA Advisor Guy Finstad was elected to serve as president of the agricultural educators' professional organization in the mid-1970s."
Vocational agriculture, in its earliest stages, was designed to provided young people with knowledge on what is considered the best practices in the industry, be it crop or livestock production.
This is particularly true as it related to development of and documentation of supervised agricultural experiences. All students are required to keep meticulous records in the state-adopted record book. As a result, many Boys Ranch FFA members receive the state FFA degree and are recognized as state winners.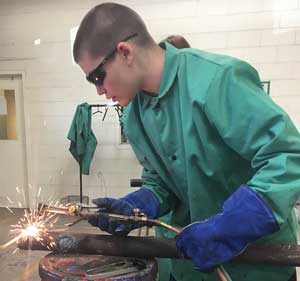 To date, six past state officers, including two presidents, have been from Boys Ranch. These young men drove thousands of miles during their year of service, representing FFA and Boys Ranch well all over Texas and beyond.
Just as the national organization has evolved to stay relevant, Boys Ranch's chapter changed as well. In 1992, when young ladies began living at Boys Ranch, many immediately began participating in FFA. Today, an almost equal number of young men and ladies at Boys Ranch are in the program.
Today, Boys Ranch has 62 FFA members, all doing various projects under the direction of one adviser.
"FFA continues to be enormous at Boys Ranch," said Robert Marshall, Vice President of Campus Operations.
It may look a little different than it did years ago, he said, but it still exists in a big way. A young person who wants to be engaged in agriculture while they are at Boys Ranch certainly still has some great opportunities.
Boys Ranch FFA has a number of partnerships that benefit the students.
"Each year a group of our FFA students are able to become feedlot-certified, which is an employable skill, through the Texas Cattle Feeders Association," said Mike Pacino, Vice President for Campus Operations Support.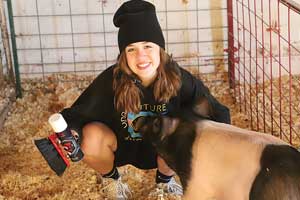 We have a portion of our children, that because they've lived in the ranchland, they now aspire to work in agriculture for a living. Training they receive through FFA gives them a great head start to do this.
"Livestock projects are very popular, and our students do very well with them," said FFA Advisor and Vocational Agriculture Teacher Scotty Wright. "But we've been equally as successful in ag mechanics, speaking, judging as well as having the most industry-based certifications within the high schools. Young people benefit immensely from being part of FFA."
Unfortunately, with our small, older barn, we have a limitation on how many animals we can have per year. We have to turn nearly half of the kids who want to do animal projects away."
Wright said the new FFA barn which is part of a current capital campaign can't be completed soon enough.
"A new barn, with more animal capacity and features like a wash bay and show arena will really serve our FFA members well," Wright said, adding, "FFA is a good program and the outcomes have been excellent over the years. We can talk about member after member who have gone on to do significant things with their lives," Wright said.
Makenna loves having FFA in her 'lane'
Makenna gasped when she realized there was a time when girls could not be in FFA.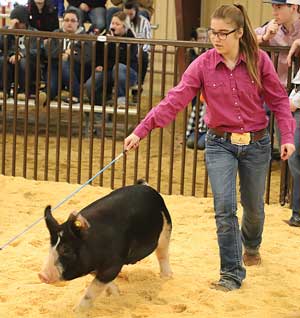 Last year marked the 50th anniversary of girls being national members of what was formerly Future Farmers of America, now shortened to FFA. The vocational agriculture training that once was reserved for farm and ranch kids, now has programs for every student, rural or urban, who wants to participate.
"That's crazy!" Makenna said. "Fifty years seems like a long time, but it really wasn't that long ago."
McKenna, 16, has been very involved in the Boys Ranch chapter. She's shown a pig both her freshman and sophomore years. She loves spending time in the FFA barn when it is full of animals. For her, it's in her 'lane' and she loves it.
McKenna has always loved animals and, prior to coming to Boys Ranch, she participated in some horse shows. She hopes one day to have a career in the agriculture field.
"I'm going to get my feedlot certification through FFA which will be a good thing to take with me when its time to find a job," Makenna said.