The cinder-block barn in the community garden at Cal Farley's Boys Ranch has long provided shelter for the animals that comfort our children. This month, several youth lovingly gave the barn a facelift.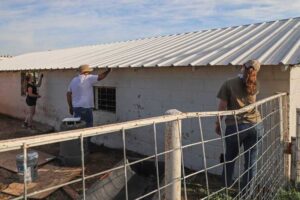 Each year, hundreds of trips are made to this animal house ─ children, usually with a trusted adult in tow. They come here to run their fingers through donkeys' hair, to rub the muzzle of a pony and take in some good horse smell. The kids pick up a baby goat and lovingly look into its eyes and snuggle its ears. The momma goats wait in line, hoping to be petted and scratched as well. Even stroking the bristles on the three very large resident pigs may bring comfort to someone who is struggling emotionally or having a hard day.
At the barn, chickens, ducks and guineas mingle among the livestock. Everyone seems to like each other. This community provides a great example to those it serves. This barn provides animal therapy at its best. It has been part of the community garden for more than 30 years.
Giving some tender loving care back to the barn was the idea of Tim Nation, coordinator for agriculture. He also directs the Experiential Learning Program for the community garden. Nation gathered a team of young people to help get the work done.
It has been a several-week project, and much of the work has been done during the hottest summer days so far. A large industrial fan at one end of the building has been the saving grace for the team.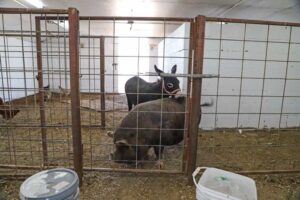 "I knew I could not work at an inside job, I needed to be outdoors because I can't be cooped up inside," said Sarah, 17.Sarah had painted some boards in the past, but she'd never worked on a project this large.
The Experiential Learning Program at Boys Ranch provides an opportunity for children age 14 and older to choose one of 23 areas to work in where they learn valuable work skills or a trade.
"It's not a bad job at all," Sarah said. "Mr. Nation is really good to work for because he works right alongside you and he teaches you things and he makes you laugh."
Nation and his wife, Susan, have worked in childcare at Boys Ranch for many years, serving as houseparents in the girls' community before he moved to the Agriculture Department. He's had a lot of experience raising children and now chickens and other livestock.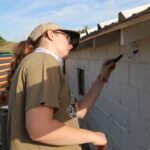 "Painting is not hard," Linda, 16, agreed. "What's hard is keeping the animals out of the way while we work!"
The team not only painted all the walls inside and out, but also the interior ceiling and stall fencing and gates.
The animals have been patiently waiting to have their homes back. They pace back and forth by the gate. Some of the little goats have figured out how to fit through the fence and curiosity is getting the best of them. They'd stick their noses in the paint buckets if the girls don't keep them back.
Linda, who has been working in the community garden longer than Sarah, can call each animal by name. She gently scolds the critters and puts them back across the fence.
The young ladies, who helped Nation paint the entire exterior of the building, said they've learned some things about painting.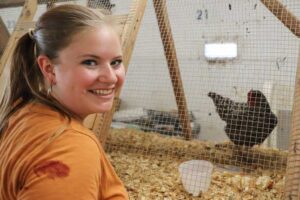 "Concrete is hard to paint," said Sarah. "But if you have a heavy nap on your roller and you have good paint, you can get it to cover pretty good."
Nation chose red for outside of the building. Barn red, to be exact.
The hardest part of the project has been keeping the animals at bay, at least on the outside, Nation said. In the heat, the animals have needed to move back and forth across the barnyard to get to their water source.
"These girls have been painting, and all the while they've had chickens, goats and pigs coming around trying to be involved," Nation laughed. "Even Turbo got in on the action. He has a big red stripe down his side because he rubbed on the wet wall."
Turbo is the estimated 400-pound Hampshire barrow pig who has been at the barn nearly 10 years now. Even Nation's dog, Pistol, has some red paint across his ears. Turbo has since laid in mud and covered up the evidence.
"This kind of project is really great for these young people to do," Nation said. "It teaches them patience and persistence and that they have to pay attention to details."  Most of all, Nation said it builds pride in those who do the work.
While several other young people were in on the early cleaning work and did a little bit of the interior painting, which was all also done by hand, it was Sarah, Linda and Nation who ultimately knocked out the rest of the work.
"I'm pretty proud of this, I have to say," Linda said, dabbing a little red paint on Sarah's arm in jest.
Sarah responded back quickly, returning the favor, this time to Linda's leg.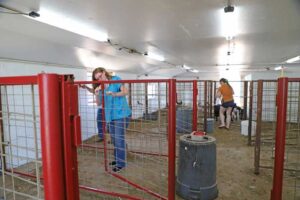 "Hey now!" Nation said with a grin, bringing them back into focus without sacrificing the fun of the moment.
"When I came to Boys Ranch a year ago, I sure never thought I'd paint a barn," Sarah said. "I'm pretty proud of this, too."
"We're going to really fix this place up," said Keely Miller, director of experiential learning and Community-as-Lab at Boys Ranch. "Anything that gives so much to our children as this barn and the animals do is something we want to take care of and make it feel a little more special."