A sign of life on the road to success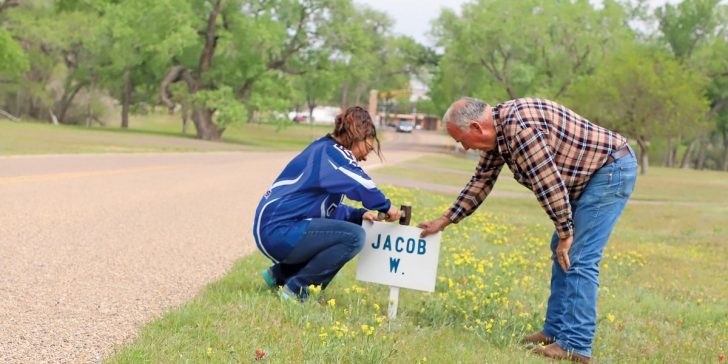 At Boys Ranch, even plywood and paint became tools for success
The shadows draping off the small signs along the road leading into Boys Ranch grow bigger, stretching out tall as the sun moves from one horizon to the other each day.
These signs, each bearing the name of a high school graduate, are placed along the paved road at the beginning of the month of May. They stay in place until the graduation ceremonies and celebrations are all over.
Underclassmen lovingly paint and help put up the signs, knowing that one year, someone will also do it for them.
The symbolism of these signs is very significant. Not only to the successful high school seniors, but to all the others who have poured love, care and effort into each graduate. They represent the growth and success of a child who came here looking for a chance, for help navigating the tough world we live in.
And, of course, they represent an organic tradition, now 14 years in the making.
It was the spring of 2005 when a senior girl at Boys Ranch was struggling to make it to graduation. She would have been the first to admit that dreaded 'senioritis' had set in hard for her. She had turned 18 weeks earlier and was totally eligible to end her placement. She had the itch to hitch her future to a star and fly off. She talked at length about leaving school without a signed diploma in hand.
Her houseparents, Tim and Susan Nation, simply knew they had to convince her to stay. And, Tim did it in a very unique way. He told her he planned to put her name on a sign that would go along the road for everyone to see. He would let everyone know she was graduating! Her name, plus those of all her fellow seniors would spring up overnight as bright signs tamped into the grass along the road.
Even better, he recruited her to help.
His 'presciption' for what was ailing her was to have her be part of the cutting, sanding and painting of a sign with each senior's name on it. She hadn't done a lot of this kind of thing, working with her hands and building something. Ironically, days turned into weeks. Plywood turned into signs. Paint turned into masterpieces. Her masterpieces.
She and Mr. Nation, with help from a few others, placed the signs along the road for the world to see. They were an immediate hit and a tradition was born. Plus, this young lady stayed to walk the stage and get her ticket to her future.
"She needed to feel that others were as proud of her accomplishment of graduating just as she was," said Susan Nation, remembering back. "We also wanted to help her feel like she wasn't losing her Boys Ranch ties, only moving on to the next stage." Occasionally the alumna returns to Boys Ranch for graduation ceremonies, and she loves seeing the signs and knowing the tradition is something she helped start.
Some of the graduates will snag up their sign as they leave Boys Ranch. They know it represents a time in their lives when they were loved, supported and prepared for the future. They know the sign is part of a tradition that came about because one girl needed to be encouraged. That is the Boys Ranch philosophy. Whatever it takes for even one child, is certainly worth being done!