Hand-made cane creates bond for resident, employee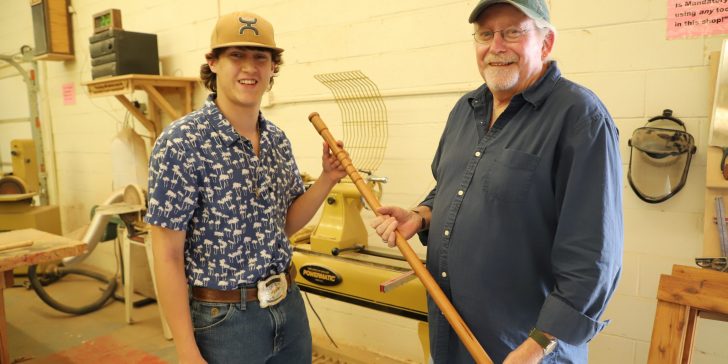 Boys Ranch is a place of therapeutic healing and transformation for young people. It is also a supportive community where kindness is highly valued. Imagine then, how special Boys Ranch employee George Richards felt when Jonny, a young man he barely knew offered to hand-craft a special gift for him.
Jonny has learned excellent woodworking skills in the Experiential Learning Program at Boys Ranch. Every child who is 14 years of age or older may participate in their choice of program areas to learn life and work skills as part of their educational experience.
Richards, known as G.C. to all he works with, has been an employee at Boys Ranch more than 18 years. He currently is weekend supervisor of the on-call staff, and one of only a few individuals in the Boys Ranch community who walks with a cane, something he's done for several years now.
A chance encounter at the Boys Ranch campus headquarters would bring Jonny and G.C. together around a special gesture. Jonny had accompanied James Langham, coordinator of industrial design, to headquarters to discuss with management a custom shelf installation needed in one of the campus buildings.
"On the way out, as we were going through the door, Jonny sees this guy walking with a cane and he says to him, 'I can make you a better cane than that'," Langham explained with a chuckle.
Richards, who has been using an ordinary store-bought wooden cane told Jonny he'd love a new, better cane.
"Prior to this cane project, I really haven't known Jonny very well," Richards noted. "I've had only a few chances to interact with him, so I was quite surprised when he offered to make me a cane."
Jonny went back to the woodshop, found a two-by-two piece of solid, strong ash wood long enough to make a standard cane. He looked up some general guidelines for the design and went to work. Langham coached him through the process and within three days, Jonny had lovingly lathed a beautiful walking stick, sized just right for an ornamental handle to fit on the top.
"This is the nicest thing anyone has done for me in 27 years," Richards said to Jonny upon receiving the gift.
He held back his emotions as he added, "You might not realize that, but it means a whole lot to me."
Richards has already picked out the handle he will place on the top of the cane. The two gathered in the woodshop Thursday afternoon for Jonny to place his autograph on the gift.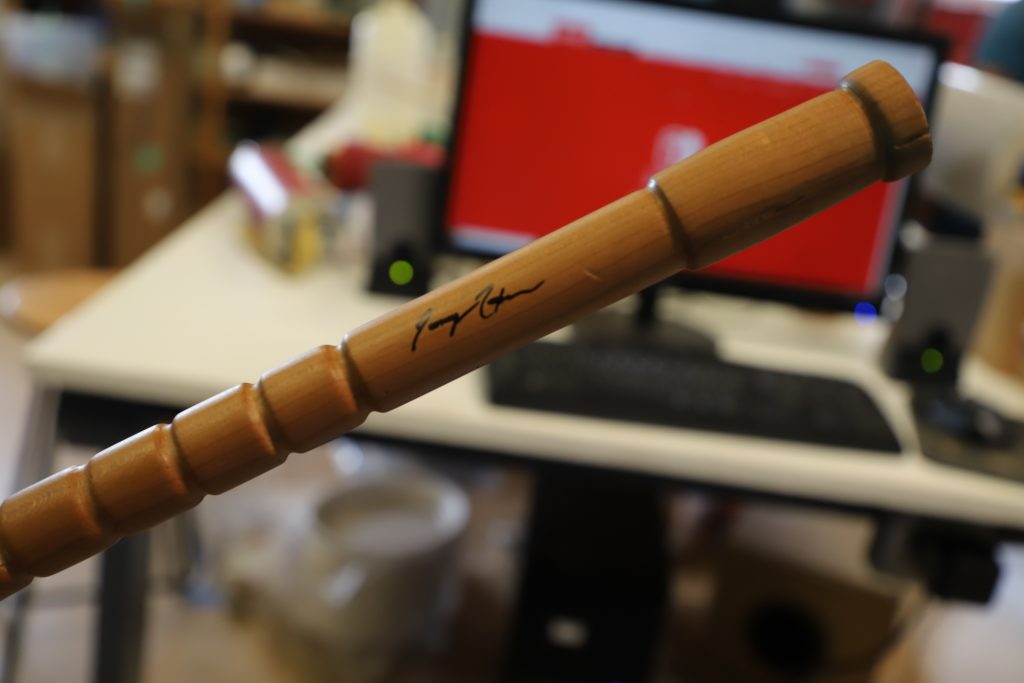 "I want you to sign it for me. You might become a famous cane maker one day!" he teased.  
Jonny used a black marker and placed his autograph neatly on the wood. Richards said he will coat the signature with a clear sealant to protect it for years to come.
"I saw him with the old cane and I just got the idea of making him one," explained Jonny, a 2019 graduating senior who has been very active on campus, including representing Boys Ranch at the National Finals Rodeo in Las Vegas this past year.
Jonny has a reputation for being helpful to others and he continued this nice quality until his last day here. Jonny left Boys Ranch on May 25 to reunite with family in Oklahoma. He said he will work to help them out financially for a while. He plans to go on to college, where he hopes to be part of a rodeo team.