At Boys Ranch, we encourage the young people in our nurturing community to have faith in their abilities. We help them understand failure is merely an opportunity to learn and try again until they succeed.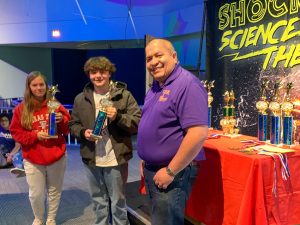 Recently, three students in the Scientific Research and Design class at Boys Ranch High School (BRHS) were rewarded for their incredible perseverance.
An egg-cradling device designed by Daviean, Nate and Veronica won the Ingenuity Award at the Don Harrington Discovery Center's egg drop competition in Amarillo, Texas. The competition, sponsored in part by the Texas Alliance for Minorities in Engineering, hosted 140 entries from area schools far and wide.
"This was so much fun," said Veronica, 16, as she held up the trophy they received. "I hope to participate again next year."
"This win was very unexpected," added Nate, 18. "I'm glad we won because we worked hard on making a design that was functional and unique."
For this competition, students were challenged to design an egg-cradling device capable of protecting an uncooked egg during a 20-foot fall onto a concrete landing. They could only have minimal adult help and no kits were allowed. This is a project many have seen before, but this competition had rigorous requirements and limitations.
There were weight and size limits. The container had to be made of 50 percent recycled materials and had to be easily loaded and unloaded. A maximum of 30 seconds was allowed for taking the egg in or out of the container without cracking the shell.
The three had spent many hours on the project and had many re-dos before settling on the final design which consisted of a recycled plastic icing container with a fluffy slime inside to absorb the impact. The slime, a popular gooey substance, was also made from mostly recycled contents that also included soda and contact solution. The students reworked the slime recipe they found online many times before getting the perfect consistency for the challenge.
"Constructing the device was challenging and frustrating," Daviean, 17, said of their hard work. "In the end, we were able to get it to work — and we had fun."
The Scientific Research and Design class is part of the Career and Technical Education (CTE) instruction offered to BRHS students under the STEM (Science, Technology, Engineering and Math) endorsement.
"Our STEM classes push students to struggle with challenges and experience failure," explained Becky Gaffney, engineering and dual credit math teacher. "A failure is not the end of the road where hope is lost, but simply a stepping-stone to success."
"The key," Gaffney said, "is choosing to learn from each failure and push forward using the knowledge gained through the experience."
Boys Ranch learning, in the classroom and on the ranch, is big on allowing one individual to shine, but even more so on teamwork, problem-solving and project planning. This competition brought all those elements together.
"They were exemplary representatives of Boys Ranch through their ingenuity, hard work and outstanding behavior," added their proud teacher.
[metaslider id="26882″]