More than 40 law enforcement officers and staff from various agencies surrounding Cal Farley's Boys Ranch came together at Boys Ranch last week for the annual law enforcement meet-and-greet appreciation luncheon. This gathering has been held for many years, originally sponsored by the United Peace Officers of America, and hosted by Boys Ranch since 2013.
As the officers and other staffers broke bread together, they took time to reconnect, meet new colleagues, visit about cases and incidents and rekindle friendships.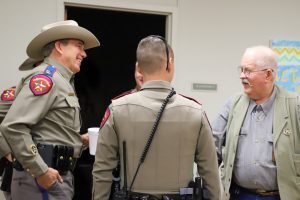 "Being in the (Texas) Panhandle, we're so much more removed than anyone else, we don't get together as much as a lot of places," said Randall County Game Warden Frank Niemiec. "Our district is the top 23 counties. Getting to see all of these people in one place is great. Unless an incident has happened, we don't usually get to see each other and then, in an emergency setting, there is no time to just visit like we are here today."
Eustacio Galvan, a Texas Department of Public Safety employee with Texas Ranger Company C, visited Boys Ranch for the first time during this event.
"Any event like this which is an opportunity for us to liaison, meet and greet, to exchange leads and information is great," Galvan said. "We're all on the same team, and we almost always all end up working together."
Galvan said he looked forward to seeing more of Boys Ranch. Meanwhile, Oldham County Sheriff Brent Warden said he always loves this annual gathering, as well as the longstanding relationship his department has with Boys Ranch.
"We have a lot of law enforcement out here for the annual rodeo and I have deputies assigned to provide liaison with Boys Ranch — to just come and hang out here," he said. "It's a really good deal for us, and it's a great way for use to establish relationships with the young people out here. There are a lot of civilians that live and work on the ranch and we appreciate all they do for us as well, especially bringing us together like this each year."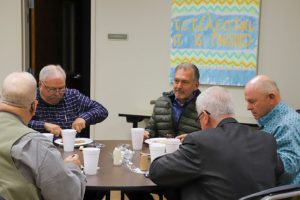 Boys Ranch President & CEO Dan Adams greeted the officers and joined them for lunch.
"We have a historical relationship with law enforcement," Adams later said. The Boys Ranch security, fire department and ambulance service provide essential coverage beyond our Oldham County campus, assisting as needed in other areas. Having strong connections with other agencies is very important.
"Cal Farley developed great relations with law enforcement, especially in the philanthropic area," Adams explained. "We've kept it going at a lower level. It is awesome to keep first responders familiar with Boys Ranch. I like the interplay, the idea that Boys Ranch is able to bring them all together each year for this event."
Adams said it is especially great for our children to see law enforcement in a positive light because some of them haven't had that experience prior to coming to our campus.
"Law enforcement always wants to support Boys Ranch and what they do for the kids out here and the families of Boys Ranch," said Lt. Beth Watson with the Texas Department of Public Safety. "We want them to feel comfortable coming to any of us for anything. If we can do some mentoring, we want to do it. We try to have a presence at all the activities here. This is a community we want to support."
More than a half-dozen law-enforcement agencies attended the event, including Texas Department of Public Safety; the Texas Rangers; Potter, Randall, Oldham, Moore and Hartley county sheriffs' departments, Town of Vega police, Texas Parks and Wildlife and, of course, Boys Ranch Security.
Coming together in a show of solidarity and appreciation is a natural fit for Boys Ranch, Adams noted.
"We have so many people who live on the ranch and who come here to work every day," he said. "I want everyone here to know there's a lot of law enforcement teams looking out for us."