The littlest things can make the biggest impact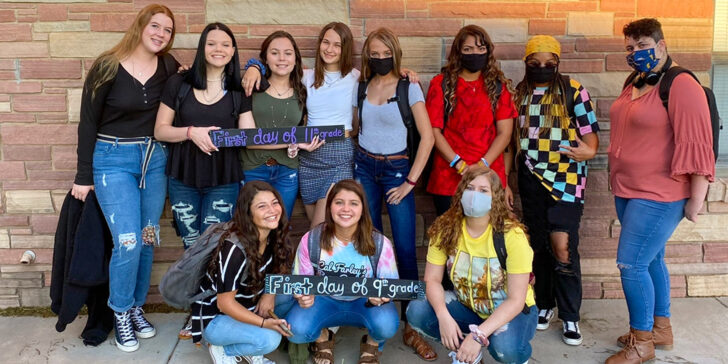 This has been one of the longest spring-break summers in history! As I was thinking about this, I saw one of my Arizona friends post their child's back-to-school pictures on Facebook. This post, like the first flower of spring, conveyed to me a feeling of hope and excitement for a new school year.
I imagine that over the next few weeks as I check Facebook, my feed will be flooded with the annual tidal wave of first-day-of-school photos. I don't know about you, but I love scrolling through these pictures. I like seeing hair styles and what the new fashion trends are. I like seeing the crazy growth spurts kids have had through the summer. Most of all, I love seeing the excitement and hope in their eyes as they start fresh upon a new journey.
As I anticipate seeing all these photos, I can't help think about our kids. How many of them have ever had or will ever get a first-day-of-school picture that they can share with their families and future families?
My guess is not very many.
I also wonder, how many of their parents and grandparents or other family members get to post a picture so that their extended families can share in the excitement and encourage them on their new adventure?
My guess is not very many.
One of the key pillars of attachment for a child is that they are seen. When you are seen, that means that you are important enough for someone to pay attention to you and thus care enough to keep you safe. When kids have this feeling of safety, they gain a sense of security and the relationship with the caregiver is strengthened.
Another element of attachment is a shared history — the experiences we go through together that challenge us, push us, change us and, if handled well, bind us together as a people. 2020 has been a year full of these experiences.
That same friend on Facebook also had a picture of their son wearing a pretty cool looking facemask. This inspired me to make sure that when I take my girls' first day of school pictures this year, I will include at least one of them wearing their facemasks.
While there are a wide range of differing views on the benefits of wearing facemasks, this is a touchstone point of shared history, or as described in the Pixar movie Inside Out, a core memory.
Twenty years from now, when our kids are telling their kids about 2020 — the craziest year ever — I think this will be one of the main topics they talk about. "They made us stand six feet apart, took our temps, and we had to wear masks." Their kids will probably laugh and make fun of the "weird" styles of clothes, including the masks.
History will be shared, and connections will be developed.
Maybe all of this is just a little thing, and maybe it will take a little bit of extra effort, but I would encourage you to help the children in your care feel seen and important when they go back to school. Take some time to take a first day of school picture, and make sure you include one of them wearing their masks. Share these photos with your friends and families. Make it fun; make it memorable.
This may be just a little thing, but often it is the little things that make the most impact.
Written by Joshua Sprock, trainer for Boys Ranch Training Department