Hunter: On a better road now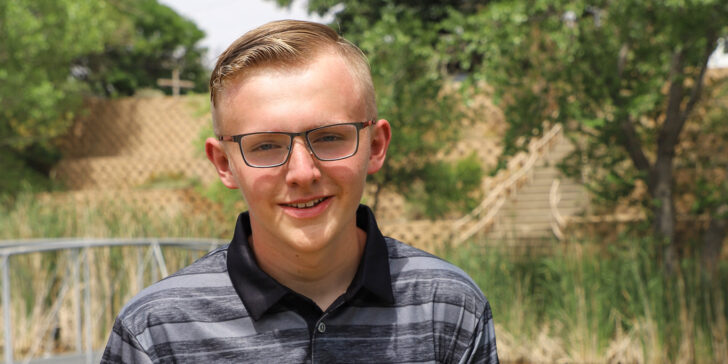 Seeing a limited future leads this young man to Boys Ranch
"I remember passing by this place many times," said Hunter, 14. "We would come by here in the truck."
"The truck" is the 18-wheeler Hunter and his parents traveled in as they made coast-to-coast trips for a living. They often used Texas Highway 385 en route to places north and west of the Texas Panhandle.
Not only was the truck a means of income, it was Hunter's only home and classroom for two years. His mother had home-schooled him here since third grade.
"I decided to look into Boys Ranch myself," Hunter said. "The more I looked into it, the more I liked what I saw and read. I could see so many things happening here that I knew would be helpful to me in life, in general."
It was Hunter who made the call to the Cal Farley's Boys Ranch Intake, Information and Referral Department to ask if he could live here. (Learn more about how youth come to Boys Ranch)
An articulate young man, Hunter certainly made a case for his acceptance. He spoke openly about his desire to have more interaction with youth his age. He sought to be in a public school where he could be integrated into the classrooms, labs, gym and cafeteria. He said he needed new relationships with new people.
"I thought it would be cool to live with a house full of guys," Hunter remembers thinking. "I've had so many good experiences here with my house parents, other adults, peers and coaches. I really hope I can stay here until I graduate high school."
Something else Hunter is excited about is that he can earn a college scholarship.
Even at age 14, college is heavy on Hunter's mind. "What I really hope to do is to get a Ph.D. in neuroscience," Hunter said. "Even before I read about Boy's Ranch, I have been so interested in the human mind and how it works. Brain-based science is really fascinating to me. I'd like to do some theoretical research someday, even have my own research lab."
Perhaps this interest in the mind stems, in part, from his own history. Hunter was diagnosed very early with Attention-Deficit /Hyperactivity Disorder. It is a diagnosis his parents, educators and even he questions.
Boys Ranch is more relaxed than Hunter expected it to be.
"But there's also way more to do than I expected," he said. He's ready for school to start again so he can participate in sports. He wrestled last spring and he liked it. This year, he wants to play basketball.
Hunter has had two Experiential Learning Program projects so far at Boys Ranch. Last year, he helped in the Science, Technology, Engineering, Art and Math Lab helping his mentor, Phillip Miller, with the 3-D printing classes. This summer, he's been working alongside James Langford, who runs the wood-working program.
"I'm learning things I can take with me when I leave Boys Ranch," Hunter said, referring to the carpentry and computer skills.
He's been canoeing, fishing, played archery tag, spent a lot of time in the gym and weight room and learned a lot about horses. He competed in roping and steer riding this summer.
"Any chance I've had to try new things and have new experiences, I'm there!" Hunter said.
"
"I'm learning things I can take with me when I leave Boys Ranch.
"I've had more opportunity to use my people skills, be empathetic to others and to find the right words to say to help the people that I get to communicate with," he said. "I'm trying to work to be a truly neutral party and to not take sides. I'm working on my patience and learning to stay calm when everyone around me might not be. My peers ask me for help to sort through some of their own issues and I like that they trust me as someone they can talk to, vent to. I think others need a someone like me.