MIKE LOWE, DIRECTOR OF EQUINE RIDING & RODEO PROGRAMMING, began his time at Cal Farley's Boys Ranch as a house parent. "To me, working with the kids — it wasn't really a job. It was more just kind of a lifestyle. It was fun," Lowe admits.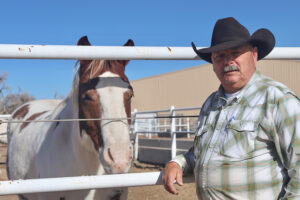 He had a lot of experience having fun with horses before Boys Ranch. So during his 17 years as a house parent, Lowe took every chance he could to help kids connect with horses. "Ever since I've been at Boys Ranch, I come down and ride horses with the kids," he says.
Over time, he earned the respect and trust of the Rodeo & Equine Program. "Every opportunity I got, I was down there helping out and working, because I've got to be doing something," he says. Three years ago, to his delight, Lowe was asked to direct the Rodeo & Equine Program.
When a young person first comes to Boys Ranch, Lowe learns a lot about what that child needs by the way he or she interacts with a horse. Soon that relationship becomes therapeutic. "I've noticed when [kids are] petting and grooming a horse, they're not thinking about anything but the horse; it helps calm them down," Lowe says.
"Even when I'm not at the barn, I'll see house parents bring kids down. The horses are up, and they'll be petting them through the fence. It's a big thing, how horses are with kids."
Lowe shares about a new boy who came to Boys Ranch from back East, who obviously wasn't a cowboy. "He wore the skinny pants and kind of wore them below his waist. He came to the barn with an attitude," Lowe remembers. Something changed when "he started petting the horses. Later he got to ride horses, then some bucking horses — he did great on bucking horses, a real natural. The young man told me, 'You know what? This is better than smoking weed. It's a better high. This is the greatest. This is just awesome.'"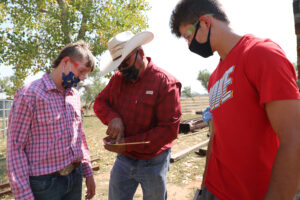 Lowe goes on to say, "I've seen girls who come down here who are struggling. Then, they get into the horse program — barrel racing or pole bending, goat tying, whatever they do. It seems like it gives them a sense of belonging. It's a pride thing. 'Oh, look what I can do.'"
Lowe tells the kids, "Rodeo and horsemanship are kind of like life." And when they look at him funny, he explains, "You're going to mess up. What do you do? You get back on that horse, and you try your hardest not to make that mistake again. Life is the same way. You're going to mess up. What do you do? You just get back to what you're doing and try not to make that mistake again. If you do, you just dust off and do it again."
Along with the practical, there are spiritual applications that Lowe intertwines into the program. "We do a prayer ride once a week in the spring and the fall. We'll have kids come down who've never ridden a horse in their life. Again, it goes back to the horses. The kids are scared to death. We tell them how we've got them on the safest course, which we do. Afterward, they'll come back and ask, 'When are we going to do this again?' They just love it. There's a peace about being on a horse or around the horse. There's just something about it."
At age 63, Lowe is often asked when he's going to retire. He replies, "Well, if you look at it, I'm kind of retired already. I love what I do; and if I love what I do, it's not a job."
Because of support from caring people like you, the Rodeo & Equine Program is helping young people overcome their painful and dysfunctional pasts. They now have hope in their future. "I just appreciate all the donors because that's what keeps our program going. Thanks for continuing to help the kids, because that's what it boils down to," Lowe says.