At Cal Farley's Boys Ranch, we encourage our boys and girls to explore future careers as they discover their strengths and passions while in our care. Every year, Boys Ranch Independent School District holds a college and career fair for sixth through twelfth graders, providing the perfect setting for our young people to learn what the future could one day hold for them.
"The career fair is the most visible way that our counselors work with students to meet college, career and military readiness," said Boys Ranch High School Principal Shawn Read on the annual gathering and preparing youth for independent life.
"We do a keynote presentation, and then give our students an opportunity to follow up with representatives during break-out sessions where the students can get advice on turning their vision into a reality," added Kelly Boydstun, career counselor for Boys Ranch Independent School District, about the fair's purpose.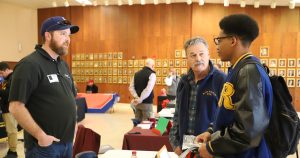 After this year's keynote, Boys Ranch students milled around a large room in Ned. O. Miller Auditorium to talk with recruiters, gather information and learn about opportunities from 33 colleges, universities, trade organizations, employers and military branches.
"I'm deciding between two colleges," said Sam, 18, a senior who began forming his future path at a fair held several years ago.
Sam plans to study music production and said he's considering South Plains College in Levelland, Texas, and Visible Music School, a private Christian college in Memphis, Tennessee. Sam first learned about SPC's music production program through the Boys Ranch Career and College Fair.
While Sam's still solidify where he'll attend, he and two other Boys Ranch seniors, Austin and Elvis, recently accompanied house parents Rocky Lawless and Allen Wallace to visit SPC in person.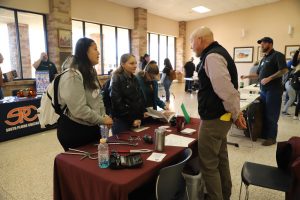 "Holding the college and career fair on our campus is important because it allows us to introduce to all of our students the importance of having a positive vision for their lives," said Boydstun about the experience.
While every child who attends the fair may not know exactly what their future will hold quite yet, like Sam, the fair provides an opportunity to begin forming career aspirations, considering next steps after they graduate — and even dreaming big!
A special thanks to the following organizations who helped make the 2020 Boys Ranch College and Career Fair success!
Amarillo Sod Poodles Baseball • Amarillo College • Affiliated Foods • Attorney Kent Birdsong • Wells Fargo Bank • Brown's Day Care • Keynote speaker Manny De Los Santos, lead pastor and motivational speaker from Power Church in Amarillo, Texas • Cardiology Center of Amarillo • Amarillo College Nuclear Medicine • Carpenter/Millwright Kevin Rodgers • West Texas A&M University • South Plains College • Texas Tech University • Canvas Salon • Deaf Smith Electric • Scottco Electric • Boys Ranch Fire Department • Ground Zero Security • John Deere Equipment • Randall County Investigative Services • Kirby Smith Machinery • United States Army, Marines Corp and Navy • National Weather Bureau • Petsar Medical Team • Pharmacist Ashley Hartsell • Total Physical Therapy • Potter County Crime Scene Unit • Texas Department of Criminal Justice • Texas Workforce Commission • Texas Tech University Health Science Medical School • WTAMU School of Veterinarian Science • EDF Renewable Energy
[metaslider id="28129″]