BOYS RANCH, Texas – Athletic Director Paul Jones unveiled the look of the new football uniforms July 27 to the Boys Ranch Independent School District board of trustees.
Senior Jayden S. modeled the uniform, which BRISD won when dedicated fans and supporters voted in an online contest sponsored by Xenith, which sells sports equipment.
The design is a black shirt and pants with blue trim and gold slash accents. The black was chosen to represent the trauma some of the players have experienced in their lives with the slashes representing their emerging colors.
The school's uniforms were due to be replaced soon, and the Xenith uniforms represent about $4,500 the school won't have to spend on 45 uniforms. BRISD also purchased new helmets.
The new uniforms and helmets will be in use during the 2021 season. The Boys Ranch Roughriders play their first home game Sept. 3 vs. Vega.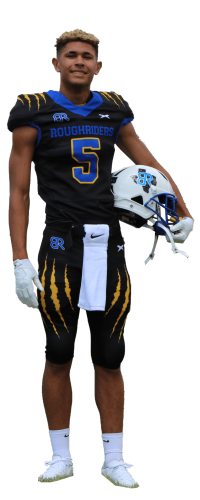 Xenith was founded in 2006 and has a football equipment production facility in Detroit.
During the board meeting, Jones also introduced new basketball coach Dirvaun Sims and his family.
Boys Ranch Independent School District is housed on the campus of Boys Ranch, founded by Cal Farley. For more on Boys Ranch Independent School District, go to www.boysranchisd.org.