Good luck to the students in the One-Act Play theatre program at Boys Ranch High School as they compete at districts tonight at West Texas High School in Stinnett, Texas! They will be presenting the hilarious farce, "The Small World of Millie McIvor," written in 1974 by Ronald Burke.
Originally, our OAP group had chosen a different play, but some of the actors needed in the first play had conflicts, so the group switched plays in the middle of the season. Putting this play together has been a long process and has taught the young people a great deal about persistence, tenacity and teamwork.
"The actors and stage crew have had many night rehearsals, and have all participated in finding and making props," said BRISD Director of Theatre Holly Kemp.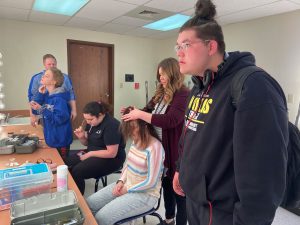 Also in preparation for their district performance, the group recently borrowed costumes from Amarillo College's theatre department and received lessons in make-up and hairstyling for the stage as part of their training. Our actors also participated in an evening OAP Festival in Stinnett last week where they presented their play complete with costumes, make-up and props. Area theatre clinicians were on hand to provide helpful critique to the young actors prior to their district performance.

[metaslider id="28387″]
"The clinicians who saw our play last week gave us some really good feedback," said Riley, 17, who is the Boys Ranch OAP stage manager and oversees the props for the show. "They said it was one of the best renditions of this play because we made it more heartfelt than slapstick. They did suggest that we make everything a little more dramatic and we've spent this last week working on this."
In this hilarious performance, Johnathan (played by Tanner) rips his britches as he and Toby (played by Jayden) sneak off to see a ballgame. Ducking for cover into Millie McIvor's dress shop, they convince Millie (played by Mailee) and her impressionable young helper Lucy (played by Morgan) that the rip must be mended.
While waiting in his undershorts, Johnathan is forced to dive for cover when stuffy old Mrs. Hornbuckle (played by Kiyomi) and her spry but lecherous husband (played by Michael) drop in to see Millie's new dresses.
In a hilarious hiding scene — done in slow motion to heighten the suspense — Toby slides under the table and Johnathan hops into a closet only to be discovered by Millie's worldly friend Jennie Gifford (played by Kaitlyn). The Hornbuckle's stalk out, much to Jennie's delight, making Millie realize that she is missing all the fun.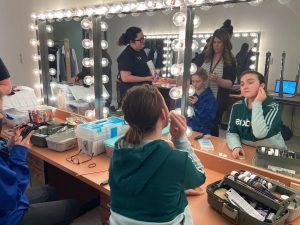 Helping with the production of the play, in addition to the actors, is a stage crew including Riley, Evan, Austin and Jazz.
The cast plans to deliver the performance to their peers on ranch in the coming months.
---
District results
Boys Ranch High School One-Act Play placed fourth at the district competition hosted by West Texas High School in Stinnett, Texas — becoming the alternate for advancement! Our youth also brought home some individual awards! Morgan and Tanner received Honorable Mention All-Star Cast and Jayden received All-Star Cast!
[metaslider id="28423″]