A warm June day provided the perfect setting for baseball! The beautiful, new stadium in downtown Amarillo, Texas, was packed with more than 6,500, including hundreds of Boys Ranch residents and fans, all there to cheer on the AA-level Amarillo Sod Poodles.
It was all part of Cal Farley's Family Night, part of Boys Ranch's 80th Anniversary celebrations.
Talk about great atmosphere! The beautiful green field up against a striking blue just screamed 'action!" to the crowd. The huge jumbotron gave off perfect digital clarity, especially when some of our young people and staff were on camera and being broadcast out giant-size to the crowd.
The Sod Poodles definitely put the spotlight on Boys Ranch over and over throughout the evening.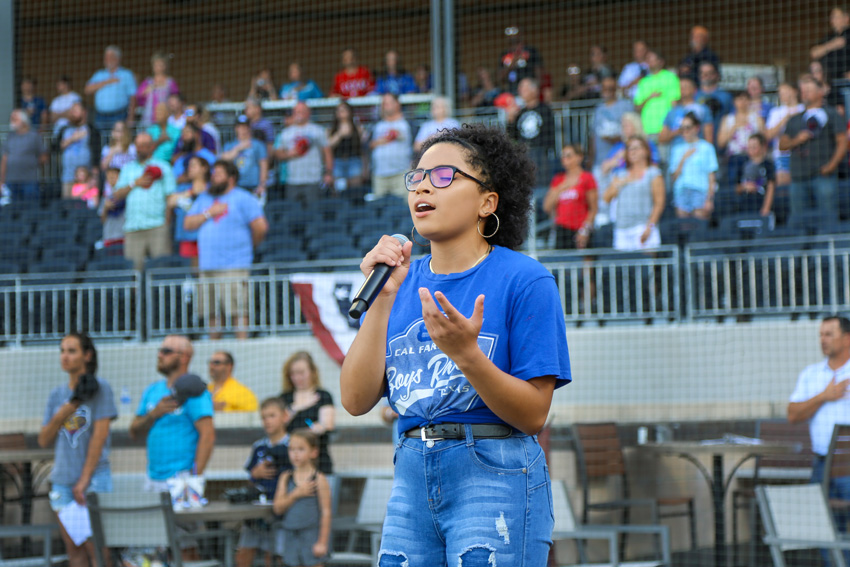 During opening ceremonies, Boys Ranch's own Amaya, 15, took hold of the microphone and belted out the national anthem as if she'd been doing it for years.
"It was so nerve-wracking!" Amaya said afterwards, smiling, "I had the hiccups right as I was supposed to go up there and get ready to sing. I was so afraid I would hiccup during the song, but I didn't!"
Amaya said she practiced in her room singing to herself and sang the anthem to her friends to get ready for the game.
"I had the words down so I wasn't worried about that part," she explained, "but when I started singing, I couldn't believe how loud the mic was and that threw me off a little. Then I saw myself on the jumbotron and then it was just a really, really neat experience."
While it wasn't Amaya's first time to sing in public, she'd never before performed for a crowd of this size.
"Oh wow, didn't she do amazing!" exclaimed Julianna, 16. "I want to go back to another game this summer. I really had fun there!"
Adrian, 15, was selected to compete in the Whataburger Fry Shuffle, which played out on the big screen and he won! Jacoby was named Fan of the Game and was interviewed live on the big screen. Numerous times, the smiling faces of our beautiful children went up on the giant screen. Even Cliff Goss, a popular houseparent of Jefferies Home, was put in the spotlight during the flex contest.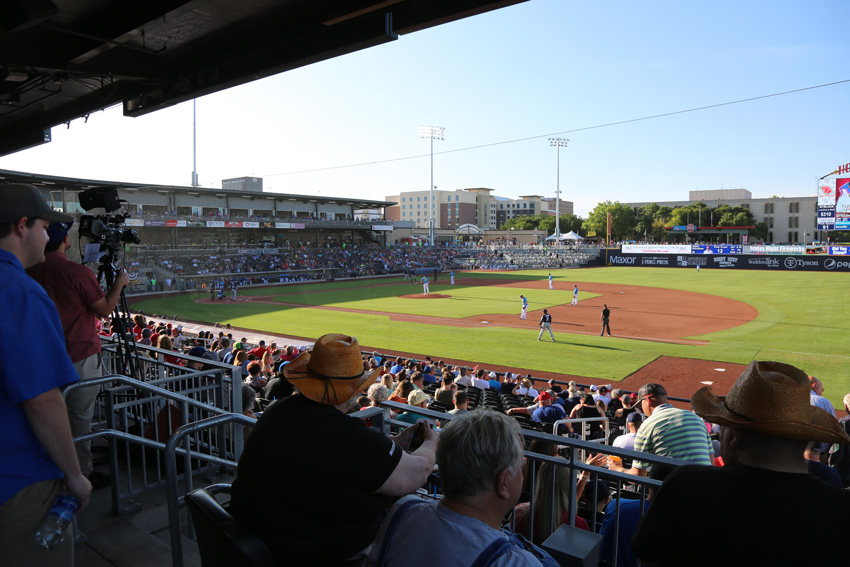 Many of the Boys Ranch children had never been to a minor-league game. They were awed by the atmosphere and had comments about even the most detailed aspects of the experience.
"It was really cool to be there," said Isaiah,17, of his first time at such an event. "The field is beautiful, and I liked the loud cracks of the wood bats."
Zabrian, 8, said he liked the snacks the best of all.
"I wanted to try it all!" he said.
Malakye, 12, was amazed by the pace of the players' performance.
"I can't believe how fast the ball was going. It was showing that it was going over 90 miles per hour," he said.
Ruckus, the mascot, came over and worked the Boys Ranch crowd, posing for pictures and greeting the kids. Some of our children were a bit intimidated by the big prairie dog in his fancy cowboy boots and 10-gallon hat.
"He was a little bit scary with those two big front teeth," said Elijah, 11. "I was standing there and someone told me to turn around. Ruckus was right behind me and, man, was I surprised and a little scared. He shook my hand."
Prior to the start of the Sod Poodles' inaugural season, the Fairly Group, an investment- management corporation and a proud supporter of Boys Ranch, pledged to give us $800 per home run as part of the Home Runs for Healthy Kids campaign. Money raised is going into a special healthcare account to help cover the more than $1 million annual cost of our children's medical expenses. It was awesome for the Boys Ranch children and staff to be in the stadium and see this program being promoted on our behalf.
As of June 14, the Home Runs for Healthy Kids campaign has reached $45,162, with 75 more games to be played by the Sod Poodles between now and the end of their season on Sept. 2.
Dustin, who will be a high school freshman this year said he's looking more forward to playing baseball now.
"I was impressed with it all," he said. "It was still really fun even though our Sod Poodles didn't win."
[metaslider id="19480″]