Trust is an important part of any relationship, and Cal Farley's Boys Ranch places a great deal of importance on the trust we have with you, our friends and supporters.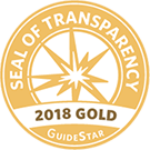 Cal Farley's Boys Ranch has been recognized by a pair of organizations for our transparency and commitment to the public trust. Guidestar, which provides information to more than eight million potential donors and other stakeholders each year, recently awarded Boys Ranch its 2018 Gold Seal. In order to obtain the 2018 Gold Seal, Boys Ranch shared important information with the public using our profile on www.guidestar.org. You'll see the gold GuideStar seal on our website as evidence of our commitment to transparency and integrity in everything we do.
Additionally, the Better Business Bureau's Wise Giving Alliance accredited Cal Farley's Boys Ranch as meeting its 20 standards for charity accountability. The bureau's standards for charity accountability were developed to assist donors in making sound giving decisions and to foster public trust in charitable organizations. The standards encourage fair and honest solicitation practices, promote ethical conduct by nonprofit organizations and advance philanthropy in the United States.
As Cal Farley's Boys Ranch celebrates 80 years of service in 2019, you can be confident Cal Farley's remains an organization you can trust!