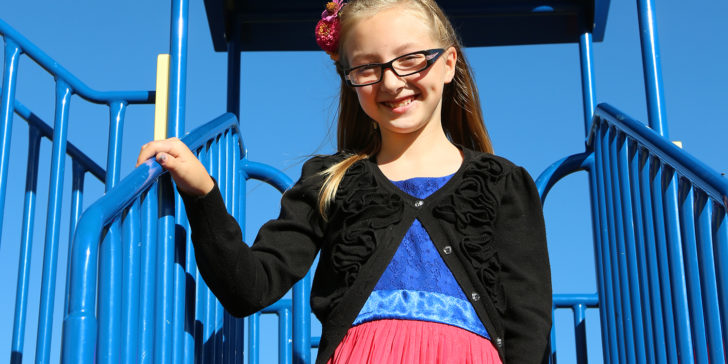 Krista stroked the horse's head lovingly as she talked about her lessons with the friendly creature. She'd just started beginner's horsemanship at Cal Farley's Boys Ranch. She's mastered a few basic skills, but she's still working on persuading her horse to follow her on command.
Krista holds aspirations of becoming a veterinarian. Or, maybe she'll become a scientist who cures cancer and solves world hunger. They're big dreams for a 10-year-old, but thankfully, she has plenty of time to make them come true.
Regardless what career Krista chooses to pursue, her compassionate, nurturing heart shines through.
It's this same heart that befriended a younger peer, who reads to him because he can't yet read for himself. It's this same heart that would craft paper cards to say 'I'm sorry' to her parents when she made a poor choice at home. And, it's this same heart that wants to take care of her parents and grandparents as they age.
"I love my mom and my dad," Krista beamed.
But, Krista's big, giving heart once created an obstacle for her — it made things difficult for her when more was thrust on her than this little girl was ready to handle.
Before coming to Boys Ranch, Krista lived with her parents and two younger brothers. Krista's mother battled severe health issues which prevented her from caring for her family. Often, they left her bedridden. At the same time, Krista's father began working longer hours at a job that frequently sent him away from home.
Meanwhile, Krista, ever the helper, took on additional responsibilities of her own. It left little time for her to make friends of her own.
"I helped my mom a lot," Krista remembered. "I helped out with my brothers. I helped out with meals. I did the dishes. I even helped take out my grandma's dogs."
Krista's added help was appreciated, and helped her parents cope with a difficult situation. But, over time, Krista took on even more responsibility.
Eventually, it became a heavier weight than she was ready to bear.
Acting as her brothers' caretaker became an unhealthy norm. Everything from giving baths and making meals to setting enforcing rules fell, at one time or another, to Krista. The trend wore Krista very thin. Being a full-time caretaker for two younger brothers — when she was just a child herself — was beyond her. But, it didn't stop Krista from trying.
The role reversal began to have an unhealthy effect on Krista's thought processes. Having taken on so many adult responsibilities in the home at such a young age, Krista didn't understand her role as a child anymore. Why should she have to listen to her mother as the authority figure when she was the authority to her brothers? Why did she have to follow rules? She was a rule maker at home, wasn't she?
Initially, disobedience and bossiness were a challenge only where her mother was concerned. But, soon it spread beyond the walls of her family's home. Krista became disrespectful toward her teachers, talking back and questioning every direction. Among her peers, she assumed authority, making friendships hard to come by.
The more Krista asserted control, the more frustrating and lonely her life became. As these feelings grew, so did her behavioral issues. She became destructive, wreaking havoc on her toys and furniture. She began taking small items to draw attention.
Krista's grandmother, shocked by Krista's behavior, suggested her parents reach out to Cal Farley's. During her first tour of Boys Ranch, Krista fell in love with what she saw. It was more than that, though. There was a lot she didn't understand, but Krista knew something had to change, and that Boys Ranch could help.
"There is so much I can accomplish here. You will be surprised," Krista told her tour guides.
While it's still early in her journey at Cal Farley's, Krista is already proving herself to be correct. Allowed to, as Krista put it, "just be a kid" in her Boys Ranch home, she's discovering joy in not always being in control. She's enjoys the friendship she's forged with her roommate, Sarah.
Krista's heart is still as compassionate and nurturing as ever. But, with Cal Farley's help, she's learning there's a time and place for everything — and every role. Cal Farley's staff intentionally grows her understanding of this concept through the use of "re-do" opportunities, playful redirection and conversations with those around her.
As Krista has come to know – and trust – the adults and other children in her Boys Ranch home, she has become better able to express herself and open up to others.
"Boys Ranch is a relationally rich environment where adults can surround a child and help them meet their needs in a positive way," noted Krista's caseworker, April Sprock. "The focus of the equine group Krista is participating in is to use horses to help her learn and practice self-regulation and how their energy and behaviors affect their ability to interact with others."
Where once, her helpful nature left her overextended, Krista is learning to balance others' needs with her own. She sees friendship is about trust and respect, about bringing joy to one another.
"In friendship, trusting each other is a biggy," Krista said. "And, respecting each other and their things. And, when they're down, you can cheer them up."
What is a 'parentified' child?
Parentification refers to a form of role reversal in which a child provides for the emotional and/or physical needs of a sibling or caregiver. Such roles are developmentally inappropriate and may jeopardize a child's emotional health and development. Cal Farley's supports children who come to us from the circumstances by helping them learn to develop age-appropriate behavioral patterns.