A trail of dust emerged from the hooves of 12 horses making their way across the dry Texas prairie on a cool winter afternoon. These faithful steeds were carrying nine young men, a chaplain and a set of house parents from Cal Farley's Boys Ranch to The Edge of the World.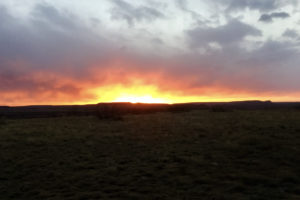 It's not really the edge of the world, of course. But over the years, some of our young people have said in jest they think they can 'see it from here.' The Edge of the World, named this a long time ago by Boys Ranch residents, is instead a sacred place of solace amidst the beautiful bluffs which decorate the 10,000-plus-acre venue. It's part of this place where broken hearts are healed. The round trip there is about a five-mile ride from the Boys Ranch horse barn.
It is here, at The Edge of the World where children living at Boys Ranch have come for years as part of prayer rides. It is a place to leave your burdens, literally. Among some of the most loved practices is a 'write on a rock' ceremony that offers a hurting child the opportunity to scribble his or her greatest wish, biggest secret, or most troubling problem on a rock and then toss it into a pile. Every rock is prayed over, sending its intimate message on to the Great Healer.
This group from Hamilton Home was not on a prayer ride as such, but on a Cowboy Christmas Ride. They were on a journey of joy as the celebration of Jesus' birth approached. They had prayers to offer, songs to sing, cookies to eat and ornaments to hang.
This particular ride marked the close of a year for these young men and their house parents, who all share living quarters at the ranch. Also accompanying the group, by pickup, was a couple who manage the equine program at Cal Farley's and two young men who weren't able to be horseback on this day. They were in charge of bringing the cookies.
One by one, each boy dismounted his horse, some requiring help from the others. This group functions as a family. For a few of these children, this was their first time to ride. This in itself is a remarkable accomplishment, and it was celebrated as it happened. Horses were tied up for safe keeping, and the boys began doing what they came to do.
"This was something very different for us," said house parent Sundi McClain, who had never been to The Edge of the World until now. She and her husband, William, guide the young men in their day-to-day living.
"Oh my, when we got to the location, it was absolutely beautiful! All of the kids became quiet at the same time," she said. "There they were, surrounded by nature, and completely in awe of what God created."
The wind began to pick up, whistling through the brush. The temperature started dropping, but this didn't deter the fun. As Senior Chaplain Mike Wilhelm would later say, "It wasn't exactly a Hallmark moment, but it's something more. It's real."
Before ever leaving the barn at Boys Ranch, one of the boys led the group in prayer asking for safe travels for their upcoming trips home, among other things. Now out in the open, with the wind whipping at the back of their necks, these young gentlemen proceeded to decorate what they would later fondly refer to as a redneck tree. The boys placed green and red ornaments on the bare branches of a couple dormant trees. It is almost ironic, the symbolism here.
Much like some of these young men, the mesquite trees had lost their leaves, but with a little encouragement in the way of winter moisture, the soft green will return in the spring. Many of these boys came to the ranch having had their personal growth stifled by circumstances far beyond their control. A portion of them began this journey at Boys Ranch somewhat in a dormant state. Most of them will make a significant comeback, and many of them will do it in a big way.
They find roots. They branch out. They grow up. They get strong.
The ornaments, left dangling in the wind, will be gathered up on another day and put away for next year's ride. Creating traditions is a big part of each individual home's programming. "We all agreed later, as a house, we need to make this an annual event. It was such a unique and beautiful experience for all of us," McClain noted.
Wilhelm said he had to tuck his head against the howling wind.
"I had to nearly shout as I shared the birth narrative from the book of Luke, chapter 2, with the group," he smiled.
Even in this place of blowing dust, where the wind is tossing nearby horse manes here and there, the youngsters found strength in the unbridled unity they were experiencing.
The sun began going down, tucking itself behind a nearby butte. It did, however, play hide and seek with the group. The big round ball of fire tossed some spectacular orange, red and yellow hues across the almost evening sky. This beautiful backdrop was the perfect stage as 15 voices begin singing Silent Night. Their acapella melody rode the wind across The Edge of the World.
A sack of cookies emerged from the pickup. Using manners they learned or relearned, since being at Boys Ranch, each boy waited his turn to get his portion.
By now, the group felt a little moisture being tossed around in the air. It was cooling off more by the minute, and rain could be coming. A parting prayer was said. Everyone helped one another get mounted up horseback again for the trip back to the barn.
The trek home seemed to go much faster than the earlier ride. Perhaps it was because the wind was now at their backs. For some, the thrill of riding a horse made time fly fast. For others, it was the latest teachable moment in their Boys Ranch experience.
"Some of the boys learned a valuable lesson," McClain explained. "We had asked them all to bring a coat with them for the ride, and some of them made the choice not to. By the end of the ride, they were wanting a coat."
For these young men, and the adults who participated in this prairie pilgrimage, the comradery, love and reinforced sense of belonging — all residuals of this ride — surely refueled each one's positive life perspective. Just in time, mind you, for their end-of-year home visits.
Most importantly, this experience gave them something solid to hang on to until they made it back to Boys Ranch in early January.
[metaslider id="28816″]