Lions Club Members Treat Children to Coats and Shoes
For the 50th year, Lions Club chapters from the Texas Panhandle treated children from Boys Ranch to new coats and shoes.
"We're just very excited that we can be here for Boys Ranch," said James Anderson, who organized the event. "Lions Club is based on providing service to others, and for a lot of us who have been doing this for 20 some-odd years, this is the beginning of our holiday season. We start off serving these kids, and it puts us in a good mood for the rest of the season."
A Lions Club member concludes a successful shopping expedition with a teen.
Lions Club members met 48 children at Kohl's in Amarillo for a shopping spree. The 54 club members accompanied the children to help them choose new shoes and coats of their liking. The club members offered opinions on styles, colors and options.
Kohl's department store provided a 20 percent discount on the purchases to allow the dollars spent to be maximized for each child.
"For 50 years, Lions Club members have been committed to the children of Boys Ranch," said Richard Nedelkoff, president and CEO of Cal Farley's Boys Ranch. "In addition to sharing their money, they share their time by spending time with the children in positive relationships. Some of the children might not ever have taken home new clothes from a store. They will remember this day for a long time."
The Lions Club members are eager to participate every year, Anderson said.
"We tell everyone, and they say, 'I want to know what that's about,'' Anderson said. "And here they come. We had quite a few new faces this year, their first time. I was pleased to see them here."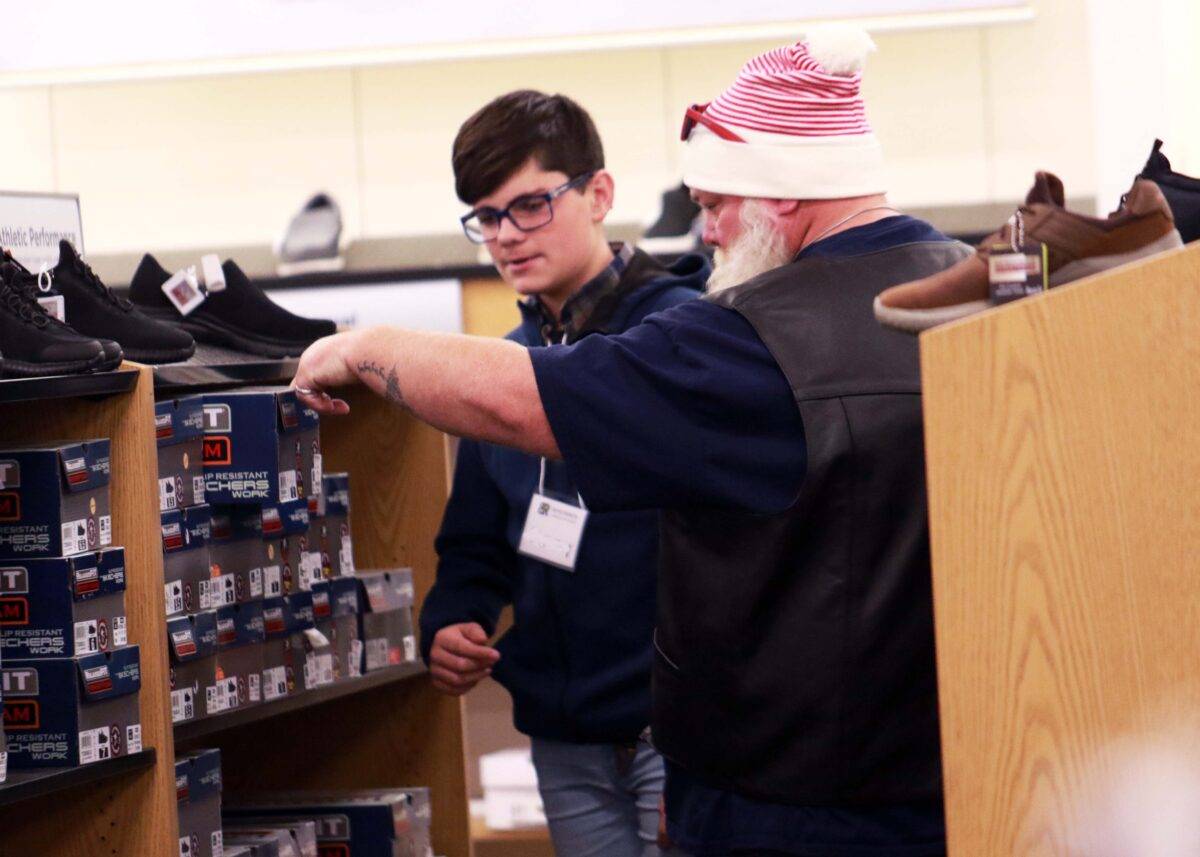 A Lions Club member and a Boys Ranch resident consider shoes.
Lions Clubs in District 2T-1 sponsored the shopping excursion. The district includes clubs in the Texas Panhandle from Childress to Tulia.
"The Lions Club continues to bless Cal Farley's Boys Ranch in very special ways," said Jennifer Venzor, senior director of engagement. "Not only do they provide new clothing for the youth in our care, Lions members take the time to personally help our children shop. As the club celebrates its 50th annual Coat and Shoe event, Boys Ranch remains grateful for the positive relationships and valuable life skills this event provides for our youth."
Children share positive relationships with adults while they shop for clothing. Lions Club members have supported the children of Boys Ranch for 50 years.