Cal Farley's Boys Ranch, already a launch pad for successful young adults, became a literal launch site Monday for a group of engineering students from Texas Tech University in Lubbock, said Barre Wheatley, Cal Farley's emerging technology coordinator.
The Tech students, part of a national competitive rocket team, designed a rocket, 'Raider I', to satisfy requirements set by the National Aeronautics and Space Administration, but needed somewhere to launch their preliminary "sub-scale" design.
Cal Farley's, whose residents design, build and launch powerful rockets that reach tens of thousands of feet in altitude, Wheatley said, was a logical choice. In fact, Cal Farley's Boys Ranch is one of only five launch sites in the United States with a 40,000-foot or greater altitude-restriction waiver from the Federal Aviation Administration.
"We have had our FAA waiver for five years," Wheatley said. "Our FAA waiver allows us to launch rockets up to 55,000 feet. This will allow our residents to begin testing high-altitude single- and two-stage rockets."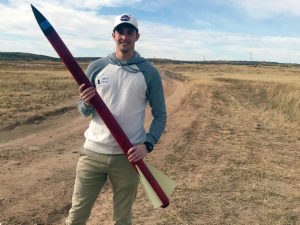 Tech student Derrick Slatton, president of the Raider Aerospace Society at the school of mechanical engineering, agreed Boys Ranch's FAA clearance and close proximity to Texas Tech was helpful to their project.
"We feel very fortunate to have such a welcoming community close to Lubbock to launch our high-powered rocket," Slatton said. "The guidance alone means everything."
Slatton said the Raider Aerospace Society researched and purchased the parts needed to build their rocket, then built the two-stage reusable rocket. He explained Raider I is a one-third-scale model of their final design. Raider I is just under 38 inches tall, with a diameter of 2.1 inches.
"We predicted a flight height of 2,549 feet, and had an actual flight of 2,495 feet," Slatton said. "From here, we now complete our critical design review for NASA, and move on to construct our large-scale, the 'Raider 2'. As it is planned, the Raider 2 will be 114.7 inches long and 6.37 inches in diameter."
For residents of Boys Ranch, it was a day not to launch rockets, but to soak it all up, learn – and dream.
"The elementary and middle-school students in the intermediate rocket club watched the launch and talked 'rocketry stuff' with the Tech students," Wheatley said.
Using the data obtained from this week's launch, Slatton and his team will make refinements and build a larger version. Then, it will again be time to launch.
"We hope to return in the near future for our test flight," Slatton said. "Our final report for NASA, the flight readiness report, is due March 5. We will plan to have tested the Raider 2 by late February."