Image courtesy of The High School BBQ Cooker's Association.
Boys Ranch High School youth returned home from the The High School BBQ Cooker's Association's state competition in Burnet, Texas, with some new, championship hardware — a first-place win for "Build Your Pit"!
As prize for the honor, our young people also received a hand-made Santa Maria grill, which was built onsite by college welding students during the two-day cook-off.
Two Boys Ranch teams, Jalapeño Business and Smokey and the Bandit, were among 65 competing high school teams from all over the state of Texas. Students were judged on their individual dishes such as ribs, brisket, beans and dessert, as well as their grills and smokers, camp set up, efficiency and staging.
For the competition, boys and girls in agriculture, welding, technology and culinary arts areas of our Experiential Learning Program collectively spent hundreds of hours designing, welding and building an authentic chuck wagon and the winning grill that went inside it, as well as a smoker.
While the two Boys Ranch teams did not place in the top ten in any other areas this year, their first-year competing provided great experience to build on.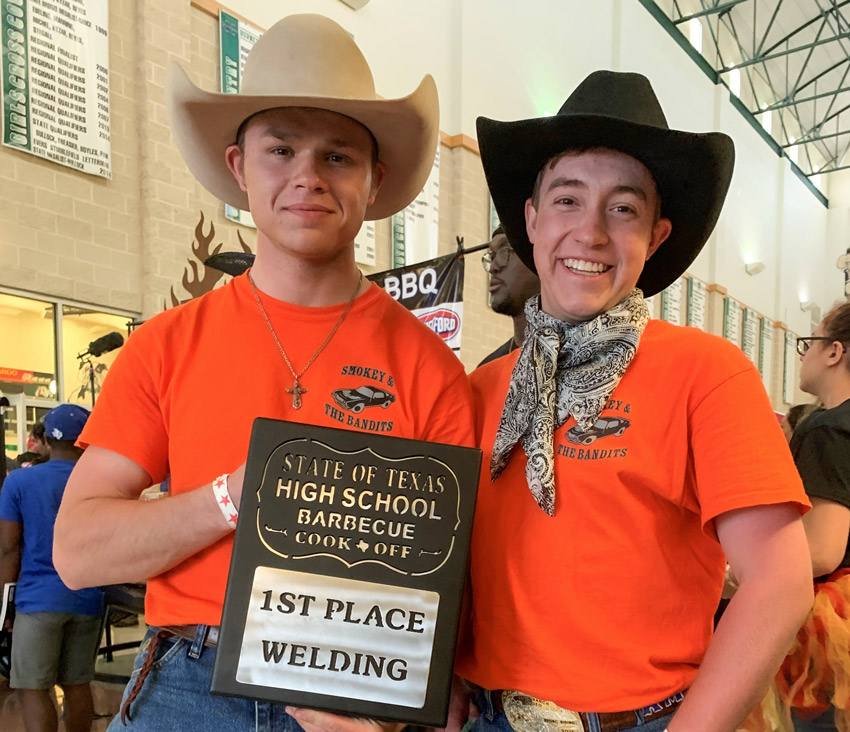 "It was awesome to have both our teams place at regionals and make it to state the first year we entered the BBQ competition," said Linda Norton, BBQ club sponsor and culinary arts teacher at Boys Ranch High School.
"It was a really tough competition," agreed Keely Miller, director of the Experiential Learning Program at Boys Ranch. "There were some really nice cookers there and some teams that have been doing this much longer than we have been. Some of them practice weekly. For us, it was the third time this group of kids had even cooked together. Our youth at Boys Ranch are involved in so many different things, BBQ is just one activity, so we were not practicing every week."
The competition also drew in top BBQ chefs from around the country to judge events and mentor participating teams throughout the two-day cook-off.
"The chefs were very impressed with our chuck wagon grill set-up," Miller said. "It was something they've never seen before and they were amazed at the craftsmanship."
"We made connections with several chefs and mentors who are interested in helping us any way they can," Norton added. "One of the retired chefs, who now teaches at San Antonio Southside, says he donates to Boys Ranch regularly and he's so glad we're now competing in the Texas High School BBQ Cooker's Association competitions."
Trae, a Boys Ranch senior, said the biggest highlight for him at the state competition was meeting judge and chef Steven Raichlen, author of the Barbecue Bible, the flagship title in a series of cookbooks written on grilling, barbecue and other forms of outdoor cooking.
"I've had his book for a long time, so it was fun to meet him in person," Trae said.
For now, Boys Ranch BBQ Club is stoked to put their new Santa Maria Grill to good use as they continue to perfect their craft and prepare for next year's competitions!
"While they didn't win any food awards, our young people certainly learned a lot from knowledgeable people," Miller said. "The comradery among the teams from all over the state and the atmosphere of the competition was just really neat."