For one young man at Cal Farley's Boys Ranch, a dream will come one step closer to reality next week, when he serves as the lead cook for the organization's October board of directors' meeting Monday, Oct. 28, at the Campus Support Center, 600 SW 11th Ave., in Amarillo.
"This is so exciting!" said Bryce Wiginton, 17. "I'm going to love being able to showcase my talents for other people. I can't wait to share all I've been taught. I want others to see what's becoming of all the work the teachers, houseparents and everyone else has put into me."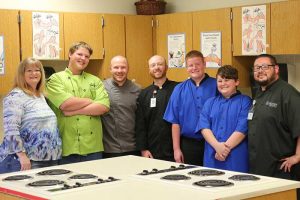 Cooking is a passion for Wiginton, who dreams of one day being a professionally trained chef. Through Boys Ranch's Experiential Learning Program, he has had access to modern equipment and numerous opportunities to receive training in food preparation. In addition, he has participated in the Boys Ranch High School Culinary Team and in learning programs in the Simpson Dining Hall, where he gained additional experience and prepared some specialty dishes.
Boys Ranch High School recently completed an extensive remodel to its culinary-arts lab in order to better support residents like Wiginton, who are interested in a culinary-arts career. BRHS teams have won awards in area, regional and state competitions. Most recently, Wiginton competed on the BRHS barbecue team, which placed first at state.
"Providing high school students with opportunities to gain experience and training on industry-quality equipment, compete in professional quality competitions and participate in catered events allows BRHS students to finish their high school education with valuable work experience," explained Linda Horton, a career technical education coordinator at BRHS and sponsor of several student organizations including the barbecue club. She will supervise and help Wiginton as he prepares to impress the Boys Ranch board.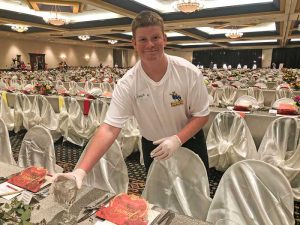 On the menu will be pork tenderloin with homemade apricot barbecue sauce and a salad made of spinach and arugula dressed with a warm seasoned vinaigrette that Wiginton has perfected over time. There will be some side dish choices, all original recipes. Dessert will be his award-winning caramel apple bread pudding.
Mark Strother, executive vice president and chief operating officer at Boys Ranch, said the organization is committed to helping the young people it serves have what they need to learn various trades and work skills.
"It is significant that Boys Ranch is positioned to support residents as they find their passion in life and then support them with education, training, equipment and unique opportunities to gain experience," Strother said.