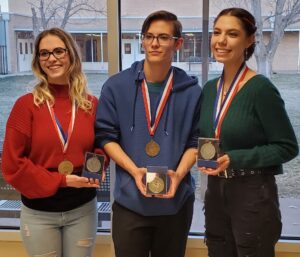 Twelve students performed successfully in University Interscholastic League One Act Play competition, advancing to the regional competition.
Boys Ranch Independent School District Theater director Holly Kemp leads the production of "The Actor's Nightmare" by Christopher Durang that competed March 24 at the bidistrict level.
It's the first time in at least four years that the Boys Ranch One Act Play has advanced from bidistrict to regionals.
The comedy is about an accountant who is forced to perform in a play without knowing the lines. Kemp had a drama picked, but when students returned from Christmas break, she switched to "The Actor's Nightmare," which has fewer cast members but more opportunity for understudies. It was a lighter selection.
"It seemed to work almost immediately," Kemp said. "The second the kids got the scripts and got onstage, they seemed to feel lighter and happier. It just seemed to work for them."
Adjudicators at the bidistrict level praised the production for its comedic timing, lights and sound.
"I never advanced to regionals, even when I was in high school," Kemp said. "To go through it with these kids, including my seven seniors, has been bittersweet."
These students earned individual honors at bidistrict competition:
Evan W.- all-star tech crew award
Mailee L. – all-star cast member
Jayden P. – all-star cast member
Kaitlyn F. – honorable mention all-star cast
The cast and crew sacrificed to be part of the production. Some of the students returned from their spring breaks with families early so they could quarantine before rejoining the cast in time for the March 24 competition, and all rehearsals were masked.
"Because of COVID protocols, we wore our masks, cast and crew," Kemp said. "The masks made it possible for us to rehearse" when some other UIL activities have been shut down.
The One Act Play was performed March 30 for all the other Boys Ranch residents.
"I'm excited for everyone to see it," Kemp said. "I think they're going to laugh and have a good time, and I want them to see the effort that went into this."
Regional competition will be April 12-13 at Canyon High School in Canyon, Texas.
About Boys Ranch Independent School District
Boys Ranch Independent School District is housed on the campus of Boys Ranch, founded by Cal Farley. For more on Boys Ranch Independent School District, go to www.boysranchisd.org.