Tasha Yarbrough teaches English Language Arts to eighth-graders at Boys Ranch Independent School District. She recently was recognized for her work in community collaboration as a means to enhance education.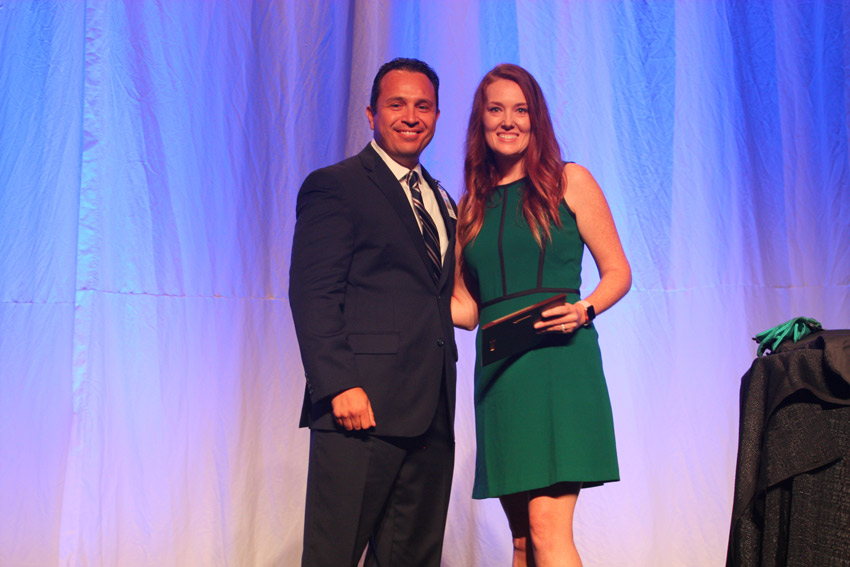 "I nominated Tasha for this recognition because she teaches students English Language Arts outside of the box," explained Blakemore Middle School Principal Brandon Sanders.
During the event, Yarbrough's innovative teaching approach involving community collaboration was shared with other school districts as best practice for educators. Yarbrough was recognized on stage by the nearby Region 16 Education Service Center and presented with a plaque. A subsequent video showcased her teaching style.
"We are honored each year to choose best practices for our region that exemplify the great work going on each day," said Rene Cano, coordinator of instructional leadership for Region 16.
"Schools submit their practices to us in a lengthy form and then our leadership team goes through each one to select the top five," Cano said. "It is a difficult process because we have so many turned in that are great."
Cano said Yarbrough's combination of community involvement and blended learning stood out to reviewers.
"But even more, her commitment to her classroom and students was so evident," Cano noted. "She has a passion for her work that is reflected in the work of her students."
In a sense, Yarbrough was born to this work. Her parents both worked at Boys Ranch, and she spent much of her childhood around Cal Farley's Boys Ranch. Prior to finishing her teaching degree, she was also employed at Boys Ranch as recreation staff, which required her to go through employee training. In doing so, she learned many aspects of the organization's approach to childcare, which is informed by expertise in childhood neurological development and an understanding of how childhood trauma affects the developing brain.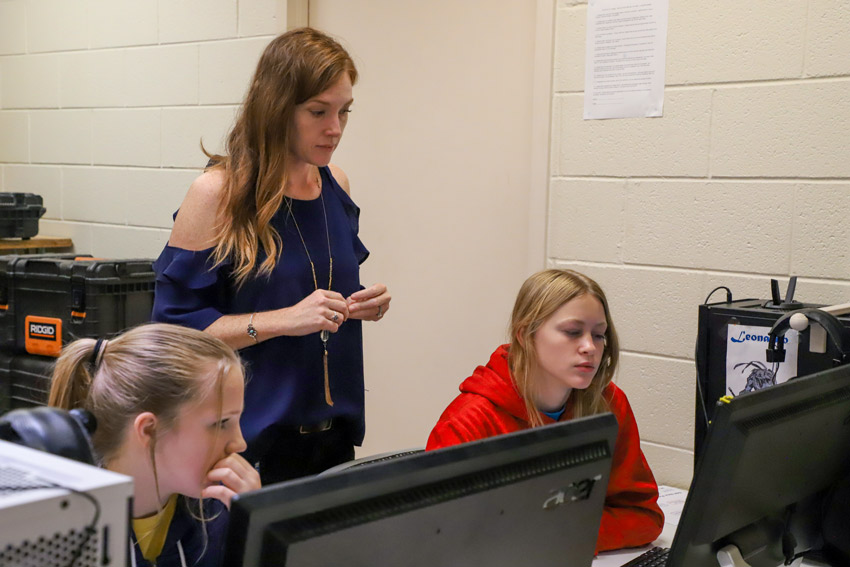 This knowledge of brain development, gained at Boys Ranch, led Yarbrough to envision some innovative opportunities to enhance learning for her students by collaborating with others in the larger Boys Ranch community — a need she knew could change the trajectory for so many young people in our care.
"Last year at the beginning of the year, I met with several of the program people at Boys Ranch, shared my lesson plan and main ideas, and asked what resources were available within the community, resources that could be used to help enhance my teaching," Yarbrough explained. "They were full of wonderful ideas, and we came up with some specific things we decided to do."
While BRISD is a public-school district adhering to all policies and procedures mandated by the state of Texas, its unique proximity and service to the Boys Ranch organization, gives the teachers access to some exceptional facilities and programs.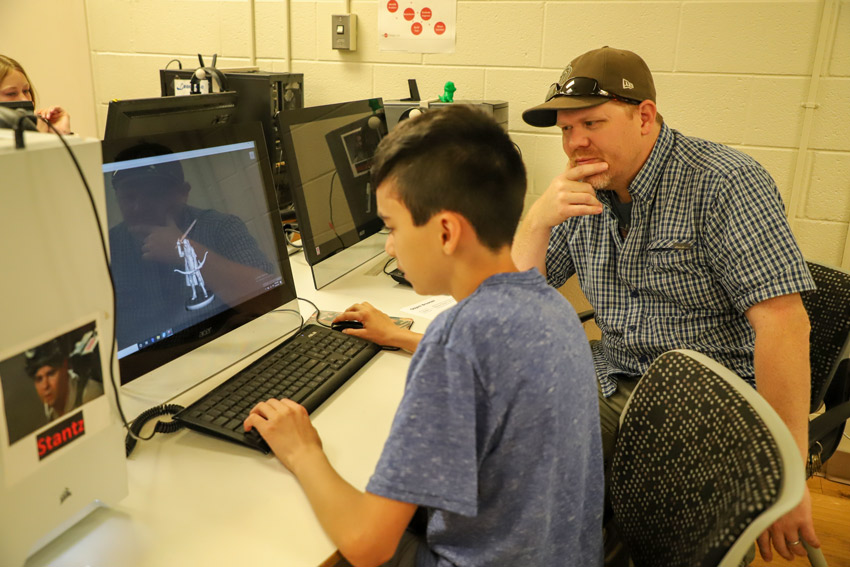 For example, an extensive science, technology, engineering and math lab is a part of Boys Ranch's Experiential Learning Program and provides a place for children to learn work-related skills and use of specialized equipment in areas including computer technology, specialized software, rocketry, 3-D printing, electricity and construction. These skills are taught after school hours, integrating learning from the classroom into applicable, real-world situations and career fields.
Yarbrough used Greek mythology, which many of her students have an interest in, to help them understand and identify various figurative languages used in characters and plots. The students read stories and poems mythological figures while learning about hyperboles, metaphors, similes, personification, onomatopoeias and alliteration.
Each student chose a figure from Greek mythology, around which their project would be based.
"Everything they do has to represent some part of the figurative language they've assigned to it. If they choose hyperbole, then at least one of the features must be very exaggerated. If they choose alliteration, everything … has to have a similar letter sound."
Yarbrough said once each student had their character designed and defined, they were able to take it to the Boys Ranch S.T.E.A.M. Lab and actually create a 3-D figurine, bringing their vision to life. Through this experience, the students learned Greek mythology, figurative speech elements and 3-D technology in a single, unified process.
Yarbrough said she knew some of this varied instruction was used at the high school level, but she wondered why her middle-school students should have to wait until then to experience it.
"Every part of your life is an English Language Arts experience," she said. "So, I'm trying to show them this."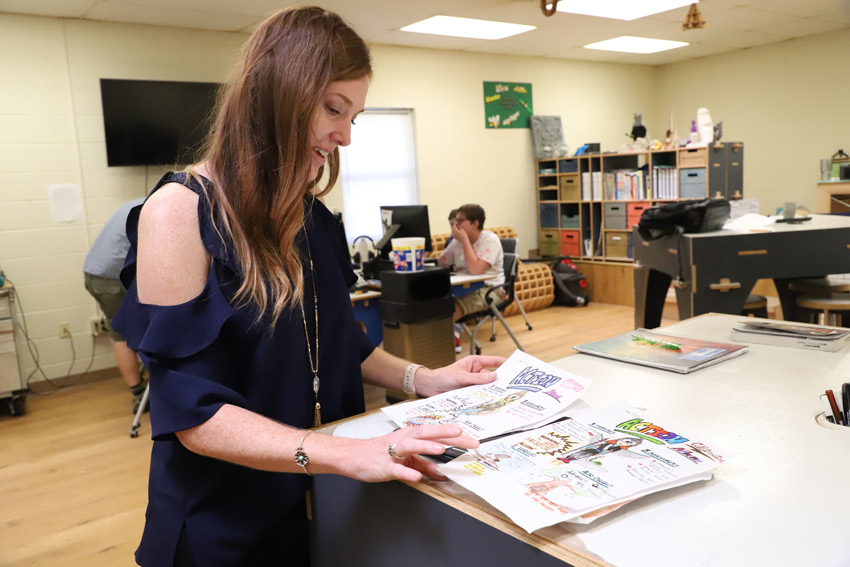 Yarbrough is also very much an advocate for her students. She knows they can excel when given the right environment.
"My students struggle to persevere on (state-mandated) tests with upwards of eight passages in field questionnaires, which are two to four pages in length, followed by 40 to 50 questions," Yarbrough explained. "They would do great with the first two, but then they were done, their scores weren't reflecting what they actually knew."
Recognizing this struggle, Yarbrough began to work with a Boys Ranch counselor to find strategies to help the children in her class learn how to refocus, to recognize when they are losing interest and for example, when a break is needed.
"We also showed the students how the brain functions, specifically when you think you know something, but you missed it," Yarbrough said. "I gave these resource experts from Boys Ranch the main idea and they focused on the brain aspect. Every week, the students were learning something new and exciting in a way they had never been taught before."
Yarbrough is enthused with brain-based instruction and so pleased to be part of the work that is done at Boys Ranch.
"I continue to incorporate what I learned with my class," Yarbrough said.
Thanks to her creative approach, Yarbrough is helping her students to shine.
"Her Texas Essential Knowledge and Skills standards are still being taught and are effective, but it is not done with students spending every day sitting at a desk reading and taking notes," Sanders said. "Mrs. Yarbrough integrates technology and changes with the times to ensure her students are engaged and successful — her way works."
[metaslider id="26286″]