Zayne: Building a giver's heart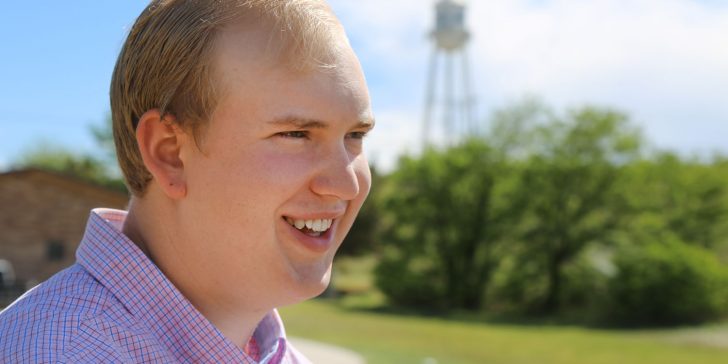 "Boys Ranch has taught me to be more considerate of those around me and help those (around me)," Zayne said "That's something I've really picked up on. If somebody says they need something, I'm like, 'Hey, I'll go help you.' I love doing that."
Zayne's mother quietly dozed in her recliner one Saturday morning. His two younger brothers were still asleep, and his father was away at work.
Zayne, 5, was bored.
He wandered into the kitchen, where he saw the cigarette lighter on the counter. He'd seen his mother use it before. It looked simple, yet so fascinating.
The next thing he knew, young Zayne's shirt was engulfed in flames.
He ran, screaming, into the living room to his mother. As she doused him with water, all Zayne could think about was not damaging his home.
"I don't know what I was thinking, but I said, 'I don't want to burn the carpet!'" Zayne recalled, chuckling at the memory.
The carpet may have been fine, but the damage was done. The fire left Zayne with burns on more than 35 percent of his body.
Now 18, Zayne has physically recovered. Yet, this childhood experience will forever impact his life — but not in the way you might think. Zayne said he wasn't emotionally scarred from his close call with fire.
But, he does want to protect others from facing similar situations — as a firefighter.
"I've seen a lot of (other burn patients) just because of going to the doctor, so I know what they're going to be going through," he said.
A big change for Zayne
This well-adjusted, driven young man with his sights on a bright future is a far cry from the frustrated 13-year-old who first arrived at Cal Farley's. After his parents divorced and his father started working overseas, Zayne and his two brothers went to live with his grandparents in West Texas. The move uprooted Zayne, then just 10 years old, from everything, and almost everyone, he knew.
"I felt alone, because my dad was the person I was closest to. He was always there for me. He was my best friend before I had any friends," Zayne recalled.
Zayne and his grandparents just couldn't seem to get along. He'd seen struggles with substance abuse while living with his parents, and he'd developed a healthy rebellious streak. As such, Zayne fought his grandparents at every turn. Most frequently, they clashed on the usefulness of his studies. Where his grandparents wanted Zayne to get a good education and make something of his life, he couldn't see how he'd ever use what he was learning in school.
"I never saw the big picture. We would just always argue about it … It was a lot more difficult than it should have been," Zayne said.
Over the next three years, the arguing worsened. Zayne's attitude about his family grew more hostile. In school, Zayne didn't pay attention, and he refused to complete his homework. Zayne was quickly becoming too much for his grandparents to handle. They sought the help of a counselor, but it wasn't enough.
Then, on one of his visits stateside, Zayne's father and his grandparents sat down with him to share an important decision.
'The best choice'
"They came and told me about (Boys Ranch) … They were telling me, 'They're there to help you' and 'it'll be different' and 'it'll be good for you,'" Zayne said.
Zayne wasn't convinced, but his father promised that placing him at Cal Farley's was in Zayne's best interest. He'd be in a rural setting, not unlike where he was used to living with his grandparents. But, unlike their house, Cal Farley's would have many young people his age for Zayne to get to know.
After five years of healing, learning and growing at Boys Ranch, Zayne sees his father was right. He's learned skills he can use both personally and professionally, discovered how to make and maintain positive relationships and he's realized how to take his passion for helping people and harness it to give his life purpose.
"This'll be the best choice you'll ever make," Zayne said. "I don't regret it at all."
Zayne flourished at Boys Ranch, finding positive outlets for his self-described "hands-on personality" while building supportive relationships with peers and staff. Embracing Cal Farley's philosophy of experiential learning, he became a fixture in the maintenance department right off the bat.
"They were fixing (the stone retaining wall in front of my home), and I was outside watching them," Zayne remembered with a smile.
Making connections
The team supervisor saw Zayne eyeing them, and asked him to come help hold a stone in place. It was a simple act, but it began to form a bond Zayne said is still strong today.
"That was the first interaction … that I really got into," Zayne said.
Zayne continued learning from his new mentor throughout his time at Boys Ranch. Zayne learned not only useful, real-world skills, but also positive character traits core to the timeless values of faith, integrity and hard work.
"They've helped me with a great work mentality. And Boys Ranch has taught me to be more considerate of those around me and help those (around me) … That's something I've really picked up on. If somebody says they need something, I'm like, 'Hey, I'll go help you.' I love doing that."
This love for helping others, which Zayne said is a foundation of his faith in God, permeates Zayne's personality and has truly become a driving force in his life.
"I believe in God, and I know He put me on this earth to help people," Zayne said. "There's no reason you shouldn't make somebody's day just a little bit better."
Zayne is incredibly thankful to those who support Cal Farley's because he can connect with the giver's heart in all of them.
"I don't think I could ever be thankful enough," he said.