Wyatt: Playing to win
New relationships are helping Wyatt form a whole new game plan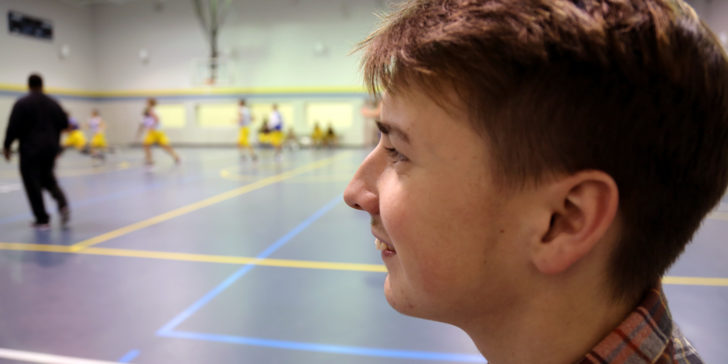 Just 16 years old, Wyatt remains practical and easygoing, even when his teammates on the Boys Ranch basketball team get frustrated by a game that didn't go their way.
"We're going to win some, we're going to lose some," Wyatt said, matter-of-factly. "That's how life goes."
Playing on the junior varsity team at Cal Farley's Boys Ranch, Wyatt is also on track to graduate from high school this year — the first in his family to do so. Wyatt even hopes to attend college on a scholarship. In Wyatt's view, that's winning at the 'game' of life.
"If I grow taller, I want to go to college for basketball and play in the NBA," he joked, noting his five-foot-six-inch frame.
Wyatt's game plan for his life is more focused today, though in many ways it's still a work in progress. Compared to his life before Cal Farley's, though, it's like Wyatt is playing a new game altogether.
"I didn't think my life was heading anywhere really," he remembered. "I skipped school a lot, so I didn't think I'd graduate. I didn't honestly care about graduating … I just didn't care what happened when I was back at home."
Eventually, Wyatt's choices landed him in trouble with the law. His family faced a harsh reality: He needed to change – now – because the game he'd been playing was one nobody wins.
Today, a year into his time at Boys Ranch, Wyatt knows coming here was the right decision. An important part of Wyatt's time at Boys Ranch has been building trust and belonging with the people around him.
"I've had a lot of people in my life just come and go," Wyatt said, referencing his three different step-fathers. "So, it's just been kind of hard to trust people."
In his early years, Wyatt didn't understand the upheaval. Why were his step-dads — his father figures — always walking out on him? With only a child's mindset to guide him, he began to blame himself. If only he had behaved better, or done something more, they would have stayed, he thought. Years of this pattern of thinking led Wyatt to hold others at arm's length.
If people couldn't get close, they couldn't hurt him.
But after months of meeting with his Cal Farley's counselor, John Moore, Wyatt felt free enough to let down his guard.
"I can tell him anything I want. I trust him," Wyatt said. "Trusting him took me a while … but when I got to know him, he was pretty cool."
Wyatt has also made new friends, friends that don't push him to do things he knows are wrong. In fact, Wyatt said his friends actually encourage him to make the right decisions.
Cal Farley's provides youth like Wyatt with what they need to choose healthy behavior, to increase their successes through their own choices. Wyatt knows his game is far from over, but Cal Farley's is surrounding him with positive relationships and influences he needs to go for the win.