Tyler: 'They've done a lot'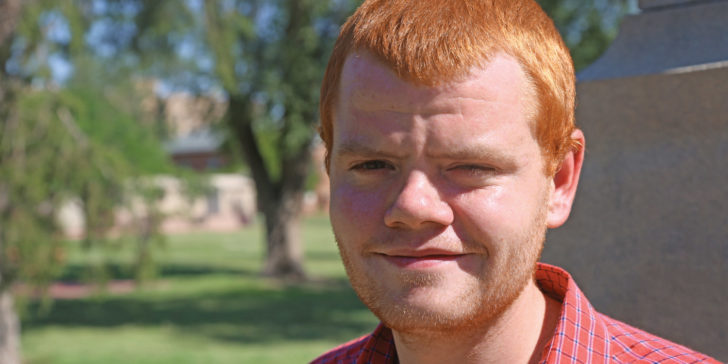 With a steady hand, the young man carefully drove each nail into the horse's hoof, fitting the shoe just right before moving on to the next. Calmly, he maneuvered around the powerful animal, positioning himself for the next hoof — his own mane of bright red hair standing out against the rich mocha of the horse's coat — and began the process again.
Tap, tap … tap.
He's not working quite yet at the pace he's aspiring to, but Tyler, 23, said he'd rather get the job done right than speed through it and make mistakes.
"You're doing it for the horse," explained the 2012 Cal Farley's graduate. "You're doing it to help that horse and make that customer happy."
As he talks about his work, Tyler's drive and passion are obvious. But that wasn't always the case. Before he came to Cal Farley's as a sophomore in high school, Tyler said he had little motivation whatsoever. He neglected his duties at the auto collision repair shop where he worked. He openly defied his parents regarding household chores. And, he was so behind in his studies that teachers and staff at his high school had lost all hope for his future.
Tyler felt misunderstood, misrepresented and mislabeled.
"The school told my mom and dad, 'Tyler will never graduate. He'll stay in school until he's 23 years old,'" Tyler said. "They told my mom and dad, 'He'll never own a car, never have his driver's license, never go to college, never have his own place.' Well, I tell you what, I've done all of that."
Those careless words, coupled with his defiance at home, motivated Tyler's parents to seek the help of an organization that has helped struggling youth like Tyler for nearly 80 years. And, with Cal Farley's help, Tyler has proven his skeptics wrong time and again.
The work ethic modeled by his Boys Ranch mentors inspired Tyler to apply himself not just at school, where he turned around his struggling grades, but throughout his life.
After graduating from Boys Ranch High School in 2012 to the joyous tears of his parents, Tyler sought opportunities in Montana, where his parents had started a homestead. At first, things looked promising. But, over time, full-time work proved hard to come by. And, the odd jobs he picked up to make ends meet became increasingly hard to find, too. At 23, Tyler found himself struggling in Big Sky Country.
"
If I could hug the neck of every donor that's donated to Boys Ranch, I'd do it. They've done a lot for me. It's very special.
Remembering the faithful helping hand Cal Farley's had lent him in years past, the alumnus reached out once more, calling the people he knew would listen, offer encouragement and sound guidance. In Cal Farley's, he again found people who would offer suggestions to a young man determined to make a success of his life. As he discussed his interests, talents and goals with his old mentors at Cal Farley's, Tyler realized his penchant for horses, paired with the ranching experience he'd gained in Montana could be just the ingredients he needed to create a successful career shoeing horses — as a farrier.
Tyler was excited at the prospect of working with horses in a trade that promised a good living to anyone willing to work hard. And, if there was anything Tyler knew, it was how to apply himself and work hard!
"I thought it would be fun!'' he said.
As simple as that, Tyler began to translate his interests and experience into a career. But, what about the education and training he'd need?
With assistance from Cal Farley's alumni-support staff, Tyler set out to chase his dream at an Oklahoma horseshoeing school. Today, Tyler has graduated and is apprenticing under a well-known Texas farrier.
As he reflects on his time at farrier school — and his life after high school — Tyler pinpoints one of the major influences that kept him focused throughout the rigorous training: "I didn't want to let the donors down."
Tyler remains incredibly grateful for the loyal supporters who make possible Cal Farley's work with young people like him.
"If I could hug the neck of every donor that's donated to Boys Ranch, I'd do it," he said. "They've done a lot for me. It's very special."