Traditions: Threads that unite a chosen family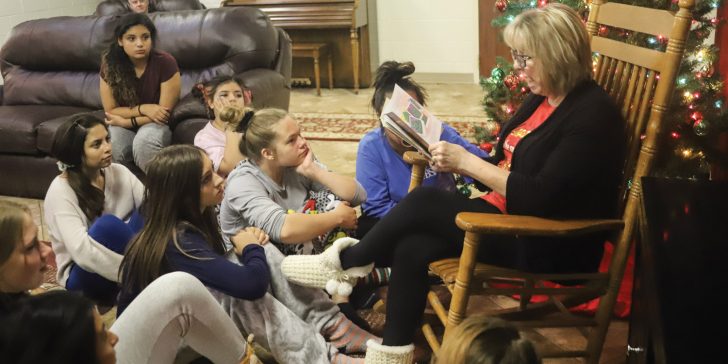 A child's simple question began a favorite Christmas tradition for one Boys Ranch home.
"Mommy, aren't you going to invite the big girls to hear the story?"
Sandy Pape, a longtime houseparent, had decided to read with her own two little girls. She had gathered up some children's Christmas stories and found some special ornaments she knew her daughters would enjoy. Her intent was to read a story each night from Thanksgiving through Christmas Eve. Following each story would come placement of Christmas décor on the tree or in the home.
"As I prepared to read the first story, my oldest daughter, who was three at the time, asked me if I wasn't going to invite the girls in the home to join us,'" Pape remembered.
"I thought to myself, I don't know if they will want to hear children's stories, but I sent my little girls in to invite them to come listen," she recalled. "The girls, most of them already in their pajamas, began piling into our apartment."
The Papes have been with Boys Ranch in various roles for 29 years. The young ladies they've served have enjoyed the books-and-ornament tradition, and delighted in talking about the experience.
"My family was never home. My mom was always working and I was always at home with my sisters," recalled Gabriela, 15. "We didn't have anything like this … we are here to find (our) place in this world, and that's what Mrs. Pape does — she helps us find that."
Samantha, 16, said she was initially reluctant to participate.
"Then, I began to think about all the stories Mrs. Pape has read to so many children, girls that were here years before us," Samantha said. "We have this in common with them. Knowing Mrs. Pape cares about us enough to take her time to read to us every night is really special."
The first night's story is always about a little Christmas ornament named Noel, Pape explained. The girls who are seniors in the house get to put a special ornament on the tree after this story.
"Other stories might be about a wreath, and the girls hang the wreaths on the doors. One story is about a crippled little lamb, and we look at the lamb in our Nativity scene. We read about the holy star and the youngest girl in the house gets to put the star on top of the tree. We read The Christmas Cookie and we eat cookies. The last story we read is The Night Before Christmas."
Pape said the girls usually gather in night attire and drink hot cocoa.
"We dim the overhead lights and enjoy the tree lights," she said.
Anna, 16, who was adopted by her American family from her native Russia on Christmas Eve eight years ago, is in her third year at Romersi Three.
"Initially I couldn't understand it because my family doesn't do much with tradition," Anna admitted. "I began thinking then that this is a real family, the kind of culture I want to be part of."
Pape believes children and adults all need continuity in their lives, making such rituals significant.
"Traditions matter because they can be the thread that holds a family together," Pape reminds her girls every year. "I do not know what traditions my girls may have had at home, or if they even had any. What I do know is they will have a chance to have traditions in the future that they can create. Someday, hopefully they will be married and have kids and traditions. I want them to understand what a tradition is and why they are important to a family."
Pape said nearly every year, she receives a new Christmas book or two from alumnae who lived in her house and experienced the tradition.
"Some of them are doing this same tradition with their own children," Pape said, "and this makes me so very proud."