Taylor: The way made straight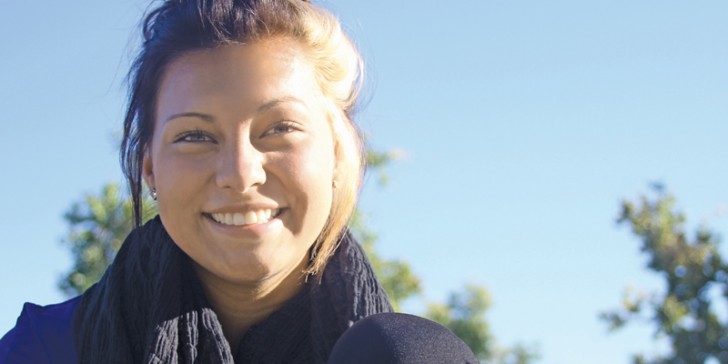 Like many high-school seniors, Taylor is energetic and always busy with activities including softball, basketball, track, cross-country, tennis, Fellowship of Christian Athletes and playing the trombone in the Boys Ranch High School band.
But Taylor has gained an appreciation for the value of life and an awareness of how easily anger can consume someone. It's a realization that didn't come easily. And, with that realization came a mandate to share her newfound values with others.
Taylor grew up in what most would assume was an average middle-class Texas home with her mother and father. But, when she was in middle school, a parent's struggle with substance abuse split the family, and, though they surely didn't intend it, Taylor found herself pulled between parents.
"Mom got a divorce, and I started going back and forth between them," Taylor said.
Eventually, her mother moved on, and Taylor felt her as if her step-father were an outsider interfering in her family. Though she resented her father's addiction, she wasn't about to give his place in her heart to someone new.
That's when the rebellion began.
"In eighth grade, I started going down the wrong path, smoking and sneaking out," Taylor remembered. "I would come home late, or I would ignore my mom …. When I got to high school, that's when it got really bad. I took my mom's car and took it to a party and … crashed it … And, then I ran away, because I didn't want to face the consequences for that.
Taylor returned home after a brief run-in with juvenile authorities, but as much as she wanted to avoid her father's roller-coaster life pattern, she saw herself following the same path.
"That's when me and my mom started drifting apart," Taylor somberly recalled, "I felt like she thought differently of me since … I started doing all these bad things. She told me I was going to be exactly like my dad, and I took that to heart because I didn't want to be like my dad."
But Taylor needed help to change.

She and her mother had sought Cal Farley's help two years earlier, after a family friend and alumnus of Boys Ranch recommended it as a place to find a fresh start, but the timing wasn't right. This time, however, things were different. And, though her mother wanted the best for her, Taylor nonetheless felt a sense of betrayal.
"I was really mad," she said. "I felt like I was being left here. I felt like I was being given up on."
Of course, nothing could be further from the truth, but it took a little time for Taylor to come around. In the meantime, Taylor also was making new friends on campus.
"The first person I met out here, Hillary, she and I are really close. We would come over to each other's houses and just talk."
As time went on, Taylor saw a lot of her old attitudes and habits changing, especially her attitude toward God. She said attending chapel on campus and her many talks with Boys Ranch Director of Christian Education Jennifer Hipp helped her let go of her anger and bitterness. The biggest change in Taylor's spiritual life, she said, came over the summer, when she had the opportunity to help at a nearby organization that provides fun camp experiences for children battling cancer. (Cal Farley's offers children an opportunity to help others, which often helps the children begin their own healing.)
"That totally changed my views on a lot of things," Taylor said. "We would bond, read verses and tell our stories. We got to see where God had put His hands on us and helped us through specific events that we didn't really think about before. We worshipped a lot. I felt really lifted … at peace."
Taylor said seeing such joy on the faces of children who face struggles so much more severe than her own gave her a new perspective on her own circumstances.
"I just feel like I took everything for granted. I disobeyed for no reason, for spite," she said. "These kids are super happy, and they have nothing, or they're really sick and super weak.
"I feel like I should learn more about the Bible … I've been reading the Bible, I just got done with Psalms."
In exploring her faith, Taylor has taken to heart a powerful message she found in Proverbs 3:6 – "In all your ways acknowledge Him, and He will make your paths straight."
Taylor said her favorite verse offers her a promise of God's active role in her life.
"God will set you straight, in the direction you need to go," she said.
One of the ways God is doing that, Taylor said, is by putting positive influences around her. Often those influences come in the form of the caring Cal Farley's staff, and other times, it's peers who give her godly encouragement, particularly her boyfriend, Rod.
"He keeps me closer to God," Taylor said. "When my dad went back into jail … (Rod) persuaded me to write him and forgive him."
Cal Farley's staff take a very thoughtful, deliberate approach before approving on-campus relationships to ensure any relationship is healthy and beneficial for each child. Taylor said the faith she shares with Rod has echoed the advice and guidance she's received from others. It's helped motivate her to make positive changes in her life to improve her future, she said.
And Taylor's mind is on her future – a lot.
As a senior, Taylor has 123 days (yes, she's counting) until graduation. And, with the encouragement of her Cal Farley's mentors, Taylor and her family have begun to heal their relationships.
"(Mom and I) got a lot stronger," she acknowledged. "As I get older, there's more to relate to. We have real conversations."
Taylor said her mother is helping her look at colleges, and she's leaning toward a program at a state university.
In the meantime, Taylor is preparing for Christmas and the special atmosphere it brings. She said she's grateful for the support of her family and of the people who make possible the kind of life-changing work she's benefitted from at Cal Farley's. But, even more than that, Taylor would like this Christmas to be the year she can share a very special, life-changing gift with her own family – faith.
"They're not Christians. They doubt a lot," she said. "But people need faith. They've got to believe something good can happen in their lives."
Taylor believes, and she's seen firsthand that positive change can happen in someone's life.
(Cal Farley's) made me a better person (in letting go of her anger)," she said. "There's more (in life) to look forward to."