Tayler: One change made all the difference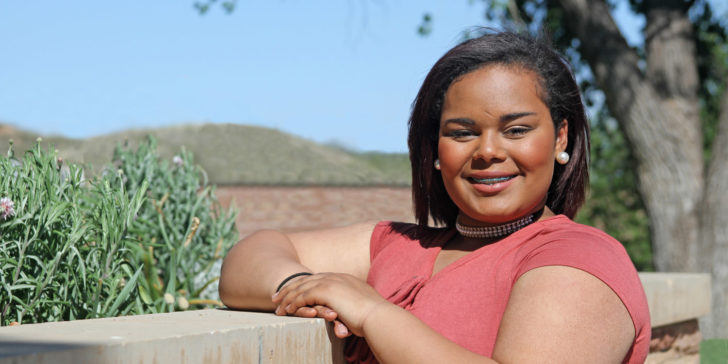 "
My relationships towards people have all changed because of my attitude. It showed me one thing could affect so much.
For Tayler, 17, a remarkable change has taken place over the last four years at Cal Farley's.
"I've gotten a lot out of Cal Farley's," Tayler said, grateful for all the support and learning she's experienced. "They've taught me a lot about controlling my attitude. I used to get mad so easily. I didn't care if I hurt your feelings. I used to be in trouble a lot, and I loved to fight. Now, I don't ever fight."
For a long time, Tayler was just itching for a fight, a way to vent her anger. Her mother's battle with addiction greatly pained her, prompting Tayler to lash out at whatever target was the most convenient. It was the wrong response to an already difficult situation.
"I'm the type of person who doesn't bite my tongue," she said. "I told my mom how I felt about everything she did."
Underneath Tayler's frustration, though, she harbored a secret hope — that she could help her mother recover and change.
Tayler's mother was clinging to hope, too. She hoped to give her daughter the opportunity and stability she clearly needed. And, the family's frequent moves had made it almost impossible for Tayler to adjust.
"When I lived with my mom, my mom moved a lot," Tayler said, noting she once attended as many as six different schools in a short period of time. "I jumped from school to school to school. It was complicated just making friends."
Tayler's mother sent her to live with her grandmother. Maybe there she could be happy and thrive.
"With my grandmother, I was in a settled home," Tayler said. "I stayed at (the same school). So, it was easy to know my teachers and know my friends."
But, despite the stability her grandmother's home offered, Tayler continued to have emotional outbursts and demonstrate outright defiance. She resented her grandmother's attempts to be a caregiver.
"I felt like my grandma didn't have the right to tell me 'no' because she wasn't my mom," Tayler said. "I was very disobedient, and didn't like authority. I would go against everything my grandma said. I fought with her a lot."
Tayler also began running away, going to the park or meeting up with friends in direct defiance of her grandmother's wishes.
While Tayler's attitude was reaching a breaking point, Tayler's mother finally sought help for her addiction. She entered a rehabilitation program. That meant, though, she couldn't bring Tayler home. In desperation, her family turned to one of the nation's oldest child care communities, a place that helps youth like Tayler transform their lives.
And, for the last four years, Tayler has worked hard to rein in her emotions and make sense of things at Cal Farley's through many healing activities and with the guidance she receives from her mentors and counselor.
Of particular help for Tayler has been learning in the Boys Ranch community garden. She said her mentor, Cal Farley's Agriculture Coordinator Tim Nation, has helped her foster a more positive attitude.
"I used to talk so negatively about myself and others," Tayler said. "(Nation) used to say, 'If you're not going to talk positively about yourself or your peers, don't come here. It made me want to change."
Nation has helped Tayler understand how her actions and behavior hurt not only others, but herself, too. And, learning experiences like caring for the plants and the goats that romp and play nearby helped develop Tayler's responsibility and showed her what it felt like to have something depend on her for its care.
"Normally, the momma goat has four babies," she said describing her favorite activity in the garden. "She can't feed them all, so we'll hand-feed two of them."
These experiences helped Tayler develop empathy and a genuine caring for others.
"It made me feel like something else cared for me — an unconditional caring," she said. "Now, the goats will run up to me. I made a positive impact on somebody, something's life."
As Tayler learned to have a positive, rather than a negative, effect on others, she's begun applying this new life skill to all her relationships — with her peers as well as the adults in her life.
She's also learned to use her lessons from the Boys Ranch garden to keep her emotions from getting the best of her.
"My counselor tells me, 'Think of a place that makes you happy. Think of something that soothes you and calms you down to where you're not thinking about a problem,'" Tayler said.
Now, when Tayler feels a rush of anger, she calms herself by thinking about the garden and the goats she cares for there.
Tayler says she's thankful for the many changes Cal Farley's has helped her make in her life.
"My relationships towards people have all changed because of my attitude," she said. "It showed me one thing could affect so much."