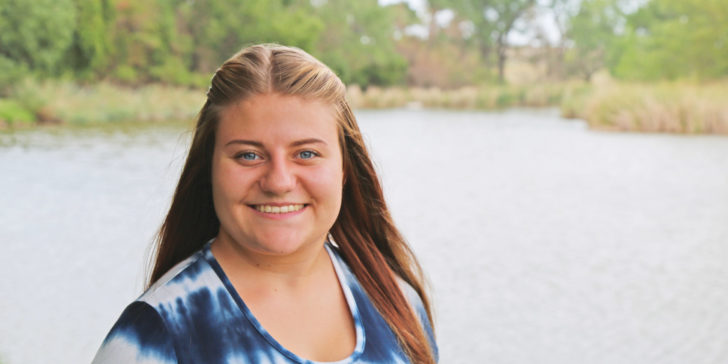 Before she came to Cal Farley's at age 14, Taryn had seen her share of frustration and trouble. The ball in a ping-pong match between her separated parents, Taryn didn't know where to land. She was emotionally lost, and tried to find herself in all the wrong places. Now, when she finally realized she didn't like where her choices were leading her, she didn't know how to get out of the hole she had dug for herself.
A rocky start
TARYN'S TROUBLES STARTED AT AN EARLY AGE. When she was just 4 years old, she and her father were in a terrible car accident that left Taryn with a broken neck. The severity of the injuries — she now has two fused vertebrae — and the circumstances surrounding the accident ignited a bitter struggle between her parents. Regardless who won, one thing was certain: Taryn was the clear loser, torn between the two people she most loved.
As she grew older, the situation didn't improve. Her parents' on-again-off-again substance-abuse issues left Taryn to shoulder a lot of responsibility at home — responsibility she wasn't ready to take on. Caring for her younger brother while cleaning the house and cooking for the family became Taryn's daily routine. And, school offered no reprieve. Bullies harassed Taryn about her weight and the neck injury that left her with limited mobility. Taryn was stung by her classmates' mockery. How could her peers torture her about things she had limited power to control? So, as her time in middle school progressed, she began to withdraw, feeling self-conscious and helpless.
"
I feel like new person since I've been here.
The pressure both at home and at school built and built, until finally Taryn couldn't take it anymore. She began acting out, refusing to do even the simplest of chores around the home, disregarding rules about bedtime and purposefully saying or doing things to aggravate her mother. Taryn's behavior at school was no better, and her grades began to suffer. The once A-B student began racking in Fs. Taryn flung aside any kind of responsibility she once held.
Over time, her behaviors became more destructive. She punched holes in walls, and used red lipstick to write her frustrations all over the family's bathroom. When she set the yard on fire one day, Taryn's mother kicked her out of the house. Taryn found refuge at her father's house, but not for long. After only a few months, Taryn's behavior had worn thin her welcome there, too, and she returned to her mother's house.
The final straw, though, was when Taryn began experimenting with drugs.
A time for action
Afraid her daughter would follow the same path she once had, Taryn's mother reached out to Cal Farley's for help. And, now in her third year at Boys Ranch, Taryn is thankful for her mother's decision.
"I had to change, or I'd end up just like that," Taryn admitted.
Instead, at Boys Ranch, Taryn has flourished both academically and socially.
A member of the National Honors Society and on track to graduate from Boys Ranch High School ahead of her peers, Taryn has her sights set on becoming a doctor. She's mapped out her college and post-graduate plans and, although she knows she has a long journey of school and training ahead of her, Taryn has no doubt she can and will reach her destination if she continues to apply herself.
Growing and learning
At boys ranch, Taryn spends much of her time helping out in the community garden. There, she learns responsibility, not in the overwhelming way life thrust it upon her as a small child, but in an encouraging way appropriate to her age. She's learning responsibility is a healthy part of growing up, rather than a heavy burden to be avoided.
And, she's learned great joy can sprout from that responsibility.
"Just watching the animals run around is fun," Taryn said. "It's fun to see the goats jump on stuff."
The responsibilities Taryn holds in caring for the garden and its livestock have also given her a greater sense of purpose, she said.
"Whenever I have to take care of something, it makes me feel more mature … I don't want them to get hurt. I want them to feel safe."
These nurturing lessons have helped bridge the gap between Taryn and her mother. Today, Taryn better understands her mother's heart, and because of that, their relationship has improved. Mother and daughter used to fight about anything and everything. Now, they can enjoy each other's company.
"We've gotten really, really close. Whenever I go home, we do everything together. I tell her everything."
The course of Taryn's life has been changed by her experiences at Cal Farley's. Once a lost girl ill-advisedly searching for her way, Taryn is now a new creation, blossoming into a responsible young woman eager to contribute to the world around her.
"I feel like a new person since I've been here," Taryn said. "If you want to change yourself, this is a good place."