Sydnee: Moving toward hope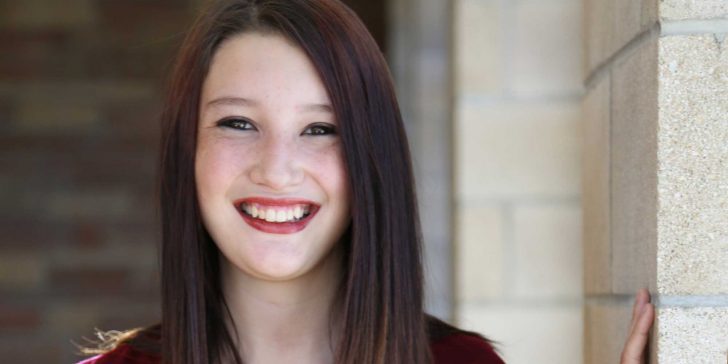 A huge grin spread across Sydnee's face as she recalled her first Christmas at Cal Farley's.
"When I first got (to Cal Farley's) … it was really nice, because we came together as a home." Without hesitation, Sydnee, 17, added, "for the first time, I felt like I belonged in a family."
At Christmastime, young people at Cal Farley's find themselves with a number of meaningful activities that help them establish happy Christmas traditions. Memorable projects like decorating the home inside and out, baking, doing crafts together or practicing for the annual Christmas cantata help young people form new bonds with others on campus.
As enjoyable as the Christmas season is for many, it's also a time that can be difficult for some of our youth, as painful memories of past Christmases resurface and feel all the more present.
For Sydnee, there aren't years of happy Christmases to reflect upon. But, there is one year she recalls with great fondness.
At the time, Sydnee was seven; she remembers it being special because her whole family came together for the holiday. Despite this memory, she says she has a hard time recalling many details from her childhood, explaining her mind has locked away her more painful memories.
What she does remember of life before Cal Farley's is how unstable she felt amid the constant upheaval of moving — Sydnee attended more than 20 schools in her early life, and lived with relatives when her mother faced financial difficulties.
She also remembers her mother's changing relationships being a point of stress for her.
"My mom did have men in and out of the house a lot," she said. Sydnee felt ignored, as if she and her older sister, Jasmine, were responsible for taking care of themselves.
"(My sister) basically took care of me, or I took care of myself," she said.
Sydnee increasingly felt unsafe, and built up a strong distrust for adults.
Still another adjustment came in middle school, when Sydnee's family moved to a new city, and her mother remarried. Instead of bringing peace and stability, Sydnee said the change compounded years of instability. Sydnee struggled to control her swirling emotions and impulsiveness. She became more disrespectful and began to act out even more.
"I stole a lot and I ran away from home," she said. "I acted out some, did not listen to my parents."
To make matters worse, Sydnee also felt somehow guilty for the tragic death of her younger sister, who passed away at a very young age from a rare chromosome disorder.
"What happened with my little sister, I felt like I had a lot of blame in that," Sydnee remembered, somberly, "that it was my fault."
In a desperate attempt to feel in control, Sydnee turned to self-harm to cope with her emotional pain.
"Things got bad … (Self-harm) was just something I felt like I could (control) when I couldn't fix anything else," she said.
Unable to deal with her daughter's emotional turbulence, Sydnee's mother sent her to live with her aunt at the end of Sydnee's eighth-grade year.
The move did little to help Sydnee. Almost a year went by with her behavior continuing to cause conflict. Sydnee's aunt was looking for help, when a co-worker told her about Cal Farley's work with struggling children.
Today, two years after coming to Cal Farley's, Sydnee has overcome a number of her struggles. Thanks to Cal Farley's programs designed to meet her specific needs, Sydnee has learned to redirect her anger into more positive outlets and is learning how to trust her peers and adult mentors.
"I (didn't) trust adults very easily," she said. "(The Adventure Program) taught me how to open up and enjoy doing stuff, instead of being scared."
However, a slower road toward trust for Sydnee has been Cal Farley's chapel program.
"Sydnee is a beautiful, courageous young lady," Cal Farley's Senior Chaplain Mike Wilhelm said. "Her journey is unique, and has an important, authentic perspective."
Like the rest of her peers at Boys Ranch, Sydnee attends chapel services each week and participates in weekly devotionals in her group home.
She still has many questions, and even a reservation or two, but she remains grateful for the chance to seek out the answers to those questions in a supportive atmosphere.
One of Sydnee's reservations, she said, is understanding how God could have allowed her to go through her past experiences, especially the death of her younger sister and the suicide of her best friend in fifth grade.
"I don't understand why — when I haven't done anything — why (He) would do that," she said. "Why couldn't (He) have planned my life differently?"
Director of Christian Education Jennifer Hipp said many residents come to Cal Farley's questioning God in this way, and that for many of these "why" questions, there simply aren't answers "on this side of heaven." Chapel staff emphasize to these hurting young people that God values and loves each of them.
Understanding that alone is a particularly important part of the healing process, Hipp said.
In this way, it's young people like Sydnee, who are asking "why", who benefit the most from Cal Farley's Christ-centered approach. Our campus gives youth a safe place where they can ask questions and work through their feelings without fear of judgment, be who they are, and be completely honest with God.
"(Our hope) is that they will … know that they were valued and (be) able to talk about (their reservations)," Hipp said.
These experiences help establish a gentle way for youth to embrace their healing and, perhaps, spiritual life.
Another important part of the chapel program is observing the path to healing modeled by their Cal Farley's mentors. Staff help our youth discover they can let go of the pain, heal and find hope for the future.
"The hope is as they see that (choice to heal) they begin to pick up some of those (Christian) values and begin to live (them) without even realizing it," Hipp said. "So that when they leave here, they've had a model. They've had the opportunity to begin to make choices, to have that kind of life versus the life they had before."
Now a high school senior, Sydnee is preparing for life after Cal Farley's. And, while she looks to her future, she has also begun to think about her wishes for future Christmases — by strengthening connections with her family.
"
I really want to be able to come together with my family … and just spend time together," she said. "I want them to see me as an adult."
She said she also thinks of the positive outcome Cal Farley's helped her create from her painful past, and the peace she has found with it. For Sydnee, the past is now a reminder that everything she went through and every choice she made led her to be the strong, vibrant young woman she's become.
"I don't want anything changed (about my past) because … I like who I am," she said, smiling. "I don't want to change anything from my past, or anything that's going on now (at Cal Farley's) because I just don't think that I would be the same person that I am now."