Skylar: Genuine expression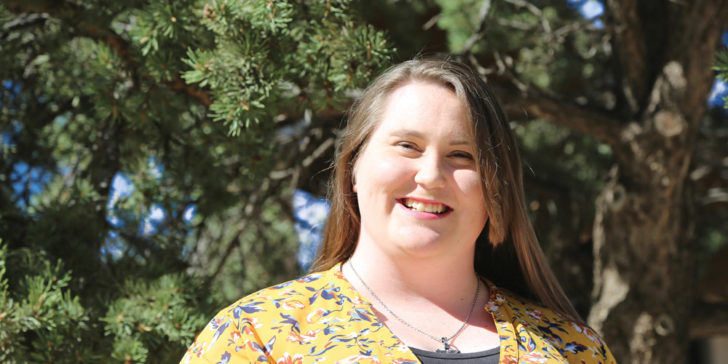 Skylar wanted to be normal, if even just for a night. A laughter-filled sleepover at her friend's house would do the trick, she thought. But when she ran home to ask permission, Skylar, 8, found only her younger sister.
"My sister came out of the door, and I asked her where our mom was because I wanted to get permission. My sister said to me, 'Mom's at the bar.'"
Skylar frowned in disappointment.
Her mother's alcohol and drug addictions had been present Skylar's entire life. With them came an unstable lifestyle, moving from town to town, school to school, and, much to Skylar's dismay, relationship to relationship. Her mother's boyfriends often battled the same demons, making them emotionally — and physically — volatile.
"We were living in an environment that was completely surrounded by drugs, sex, violence, alcohol," Skylar remembered.
Her home life wasn't the only issue. The chaos at home overwhelmed Skylar's mind at school, making success there impossible.
"I would just get up and walk out of class because I couldn't pay attention," she said.
Skylar was in a constant state of distress, but had nowhere to turn. So, when she couldn't escape just for the night at her friend's house, it was just the latest 'last straw' in a short life littered with them.
And, it was this moment Skylar decided she wanted to live with her father. He already was waging a custody battle for her, so the move likely would be easy enough.
Emotionally, however, Skylar felt guilt at 'abandoning' her mother.
"In my mind … if I loved her more," Skylar reasoned, "I would be able to change her."
Skylar's father understood her feelings, but she was his chief concern. His good intentions gave Skylar a convenient way to turn her guilt into blame.
"I felt like he was keeping me from her," Skylar recalled. "There was a lot of tension between us because … all I could think about was how I could help my mom."
Eventually, her father realized he wasn't able to help his daughter in the way she needed.
"He told me that he loved me," Skylar recalled. "He said, 'I don't think you're broken, but I think that something is broken, and we don't have the tools to fix it. And, so, I want to send you somewhere to people that do.'"
Inspired by an incredibly insightful encounter with one of her Boys Ranch house parents, Skylar began working in earnest with her counselor, opening up in a way she'd never allowed herself to before. Through equine-assisted psychotherapy at Boys Ranch, which pairs a hurting child with a horse to improve relationship skills, Skylar learned it's OK to be genuine, even if being genuine means being emotionally messy.
"
In order for me to take hold of my future and take hold of the plans God has for me, I cannot be stuck in that past. I am not what happened to me. I am what I choose to be.
"I would stand inside the round pen and Skeeter (her horse) would eat grass … I didn't get it. I didn't understand it," Skylar said. "Finally, what broke in those counseling sessions was that I got angry. I was actually able to show that anger and show Skeeter that I was upset."
By expressing her feelings rather than blaming others or acting out, Skylar began to engage with her peers on campus. Gradually, she built a life at Boys Ranch she could be proud of, one she was eventually able to share with her family.
At the same time, Skylar began working on her relationship with God, too, with the help of her house parents and the chapel staff.
"They gave me the tools … to build my faith in a more mature way — you know, why should I pray, why should I study my Bible daily, why should I go to church. These are tools you need to be able to understand your faith, and even more importantly, explain it to other people," she said.
Today, Skylar voices extreme gratitude to God and to Cal Farley's for the many changes in her life and relationships.
"When I graduated Boys Ranch, I was a completely different person. My father and I were in a completely different relationship," she said. "My mom and I were working on building that back up. I had a choice for a future."
Skylar hopes to become a child trauma counselor. She's in college, taking courses in psychology. Skylar wants to use her experiences and how she's overcome them to help children in similar situations.
"I don't have to forget my past, I don't have to let go of it. But I do have to understand my past is my past for a reason. In order for me to take hold of my future and take hold of the plans God has for me, I cannot be stuck in that past. I am not what happened to me," Skylar said with determination. "I am what I choose to be."