Shannon: 'A better woman'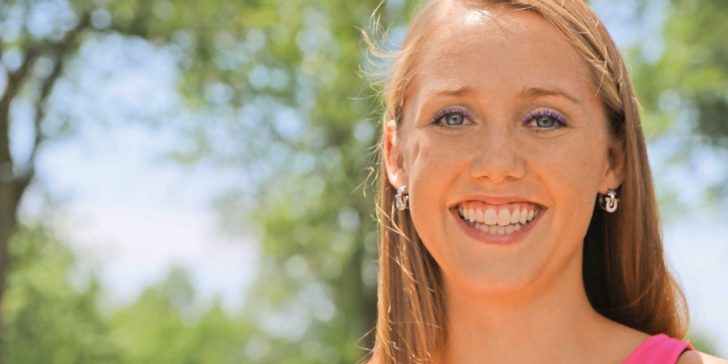 "(Cal Farley's) helps girls out," said Shannon, 22. "It helps them find God. It helps them become better women that they might not have had the chance to become in their home lives."
As a Cal Farley's alumna, Shannon knows firsthand the powerful, lasting impact Cal Farley's professional services and programs can have on children's lives.
Shannon grew up in Houston, where she lived with her mother, step-father and two sisters. Like most children, Shannon found joy in the little things, but there was no escaping that her life was hard.
"There was violence with my step-dad, and drugs and alcohol," she recalled, adding that her mother made no effort to hide either her addiction or the effects of a tumultuous relationship. "She did (drugs) in front of me sometimes. She was always getting broken bones."
By the time she was 11 years old, the state had removed Shannon and her sister from the home. The process of finding a suitable home for the girls took about a year, but in the end, they moved in with their grandparents near Austin, Texas.
It was good to finally be back with family. Life was better, and certainly more stable. But, from Shannon's perspective, it was far from perfect. Her grandfather's disciplinarian style was, perhaps, more harsh than he intended.
"My grandpa was really strict," Shannon remembered.
Instead of settling into a stable new home life, Shannon's life was continuing to go off track. Over time, the excessive discipline at home took its toll on her. She struggled at times to connect with her peers. And, she was beginning to rebel. At school, she turned suddenly from a straight-A student into a very disruptive influence.
Concerned over her new habits, Shannon's grandparents reached out to Cal Farley's Austin Family Resource Center for help.
"She became more rebellious," remembered Julie Skarich, director of the Austin FRC. "There was a lot of dysfunction."
The more Shannon's grandparents talked with Skarich, the more convinced they became Cal Farley's could help their granddaughter.
"
"(Cal Farley's) helps girls out," said Shannon, 22. "It helps them find God. It helps them become better women that they might not have had the chance to become in their home lives."
By this time, Shannon was directing a lot of pent-up anger at her grandparents. So, when she heard the news she was to be placed, her reaction was most positive.
"I was actually excited to go … (I) thought it was going to be fun," she said.
It was the right decision for everyone, Skarich remembered.
"The conflict (at home) was just escalating," Skarich said.
At Cal Farley's, there certainly was plenty of fun to be had, including riding the horses she would grow to love. But, Shannon, by then 14 years old, was nonetheless surprised when she arrived on campus to a very warm welcome.
"It was different than I expected," she said. "I expected it to be this one huge building, but it was a bunch of different houses."
Instead of some giant, institutionalized facility, Shannon found herself on a sprawling campus, filled with the kind of wide-open spaces where a girl could find herself. But, the campus itself wasn't the only surprise awaiting Shannon. Compared to the gargantuan school to which she'd become accustomed, Shannon's new school was a dramatic departure, too.
"The school I was going to (in Austin) was huge," she chuckled.
Shannon's new classes had just 20 or so young people in them. The smaller class sizes allowed her more one-on-one interaction with her teachers.
"It was (much) smaller. I liked it," she said, adding that she enjoyed math class the most, as she had an innate talent for number-crunching.
Shannon excelled in school, frequently earning straight-As in her classes and applying her inclination for figuring things out.
In the three years or so Shannon spent with Cal Farley's, she learned a great deal. From socialization to real-world skills like budgeting and cooking, Shannon found the structured environment appealing and especially enjoyed the challenge of competing in the annual Boys Ranch Rodeo.
"It was just exciting, (riding) on a horse, competing with all those other people," she said.
Cal Farley's was also where Shannon learned about God's love.
"Before I went to (Cal Farley's), I didn't go to church or anything, so I didn't know about God," she said. "But, (at Cal Farley's), we were always going to church on Wednesdays and Sundays. We were praying before meals. … It's still important to me."
Today, Shannon is enjoying being married and raising her 20-month-old daughter, Zephanie.
She continues to be grateful for the care she received at Cal Farley's. Thanks to the support and structure she received, Shannon said her life is very different than it would otherwise have been.
"I don't think I would be in a good place (had I not come to Cal Farley's)," she said, adding she likely would have rebelled against her grandparents without the self-discipline Cal Farley's taught her.
And, with the help of a Cal Farley's scholarship, Shannon is preparing to graduate from college in December. She plans to pursue a career as a special-education teacher, and hopes to teach at a small school in Texas.
Instead of a rebel, Shannon is growing into the role of that "better women" she credits Cal Farley's with creating.