Heather: Second chance at success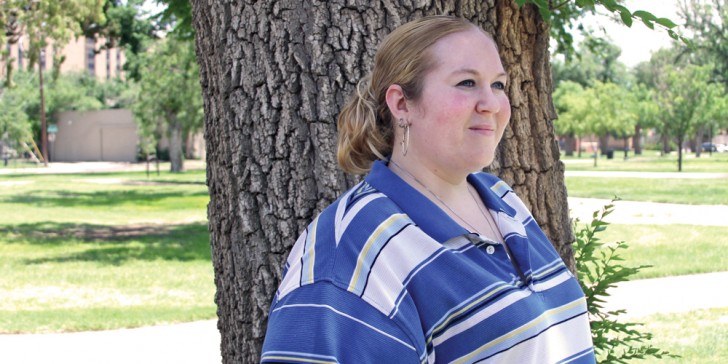 There are many things to which Heather can look forward. She's recently earned her Bachelor of Business Administration degree with an emphasis in computer information systems and works as a software programmer.
"I got an internship … about a year-and-a-half ago, and they turned it into a full-time position when I graduated."
Heather dreams of one day creating educational software to assist parents of homeschoolers, a passion she's eager to share.
"We can interact so much with a computer now, but our education (system) hasn't caught up with that yet," she said, adding, "I've got a couple of physics and math classes I have to take before I apply for my master's degree."
Working and attending classes is a tall order for anyone, but Susan Miller, Cal Farley's scholarship program coordinator, said Heather handled it well.
"She had times of difficulty, but she always remained steadfast in her desire to finish her college degree," Miller said
Miller has worked with Heather since 2009.
"I call Heather one of my 'easy keepers,'" Miller said. "She made her monthly contacts without fail, provided the paperwork required in a timely fashion and, once she began receiving scholarship funds, she never became ineligible to receive them."
Heather has a bachelor's degree and a promising career, but her sights are set even higher. After all, she has two great reasons to be motivated – her two sons, ages 11 and 12.
"My kids are my drive," she said. "I would have given up many times if it hadn't been for them. I want to be able to set a good example for them, and be able to … show them there's more out there."
It's a marked turnaround from girl of 14 who left a troubling situation at home to live at Cal Farley's.
"It was really hard at first, adjusting," she said. "We started trying to do family therapy with my mom … And, I started acting out again."
In an attempt to flee her troubles, Heather ran away. Eventually, she was detained and placed in juvenile detention.
That's when she received a visit from Cal Farley's President and CEO Dan Adams, who at the time was her campus administrator.
"Mr. Adams came and talked to me, and told me that he was going to give me another chance," Heather said.
Adams recalled Heather's situation as one of being caught in between the world of child-like behavior and adult choices.
"I remember she had a lot of insight," he said. "When a child runs away, they're usually either running from something or to something. Heather was really searching for something, she just didn't know what.
It was a watershed moment for Heather. Back in an organization that specializes in giving children a second chance at success, Heather made the most of her opportunity.
"I went back, and I was really behind in school," she said. "They put me in an alternative program that allowed me to work at my own pace. I did a lot of work. I worked through the summer. I went to summer school."
Heather worked so hard, in fact, she graduated at age 17. Her experience at Cal Farley's gave Heather skills she could put to immediate use, so upon graduation, she went to work in a nearby community. When she finally was ready to apply the drive she focused at Cal Farley's toward a college degree, she knew where to turn for guidance.
"Ms. Miller was very supportive," Heather said. "She's very much a listening ear, very inspiring …. She says, 'you can find help, have you talked to this person?'"
Heather remains steadfastly grateful for the second chance Adams offered her. For his part, Adams said he's glad things turned out as they did.
"Oftentimes," he said, "these are the moments that work a change in a kid's life."