Sean: Clearing the hurdles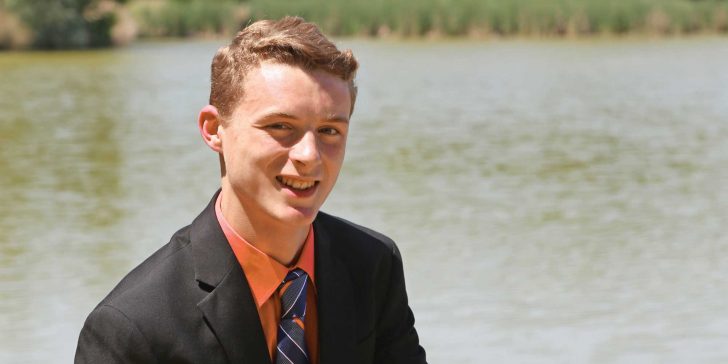 Few things impact a child more than losing a parent.
That's exactly the prospect Sean, now 16, faced when his father was diagnosed with amyotrophic lateral sclerosis, more commonly known as ALS or Lou Gehrig 's Disease.
His father's terminal diagnosis placed an unneeded extra burden on his parents' relationship. For Sean, no older than 12 at the time, seeing his parents fight and knowing his father was going to die, it was like watching his whole world come apart.
"My dad decided it'd be best for him to leave the house for a while," Sean recalled. "And so, he was getting some of his stuff ready, and (his emotions) got to him. I was young, and so, I started crying."
Sean chose to leave with his father that day. Father and son stayed in a hotel, and eventually moved in with Sean's grandmother and one of his uncles, who shared a home.
"My grandmother had a room, my uncle had his, my dad had one and, then, I stayed in the dining room," Sean said.
After about six months, Sean's sisters joined them. It wasn't an ideal situation, and Sean disliked the daily drive across town to and from school every morning and afternoon, but at least his family was together — mostly.
Sean's parents tried to reconcile, but it didn't last. And, the emotional upheaval only exacerbated his father's steady decline. Though it would be some time before he could put words to his feelings, Sean was building an unhealthy resentment for his mother, whose discipline style he abhorred and who he blamed for their family strife and the downturn in his father's health.
By the time circumstances forced Sean to live with his mother, his rage was seething.
"There were times my mother and I would get into it pretty harshly … it spun horrifically out of control," Sean remembered.
It hadn't always been like this, of course. Once, he'd had a very positive relationship with his mother.
"As a kid, there were so many great experiences," Sean said, wistfully. "Whenever she moved back in, it was kind of an adjusting period that didn't go as well as it could have. I didn't know how to make (the relationship) better, and I don't think she did, either. It was kind of like mixing water and oil. It just didn't work out."
School offered Sean an escape, a place he could exert some measure of control over his life by earning solid grades. But, it was only a temporary fix. Sean's anger and depression worsened.
"
"I had two different lives. I had home life, and I had school life," Sean said. "When I was home, I'd try to stay out of the house. I'd walk around the neighborhood, sit on a brick wall (and) think about life. Or, I was in my room, just staying away from everything."
But, of course, trying to avoid his mother wasn't a healthy way for Sean to live. And, there were the inevitable fights between them. Ironically, it was one of those conflicts that led Sean and his mother to seek placement for him at Cal Farley's.
When Sean arrived on campus, though, he didn't adapt well to life at Boys Ranch.
"I had some trust issues, not knowing anybody," Sean said. "In my mind, it was always a constant state of depression that I never showed anybody. I didn't want to talk to anybody about it. It was that mistrusting nature … I just didn't get close to anybody."
Sean's child care team — his house parents, caseworker and other Cal Farley's mentors — were searching for a way to reach him, to let him see he could trust that they had his best interest at heart.
Then he got the news his father had died.
"That February when Dad died, it gave me kind of an (I-don't-care) mentality," Sean said.
Sean's team, however, had an idea to get him actively engaged in Boys Ranch life — the Adventure Program.
"We became more aware of some of the things that Sean was doing and about his dad and some of the things that he was going through," recalled Luke Benton, who leads Cal Farley's adventure-based services.
Benton and the rest of Sean's care team realized the Adventure Program, which encourages social interaction and relationship building through group activities and controlled risk-taking, was a natural fit for Sean's existing passions.
"I'm really into the outdoors," Sean confirmed. "I like backpacking, kayaking, camping, all that kind of stuff. I'm not too terrible at rock climbing."
Sean's experiences with the Adventure Program allowed him to learn in an indirect, non-confrontational way to redirect his energies from anger into learning how to better apply himself in areas that already piqued his interest.
"In his case, we found that it helped to keep him very physically engaged," Benton recalled. "He was so focused on learning a lot of the skills, that he didn't put any more energy into being defiant or having any kind of struggles."
The turnaround was remarkable. Sean responded positively to seeing so many adults focused on helping him.
"It makes me feel very cared about and supported," he said. "Before, I always tried to stay away from that, to keep people from ever worrying about me, because I never really wanted it or needed it. But, it seems like it's helped a lot."
Soon, Sean was opening up to his house parents and forming strong bonds not just with the adults around him, but with his peers, too. Today, more than two years after coming to Boys Ranch, Sean sees the camaraderie in his group home as one of the best things about Cal Farley's.
"The feeling of brotherhood throughout the home — I mean, we're like a family," he said. "We've always got each other's backs."
Sean is preparing to graduate in May, after which time, he plans to continue his family's tradition of military service. Whatever the future holds for him, Sean is grateful for the lessons he's learned about himself and controlling his own behavior.
"I've learned to go and instead of letting my strong emotions (control me), I can … control them and express them in a more respectful, less confrontational way," he said.
And, Sean's grateful for his renewed relationship with his mother, to whom he frequently speaks.
"We talk about how (Cal Farley's) made me think differently, see things in a different way, learn things from experiences I wouldn't be able to have out in the real world," he said.