Kalista: Room to ask the tough questions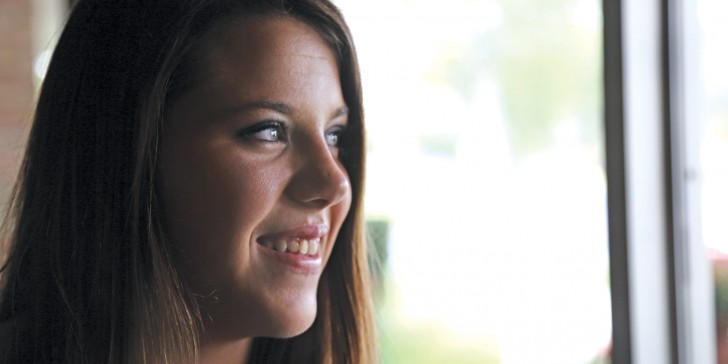 Longtime friends of Cal Farley's are, no doubt, familiar with the Christ-centered nature of our work with children and families.
From weekly devotionals held in Boys Ranch group homes to the prominent chapel that sits at the heart of our flagship campus, faith in God is central to our work. But, have you ever wondered how Cal Farley's "Christ-centered" approach helps children heal often unspeakable emotional wounds? And, how do you answer hurting children who struggle to understand how a loving God could allow all the tragedy and heartache they've experienced?
"I used to go to (church) before I came here, but I didn't really understand it," said Kalista, who's lived at Cal Farley's about three years and who now teaches Sunday school to the younger children. "And, then, when I came here, I got involved. It just really plays a big role. I know that when I leave here, I'll still go to Sunday School, I'll try to get involved with a church that's around me."
For Mike Wilhelm, senior chaplain at Cal Farley's, giving young people a foundation on which they can choose to build is what his role is all about.
"Our intent is to fully present the gospel in its integrity, but, as (the apostle) Paul did … to consider the context of the audience," Wilhelm said, adding that showing the love of God to hurting young people is a marathon, not a sprint.
"It's just really the unadulterated word of God that the kids are hearing each week," he said. "Sometimes, it's subtle work … There's a bigger picture."
The sentiment was echoed by Ray Martinez, music director and a core member of Wilhelm's chapel staff.
"It takes a lot of prayerful wisdom," Martinez said. "Kids are at different points in their life (when they come to Cal Farley's). Some kids are mad at God … some don't want anything to do with God. So, there's this big spectrum … Really, it's just presenting the raw gospel, the life of Christ, that we want the kids to hear about."
And, while some may see Christmas as a time to focus on Jesus' birth and the spiritual truths that flow from that event, lasting change often isn't just the result of the pomp and circumstance of the Christmas season, nor of a given hour on Sunday morning. Wilhelm and his team are quick to point out one of the most impacting elements of spiritual life and growth at Cal Farley's is the year-round emphasis placed on serving others.
"That's another big part of it, being shoulder-to-shoulder with believers, just being about what Jesus is doing in the world," Wilhelm said. "You know, even for those kids who are just flirting with faith, it's a powerful way the gospel is being transmitted to these kids."
It's an introduction to faith that offers children the room to ask their toughest questions, without reservation or fear of judgment.
"God can handle all your questions, so let's work it through," noted Jennifer Hipp, director of Christian education, in describing the approach chapel staff takes with Cal Farley's residents.
Such questions often arise around Christmastime, Wilhelm said, as children grapple with personal issues or are reminded of past holidays that were anything but merry. Against the contrasting backdrop of the soothing atmosphere at Cal Farley's, though, joy and celebration usually prevail in residents' hearts.
"There is a good cheer and hope and celebration that God brings with (Christmas festivities)," Wilhelm said.
For Kalista, the hope, the reason she can celebrate the season, lies in relationships — both with God and the people around her.
"
"Everything (at Cal Farley's) is revolved around Christ," she said. "Every time I see the kids (I teach), they always come up and hug me. It's not just a relationship with God, it's a relationship with the kids, too. … Every time Chaplain Wilhelm sees me, he (asks), 'What are the three things to remember?' And, that's that I'm beautiful, I'm valuable and I'm worthy of love."
How do you share the good news of faith in God with hurting children? Showing them a God Who sees them as beautiful, valuable and worthy of love is a pretty good place to start.