Romersi Home a happy place for Alexis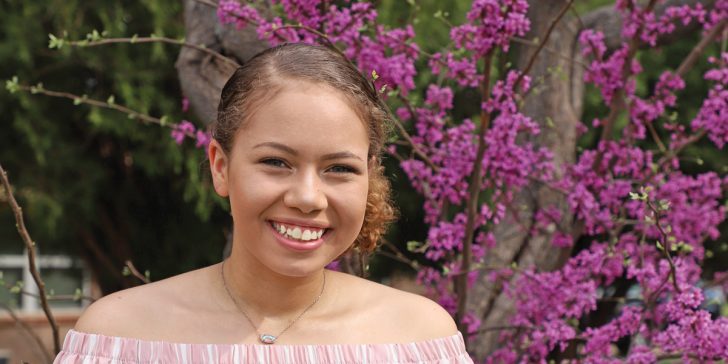 The girls of Boys Ranch's first female home have a community of healing
Alexis is living a happy life at Boys Ranch, where she lives in Romersi 1 Home. However, this 17-year old's past hasn't always been full of the love and joy she enjoys now. As a resident of the very first girls home built at Boys Ranch, she knows if the walls that surround her could talk, she'd hear many stories of lives like hers.
Lives changed forever.
Recently, Alexis enjoyed a visit with Corey, who 26 years earlier, lived in the exact same room as hers. Corey spent time sharing with Alexis and others, discussing how things were when she lived on ranch. There's been a lot of growth and change since Corey was at Boys Ranch, but these residents separated only by their ages agreed one thing hasn't changed: Boys Ranch is still a place where hearts can heal and, no matter how difficult your past may have been, your future can be different.
Alexis and Corey were close to the same age when they came to Boys Ranch. Alexis followed in the footsteps of an older sister, and was herself followed by her younger sister. Three girls needing to escape the agony and confusion of living with an addicted, very ill mother. With the best intentions, Mom had been moving the girls from place to place since they were babies.
Despite her addiction and other significant health issues she was facing, Alexis' mom made the decision to let her girls have a safe place to live with warm food and access to a great education.
"I will be on the honor roll for the first time in my life when it comes out this term," said an understandably proud Alexis. "Boys Ranch has made me stronger. A young woman needs decent, good role models."
The teen has a very limited relationship with her biological father, and sees her mother only occasionally. But her house parents, Nicole and Joe Murphy, have really made a difference in her life. Similarly, Corey has no father in her life now, but says she found wonderful substitutes as well at Boys Ranch in coaches Eddie Taylor and Paul Jones.
"The structure on-ranch has been good. It helps me get through my daily life," Alexis said, adding, "before, my life had just been craziness. Now, I know what I'm going to do. I have goals and this structure can get me where I want to go."
Alexis said she wants to graduate high school at Boys Ranch, and desires to earn a college degree. She's not certain about a major yet.
Outside the classroom, Alexis plays basketball and is a cheerleader. She is involved in the photography club, part of Boys Ranch's Experiential Learning Program, and thinks she has found a real passion in capturing things through the lens. She's helped photograph a number of events on campus and loves the instant gratification of digital imagery.
Her mother, who continues to try to repair her own life, recently gifted Alexis a digital camera.
The gift is symbolic, considering how Alexis' own picture is changing. Today, there is a much happier young person looking through the lens.