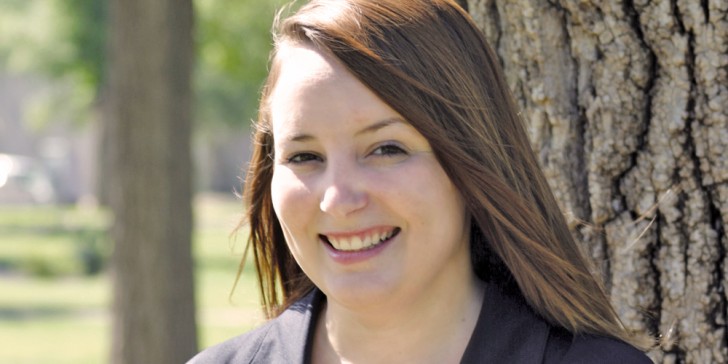 At first glance, Kristin's achievements don't appear to fit with her difficult past. She recently accepted a position teaching agriculture to eighth- through 12-grade students, a milestone which quickly followed her graduation from West Texas A&M University with a Bachelors of Science in Agriculture Education. By fall, Kristin will be teaching young adults subjects such as equine science and veterinary medicine.
"It was just a shock," she said, the excitement audible in her voice after being offered a job after just her second interview. "I really wanted (the first) job, and then I didn't get it. So I was excited," she said.
It's a thrilling change for someone who struggled with change before coming to Cal Farley's. She remembers her early years as unstable, since her family moved often — she'd attended six schools by the time she reached middle school.
"It was kind of hectic for a kid. It was overwhelming," she said. "My parents got divorced when I was really young, and then my mom got remarried and then divorced again, so I just think that constant change is a struggle."
Kristin credits much of her success to her time at Cal Farley's. In addition to the life skills and mentor relationships that helped shape her career choice, Kristin was a recipient of the Cal & Mimi Farley Memorial Scholarship. The support was an undeniable aid to Kristen's journey toward teaching.
"I never lost eligibility, so that helped me a lot," she explained. "It even allowed me to focus more on school and … just focus on college, because I didn't have to go to work every day."
Susan Miller, Cal Farley's scholarship program coordinator, said after high school graduation, Kristin remained determined to get her degree.
"She just has that drive inside of her to be successful … She wants to be able to stand on her own two feet," Miller said.
Initially, it was Kristin's love of horses that drove her interest in Cal Farley's. Her brother, who preceded her at Boys Ranch, shared stories of the giant animals that fascinated the young girl of 12. Between the improvement in her brother's life and her visions of hundreds of horses galloping across Western fields, Kristin knew where she wanted to be.
"I know it's crazy, but horses drove me out there" she recalled. "I actually called Boys Ranch myself. I said, 'My name is Kristin, and you have my brother already. I'm coming!'"
Kristin's drive to always seek a better life is something her mentors and teachers at Boys Ranch quickly recognized and nurtured.
"(Boys Ranch) helped me find my spot. I feel like I had a better vision of the path I was supposed to be on," Kristin said.
Kristin's passion and strong drive gave Cal Farley's staff avenues to help develop and focus her natural interest in agriculture. She spent a lot of time at the equine center, growing her skills and experiences, which provided a sense of direction and a path for her to follow.
"She came in with a love of horses, very good work ethic, attention to detail … It really came together for her out here," recalled Equine and Rodeo Coordinator Brent Ehlers.
Now, Kristin's journey has begun a new chapter. Her desire to encourage her future students is a legacy inherited from her time at Cal Farley's.
"My teachers at Boys Ranch always pushed me to do things I never would've thought I'd be able to do," she said. "I enjoy teaching, so I want to do that for other kids."
Cal Farley's gave Kristin a lasting gift, one she plans to spend the rest of her life paying forward.
"(Donors) don't understand where we'd be if it wasn't for people like them giving to (Cal Farley's) so we can do all those things we would never even dream of doing at home," she said, fighting back tears. "They're awesome!"