Project-based learning helps Boys Ranch students thrive in the classroom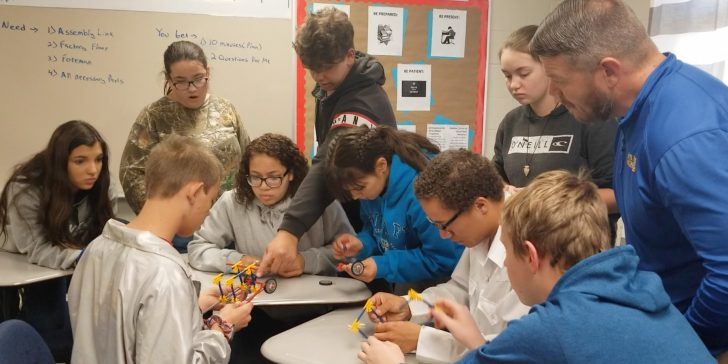 It's important for young people to have a good understanding of American history. Yet in a time of Google® convenience and short attention spans, teachers are challenged to find better ways to deliver information to their students. The young people at Cal Farley's Boys Ranch are blessed with teachers who constantly look for better ways to engage learners.
Recently, Boys Ranch High School History Teacher and Football Coach James Layman gathered his students outside the door to his classroom. Once he had their attention, Layman gave them a quick rundown on what was about to take place. The bright eyes of eager learners focused on his every word.
"You are a group of employees who work for me. I own the Ford Motor Company and I build cars," Layman explained. "It's the 1920s and you are all working in my factory. Once we open this door, you'll assume the role of a factory worker on an assembly line."
"First, we need to pick a foreman," Layman instructed his students. "The foreman leads your crew and you can only talk to your foreman, and he is the only one who can talk to me. Who do you want to be your foreman?"
Almost every hand went into the air, but it was Tanner, a 15-year-old sophomore, who was assigned the position.
"Tanner, as the foreman in this exercise, you will be allowed to only ask me two questions," Layman said. "The rest of you can ask Tanner as many questions as you want, but only he can ask me two questions. He's the foreman. You talk to the foreman and he can talk to me. I'm the boss and you are workers, and you can't talk directly to me."
Doing his best to replicate the working conditions during this era, Layman's class begins to embark upon an exercise in project-based learning. Project-based learning is a wonderful way to challenge and engage students through hands-on experiences, allowing students to move about and interact with each other. And, for some youth who find it extra difficult to stay focused and learn in a traditional desk environment, it provides a much better way to learn. The children at Boys Ranch love it.
As the students entered Layman's class, now converted to a dark, dreary 'factory.' The lights were off and the sound of iron banging on iron bellowed from a speaker. Over the noise, Layman shouted to the students that for the first five minutes they could prepare the factory floor for working, making any changes they want to make, such as rearranging assembly lines or circles.
The student-workers began arranging a circle of desks to resemble an assembly line, bumping into each other in the dark. Mr. Layman asked again if there was anything about their work environment that was not okay, and if there were any changes they'd like to make before they begin work.
Eli, 15, raised his hand and asked if he may have a pair of earmuffs. Others followed suit, covering their ears and asking for the noise to go away.
"You think it's too loud in here?" shouted Layman. "You want the noise turned off?"
"Yes!" answered the boys and girls unanimously.
Finally, Lexus, 17, also asked if the lights could be turned on. Tanner, in turn, asked Layman to flip the lights on.
In a quieter, better-lit classroom, the group was finally ready to go to work.
As the assembly line fell into place, Layman handed Tanner a sample model of a four-wheel car made from Legos®.
"You're the only one that may touch this model, and you cannot take it apart," Layman explained to Tanner, instructing him to lead his workers to make an exact replica of it. "Your employees may not touch it, only look at it."
Layman offered the group 10 minutes of planning and preparation and explained at the end of the 10 minutes the group would be timed to see how fast they can build the car.
This was his fifth class of the day to take on this challenge. Other classes completed the car within two to four minutes but received penalties for not having an exact replica.
These students quickly began implementing a strategy. The conversation gets loud. Some civilized debate took place about how best to build the car. Tanner ultimately decided on the next step. He wanted to build a sample model during the planning phase — after all, practice makes perfect.
Impatient to show their skills, several in the group began asking if they may start building the car before the time had started. They convinced Tanner to go ask his boss if this was permissible.
Layman reminded Tanner that he could only ask two questions, "Is that your question, if you can build the car before your time starts?"
Tanner returned back to his factory workers for more discussion. They wisely revised their first question to be, "May we get more time?"
Layman agreed to give them five additional minutes.
Throwing another challenge into the mix, Layman told his foreman the research and development engineers have just called his office and they want a change in the design.
"Our cab is not stable, so we need to add some better reinforcement here," Layman said, demonstrating to Tanner the addition of two bars to the top of the car.
Tanner explained the change in design to his workers. The group continued to strategize. Several factory workers pointed out some unique features of the model which had not yet been discovered. The time passed quickly. Tanner handed out various parts and directions to students on the assembly line. The group talked about a practice run.
Tanner turned to his boss and asked, "Can you time us on a practice run?"
Layman responded, "No! And, you just used up your second question!"
Several minutes later, Layman announced to the group it was time to perform.
"Ready, set, go!" Layman shouted.
The group of factory workers toiled together as a team and had the model replicated, perfectly, in far less than two minutes!
They had earned the best time of the day.
A celebration began as the factory workers high fived one another, and Tanner was congratulated on a job well-led.
Layman debriefed the students on the learning project.
He told this group they were the only ones to ask for both the loud noise to be turned off and the lights to be turned on, which allowed for better working conditions. They also were the only group who used one of their questions to ask for more time.
Even though this was a mock learning exercise, the students were engaged and gained an understanding of the manufacturing and factory practices of the 1920s. That day, youth learned it was these practices, a foreman and assembly line work, which helped lead to a manufacturing revolution in the United States. Eventually leading to an integrated moving assembly line, ultimately allowing Ford to make in one and a half hours what had previously taken 15-man hours and bringing down the cost of the company's automobiles.
This popular teacher also reminded his students it was through teamwork, being observant of their surroundings, cooperation and the desire for all to succeed together that helped them achieve the fastest time of the day.
These, of course, are all traits that are taught at Boys Ranch every day in our homes and through the various programs available to the boys and girls in our care.