Prince: A model of success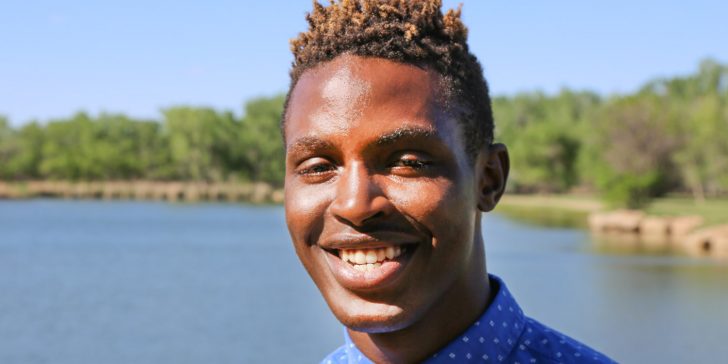 About 12 years ago, a five-year-old boy left his war-torn country. His mother knew he'd have the chance for a better life in America.
Now 17, Prince doesn't remember much from that time. But, he knows his loving mother had his best interests at heart.
"(My mom) didn't want me to be in that situation," Prince said.
But, despite his new home, Prince was still shadowed by conflict. This time, though, it was an inner conflict.
And, it was a battle he nearly lost.
To provide for her family, Prince's mother worked early in the morning, requiring Prince to get to school on his own. However, when she came home, she often found Prince had never gone to school that day. Instead, he'd spent his day playing video games and watching television.
"When I went to school, I saw the way people treated each other," Prince remembered. "I didn't like it … so I just isolated myself."
For a long time, Prince's mother struggled to get him to attend school. As the days Prince missed began to add up, Prince and his mother began fighting over his behavior. Eventually, he withdrew from her, too.
When he did go to school, Prince found it impossible to relate to his teachers. Without their much-needed help, though, his success was impossible.
"I didn't like school. The classes were pretty difficult," Prince explained. "It was hard for me to get attention from the teacher."
Prince's mother sought help.
"We had gone through many counselors," Prince said, "because … I wouldn't talk to (my mom) on a daily basis, and I didn't go to school."
Finally, they found a counselor who was able to help Prince and things started to change. By that time, though, Prince had missed an entire semester of class due to his attendance. Prince's counselor knew he needed a way to restore his relationship with his mother, get his faltering academics back on track and also learn to relate to his peers. She suggested the supportive environment at Cal Farley's.
A year later, Prince is finishing his junior year in high school. During his time at our Boys Ranch campus, he has gained a lot.
Prince's caseworker, Chloe Hewitt, said he struggled the most in sciences before coming to Cal Farley's.
"Ms. Hewitt was the first one to tell me about (the credit-recovery program)," Prince remembered. "It's self-paced. I quickly got into that, and my teachers were always there to assist me if I had any problems."
With the help of Hewitt and his teachers, Prince's studies began to improve. He said one teacher in particular inspired him to do better.
"(My teacher) explained to me how to do chemistry and physics," he said. "It wasn't easy. I had to learn different formulas, different calculations."
Prince said his teacher became an important mentor to him, and came to represent an important trait he had been missing, motivation.
"She was a role model to me," he said. "She showed me the way."
Prince said the accomplishment of regaining his lost credits has yet to settle in, especially since he was able to achieve so much so quickly.
"It still doesn't feel real," he said. "The work you do here is pretty phenomenal!"
"
"My success at Cal Farley's represents a new beginning. It's basically a key to my new life and a reminder of my past."
Prince has gained many positive mentor relationships at Cal Farley's. In fact, many programs at Boys Ranch are specifically designed to foster and teach youth about healthy relationships, helping them overcome past struggles. In turn, those positive connections become a foundation for current and future relationships.
For Prince, they are helping him improve the most important connection in his life.
"(My mom is) a loving person who tries her best to support me and my little sister," he reflected. "She works a hard job … to take care of me and my sister."
Prince recognizes the support and love his mother has provided him. It's a foundation he said he can use to improve his relationship with her.
"Before, our relationship (was) broken because I didn't really understand her, and she didn't understand me," he said. "Now, we talk more often. She understands what I'm thinking and I understand her."
Prince said his house parents have helped him understand two important values in relationships, trust and honesty.
"(My house parents) tell me that if I need something I should ask," Prince said. "(Before I came to Cal Farley's,) I didn't ask. If I didn't ask my mom for something, she probably lost trust when I took something that wasn't mine. (Asking improves) my relationship with my mom."
Today, equipped with the new skills he has gained at Cal Farley's, Prince is looking forward to finishing his education and creating a positive future for himself. But, Prince isn't just thinking about his own future. When he finishes school, he wants to return home and help his mother get her education so she, too, can have an even brighter future.
Having a bright future means a lot to Prince. It's a blessing for which he's thankful, just as he's thankful for the many friends who support Cal Farley's.
"Thank you very much for this opportunity to have a better future for myself," he said. "(My success at Cal Farley's represents) a new beginning. It's basically a key to my new life and a reminder of my past."