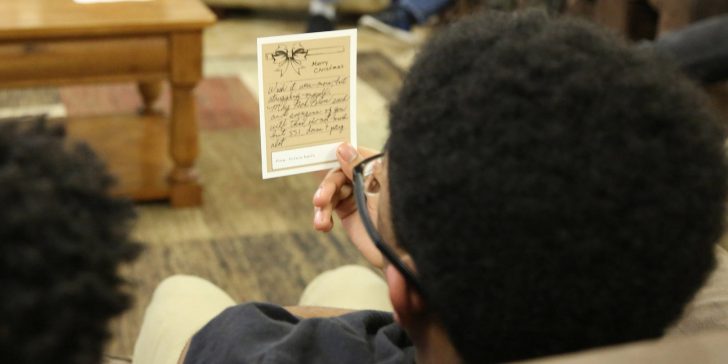 The youth at Cal Farley's know the opportunity they have to change their lives wouldn't exist without your unwavering support. It's one of the many things they thank God for.
Recently, some of our group homes took the time to read over some of the hundreds of messages you, our friends, sent our youth at Christmastime. You shared your good wishes for them, your words of encouragement and your prayers for their successes.
"It was a major blessing to see how many people wrote," said Garrett, 15.
After seeing first-hand how much you care for them, some were moved to tears, but all were moved to pray for you — even some youth who ordinarily might feel shy about praying aloud.
"It was an experience that was unbelievable," said Kenyon, 17.
His housemate, Christian, 17, agreed.
"We put all the cards on the table, and we circled up," he explained. "I thought it was so powerful, how some of us got on one knee. We each had a hand up to someone's shoulder or touching the cards. We each had a chance to pray over the cards."
It was a powerful moment of gratitude that allowed our youth to feel a more personal connection to the people who're helping them change their lives.
"These donors do so much for us," reflected Michael, 16. "Just to take a little time out of our devotional to pray over these cards that they sent to us, it's nothing compared to what they've given us."