'Owning' her past helps Abrial move forward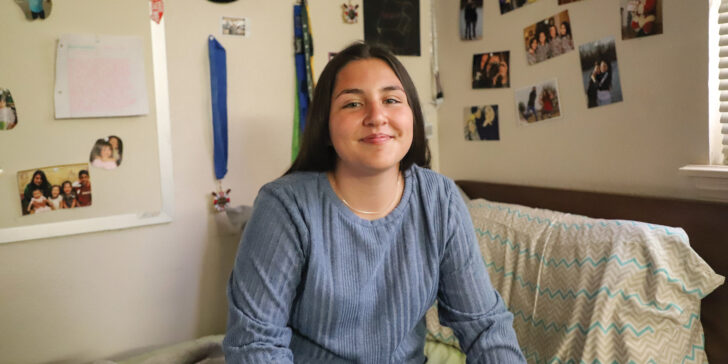 Seeing herself as the person she wants to be
Abrial, 15, remembers what life was like in California before she came to Cal Farley's Boys Ranch.
She remembers how different she wished life could be.
"I lived near a freeway, and there was always a lot of noise," Abrial said.
The outside noise, though, was mild compared to what was happening inside her head.
"I was always in trouble at home. Everything I cared about had been taken away from me. Someone was always watching me. I felt stuck in a place where I didn't want to be and I just didn't care anymore."
Prior to age three, Abrial had bounced back and forth from her mother's home to foster homes. Her mother struggled with addiction. Thinking of would be best for Abrial, she placed the young girl with relatives, who adopted her at age six.
Abrial remembers subsequent years as filled with conflict and hurt. She began rebelling almost immediately. At age seven, she was stealing things, lying and manipulating others. She was an expert at passive-aggressive behavior. She was failing in school and in life. 
"It was not a secret my biological mom had made some really bad choices," Abrial said. "I was reminded of this more than once, and I thought that they could only see her in me. For that reason alone, I just never was able to connect with them. I felt connected to my siblings, but I felt nothing for my mom and dad. I fought with my mom most of all. The stricter they became about my behavior, the more I acted out."
Finally taking a therapist's advice, the family made a trip to Texas to visit Boys Ranch. Three weeks later, Abrial moved on campus.
"I needed a fresh start," Abrial said. "I desperately wanted to be able to be my own person."
Describing herself as much happier now, Abrial calls Boys Ranch a safe place where she is having a great experience.
"I've had more freedom and more opportunities than I ever expected," Abrial said. "Everyone here has their own story, their own struggles, and we all connect in different ways. I consider the girls in my house my sisters and family."
The sense of belonging she's found has helped Abrial begin to heal.
Through counseling sessions and the support of a team of trusted adults she interacts with daily, Abrial is making huge progress.
"I've learned so much about myself here," she said. "I've found myself and I've been able to understand how and why I feel certain ways and most of all, I've learned that I can control how I feel."
Abrial continues to improve her trust of both peers and adults at Boys Ranch.
"Since I've been here, I look at things from a different perspective. I have learned to analyze how something will affect me personally and base my decisions on that."
Abrial's caseworker, Sadie Hodge, said she has watched Abrial change much in two years.
"I see Abrial consistently putting in the thought process to make the right choices," Hodge said. "She is able to realize when she has made a negative choice, and is her own worst critic. She prides herself on being responsible and that adults see her as responsible —it shows her she is doing something right.
"She made many negative choices with her family back home, and she has begun to open up and take responsibility for those negative choices," Hodge continued. "She sees that taking ownership will allow her to move forward and find space for better things to come."
Abrial plays basketball for Boys Ranch High School. Dribbling she says, is a simple escape for her.
"Sports help me get my mind off things," Abrial said. "The people at Boys Ranch are in the business of raising kids, and everyone is part of that. Even the coaches are always teaching me something about life."
What's she's experienced at Boys Ranch has had a profound impact on Abrial's life. She's learned to do household chores, laundry, cook, bake, how to drive and a lot about money management.
Abrial has also learned vocational skills. She's learned retail service in her vocational training at the Boys Ranch Country Store. She enjoys staying busy.
"Lazy can only last so long," she chuckled.
Abrial said she wants to work with kids in the future.
"I feel like I'll be able to help kids get through things that are hard," Abrial said, "I'll be able to relate to someone who is struggling because I've been through it."