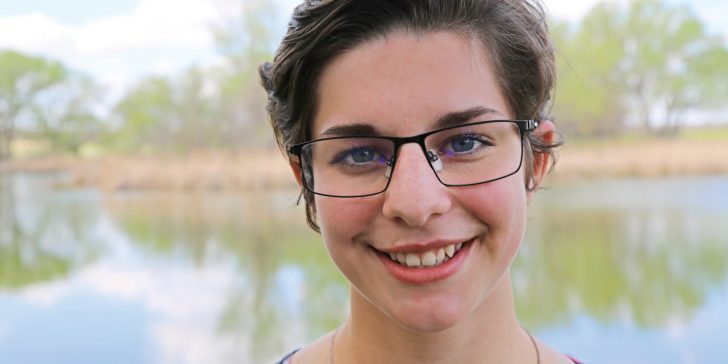 "I'm going to feel like I actually did something with my life."
That's how Ocean, 18, described her anticipation of high school graduation this year. Given where her life's journey has taken her so far, it's safe to say she has, indeed, done something very remarkable with her life. And, of course, Ocean said she still has much left to accomplish.
In almost three years living at Cal Farley's, Ocean has overcome some daunting hurdles.
Ocean was born in Oklahoma, but moved to Arizona as a three-month-old as her mother sought a better environment in which to raise her. Ocean and her mother lived there most of Ocean's first 10 years, eventually moving to Texas after an electrical fire destroyed their home. She spent a few summers with her father and the rest of the year with her mother.
It was during these times Ocean formed a bond with her mother's boyfriend, Art.
"Art was a sweet man," Ocean recalled. "He was the type of guy who would bring stuffed animals from the claw machine … every time he got paid," she said with a smile.
Ocean grew very close to Art, and began to view him as a loving father figure.
Tragically, Art was involved in a severe car accident when Ocean was 12 or 13. She can still remember seeing his kind face lying in a hospital bed.
"Art was in the hospital for a long time. I remember going to see him, and it was bad. … I don't remember a lot of things, but I still remember that."
In the hospital, Art developed an infection. After a short time, he passed away.
Ocean was devastated.
"I basically just shut down for a long time," Ocean said. "I wouldn't deal with it, wouldn't talk about it. I wouldn't talk to anybody. I didn't want to face that he had died."
Consumed by her grief, Ocean's grades began to suffer. In an effort to meet her needs, her father offered to homeschool her.
Sadly, it didn't go well.
Ocean's father had responsibilities of his own. Perhaps too many, Ocean said, to devote time to her education. And, in her grief, Ocean certainly wasn't motivated to do much of anything. Whatever the cause, the bottom line was this: Ocean wasn't getting the education she needed.
"I was not getting any schooling," she acknowledged.
When Ocean's family finally returned her to a traditional classroom, she was far behind her peers.
"I basically failed everything," she said.
Ocean's mother grew deeply concerned about her daughter's worsening demeanor. That she'd fallen a full year behind in school was troubling. But, her self-isolation was even more alarming.
"I basically was alienating myself," Ocean said. "I sat there, maybe reading a book or something. I just zoned out … She watched me come home and be upset, and not want to talk to anybody. She didn't understand, and I wasn't going to tell her."
Ocean's mother sought Cal Farley's help, and Ocean soon was living at our Boys Ranch campus. Surrounded by the professional nurturing support of a child care team that included her house parents, caseworker and so many others, Ocean worked through her grief over Art's passing.
With her mind less burdened, Ocean began to think more about her future.
"I was going through my freshman year and I thought I'll be 19 when I graduate. We should probably do something about that."
It was just the motivation Ocean's mentors at Cal Farley's were hoping to hear. They introduced Ocean to Cal Farley's credit-recovery program. Each school day, Ocean could work on making up for lost time during the first half of the day, then return to her normal classroom to finish her day. With each of her missing high-school classes divided into several sections, Ocean could work at her own pace to make up as much schoolwork as she was motivated to do.
And, boy, was she motivated. Where most of her peers were completing one class section, or module, each week, Ocean's determination drove her to study hard and work fast. At times, she was completing one section every day!
In a single school year, Ocean not only kept pace with her school work, she caught up the entire year she was missing!
With a modesty that refutes the enormity of her accomplishment, Ocean shrugged off her accomplishment.
"I honestly don't feel like it's that big a deal," she said, pointing out that many of her peers at Cal Farley's are doing the same thing she did.
Regardless, Ocean makes time between her studies and Boys Ranch community activities for her personal passions, playing her guitar, reading or drawing whenever she can. She looks forward to graduation, and plans to pursue a career in horticulture.
"It's so calming, being around something that you grew and nurtured," she said.
Ocean's done her share of growing, too. From a hurting girl to an educated, driven young woman, Ocean has been nurtured by Cal Farley's. And, with that support, she's ready to face the world.
"
"I'm going to feel like I actually did something with my life."