For so many young boys growing up in a high-tech world, the idea of building a 'fort' in the woods is something they'll never even think of, let alone do.
Luckily for the boys living in Bridwell Home at Cal Farley's Boys Ranch, they've had a special opportunity this year to do some hands-on rebuilding of a fort with some special history behind it.
"When I was here living at Boys Ranch as a child, some of us went off into the woods behind Smallwood Home and built a fort," recalled Boys Ranch Houseparent Jonathon Cumpston. "I often wondered if that fort was still there."
Cumpston lived at Boys Ranch as a resident from 2005 to 2011 and has since married and returned to work for the organization he said gave him so much as a child.
"One day in April when some of us were bored, I said to the boys in Bridwell Home, 'You want to go help me find my old fort?' and most of them wanted to go," Cumpston said.
The Bridwell boys were intrigued by the fort their housefather was talking about.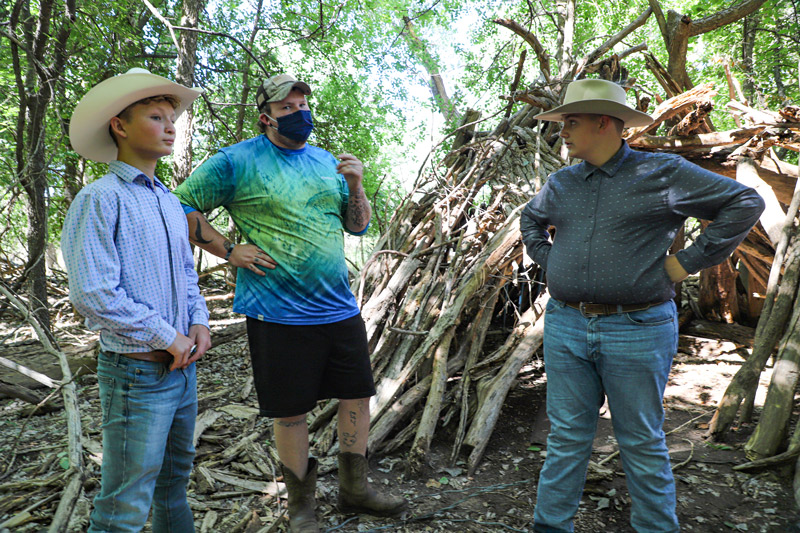 The fort Cumpston was remembering was one he and his Boys Ranch brothers had built behind Smallwood Lake 2005-06.
"We walked around for at least an hour out there before I finally found it," Cumpston said. "And, honestly, I was shocked it was still here. It was pretty much laying down, but you could tell it was once a structure."
Cumpston's old fort had been made from downed branches and driftwood in a low spot close to a creek bottom. The structure had gallantly, yet futilely, tried to withstand years of flowing water and unrelenting Texas Panhandle winds.
"Things were different out here 15 years ago," Cumpston said. "Nowadays, we do not allow the children to go beyond certain areas, but back then, we could hike out into areas and do things as a group, as long as we reported back when we were supposed to."
The boys from Bridwell were thrilled to find the old fort and immediately decided they wanted to refurbish it back to its original size and shape, if not bigger and better.
Over three days, seven of the boys and Cumpston made the trip through the thicket and began putting the logs back up, side by side. They estimate that they spent about 70 man-hours rebuilding the structure.
While the young men don't have plans to do any overnight stays in the fort, they do see it as a place where they can pack their lunch in on a nice day, a refuge of sorts from life's storms if they ever need it.
The overhead tree canopy allowed just enough sunlight to come through to warm their faces as they stood around the fort talking about the project.
"Teamwork was by far the hardest thing about redoing this fort," said Cumpston. "It was easy to build it originally as, we had nothing to go from. This time, redoing it, everyone had ideas and we wanted everyone to have a part. Sometimes we struggled to get everyone to agree what could and should be done. They did agree that a big log should go up in the center to provide support and that was pretty physical undertaking."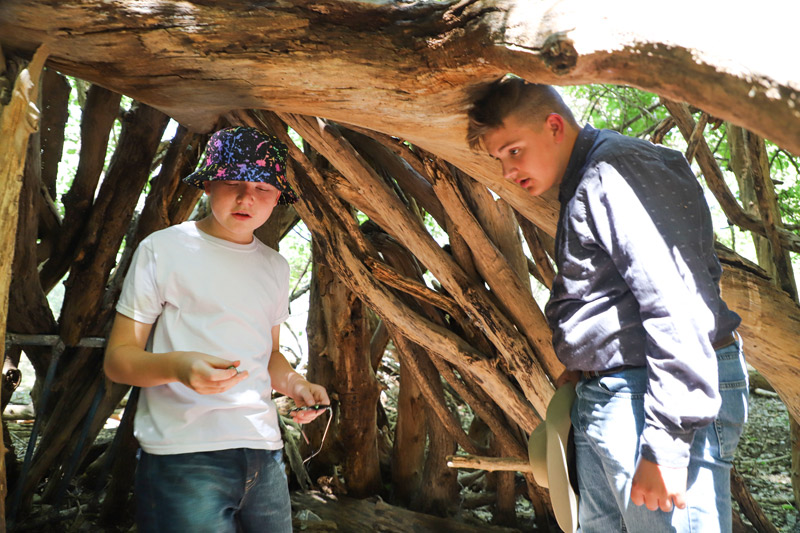 It was a big task, but one that was worth it.
"We learned a lot about having fun and having a good time with each other," said Jude, 14.
But the Bridwell Home boys aren't stopping now. They plan to line the exterior walls with bark, leaves and mud so the group will have a place to get in out of the rain and cold if they should choose to trek out here during the fall or winter.
"We learned to do something without technology," said William, 14.
Jude said the fort reminds him of a loved one's cabin.
"This has really taught us that the boys who lived here before us got to do some really neat things," said Joe, 13. "This is the kind of thing that could be passed on again to another generation if one of us comes back here to work at Boys Ranch."
"Right here!" asserted William, his hand leaping into the air, volunteering to be the next comeback kid.
"It's the kind of experience I will tell my kids about someday," said Jake, 13, adding, "I would like to bring my kids out here and let them experience it like I have."
The boys already are reminiscing about the experience. They laugh hysterically about another fun time they had with Cumpston at the fort.
"It was a late April fool's prank," William said.
Cumpston explained: "We were out here, and it was getting late in the afternoon, and I asked a couple other staff to come hide out and make some noise and rattle the bushes. The boys heard the commotion and they sure hurried home. Back at the house they all insisted they saw a half human, half horse creature!"
Everyone laughs. No harm done, just a good time — and a great Boys Ranch memory.
"What I can tell you for sure," said William, "there will be no lighters, no matches, no lanterns, nothing with a flame ever allowed here."
In almost perfect unison, they all added, "and no girls allowed either!"
Boys will be boys.
[metaslider id="30388″]