Boys Ranch youth assist at Power of the Purse luncheon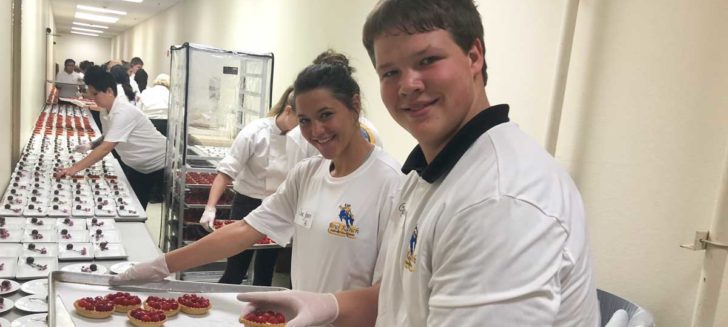 Know what it's like to serve over 1,000 guests? Our youth from Boys Ranch High School's Culinary Team and National Honor Society do!
Last week our youth were invited by Two Knives catering to help with the Laura W. Bush Institute for Women's Health Power of the Purse luncheon on Apr. 11.
Over the past year, youth from Boys Ranch High School's Culinary Team have become known for their culinary excellence. Their prowess landed them an invitation as one of five area schools that were invited to participate in the event.
Boys Ranch helped with many aspects of the event from setting tableware to plating entrees and desserts. Linda Horton, Boys Ranch Independent School District CTE Coordinator and FCS/Career Prep Instructor, said Boys Ranch had an incredibly busy day plating for the large group.
Despite it being the first experience like this for many of our young people, the event was a very powerful experience for them. One youth, David, said he'd never been involved in an event like this before, but really enjoyed it. He also reconnected with a friend of Cal Farley's he met while speaking at Boys Ranch about his experiences in our care. She had remembered him as well! Horton said the entire day inspired a number of the NHS members to ask about joining the Boys Ranch Culinary Team.
The owners of Two Knives Catering were also impressed with our youth and expressed wishing to work with them again in the future. They also made a donation of $400 to the Boys Ranch Culinary Department.
Boys Ranch teachers and staff received many compliments from attendees for the strong work ethic and dedication our youth showed. We're proud of our young people and the staff that supported them in this endeavor. We're also grateful to Two Knives Catering for giving them the opportunity to participate in this event.
Pictures from the luncheon