Cal Farley's youth rides 30-match winning streak to state competition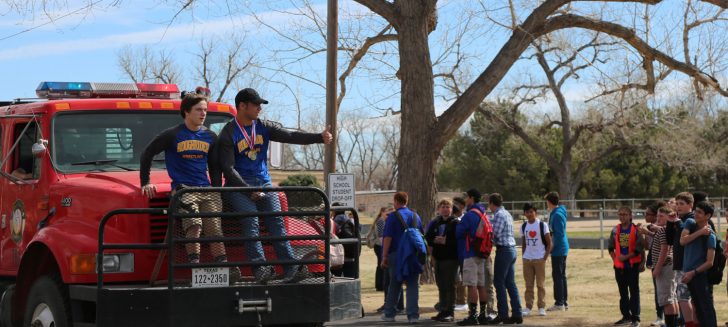 Cal Farley's residents and staff lined the campus main street on Wednesday to encourage one of their own as he prepares to compete in the state wrestling tournament.
Damen, 18, won the regional championship last weekend in the 220-pound weight class, despite weighing in at 195 pounds. He brings a 42-5 record into the state competition to be held Feb. 24-25 at the Berry Center in Houston.
While Damen started off the year with a solid 12-5 record, he was determined to improve. Determining to work harder at his chosen sport, Damen then began an impressive 30-match winning streak.
"I had a good conversation with my dad, and he made me realize that I could do better," Damen said. "So, my mindset has been the biggest difference in why I have been able to win 30 straight matches."
Successes like these are important to youth at Boys Ranch, who haven't always had opportunities to experience a win or feel the accomplishment of reaching the finish line before coming to Cal Farley's. In the rugged hills of the Texas Panhandle, Cal Farley's residents like Damen find many paths to achievement and purpose, including activities like athletics; our Experiential Learning Program, which provides youth hands-on skills and certifications in vocational areas of their choosing; the Chapel Program or even the annual Boys Ranch Rodeo.
Boys Ranch Wrestling Coach Paul Jones said Damen's hard work, determination and willingness to stand out as a leader has helped him get to this point.
"He is a leader," Jones said. "He works hard and strives to be a better wrestler — and person — each day. He holds other teammates accountable, just as he does himself. And, that is why he is a state-qualifier."
Regardless of how he performs this weekend, Damen said reaching this point was a personal milestone.
"This win feels surreal, even though it has been my goal for a long time," Damen said.